When you meet all apps which worked before can't be open, it is a high probolibily because super certificates of those apps are revoked by Apple. Apple requires that all apps should be signed with Apple certificates and then allow them to be installed on iOS devices. However, Apple will cancel certificates so that apps can't work. Therefore, what can you do to use apps again after Apple revoking apps?
Before we introduce the solutions, you need to check whether you use super certificates. If not, methods below may not be suitable for you.
How to know whether you use super certificates?
If you use apps signed with super certificates, you won't see certificates under ENTERPRISE APPS as they are invisialbe.
The place of ENTERPRISE APPS: Settings > General> Profiles & Device Management > ENTERPRISE APPS.
How to use apps when super certificates revoked? ( 5 Methods in total)
Video Demo about those 5 Methods:
Method 1: A trick to open revoked apps
Don't delete the unavailable app from your devices then use this trick. Although it works temporarily and can't work on some devices, it is worth trying as it doesn't require to delete revoked apps.
Pros: This method can reopen the revoked apps and remain previous data.
Cons: It works temporarily;not working on all devices.
Step 1
Turn on airplane mode and make sure WI-FI is turned off.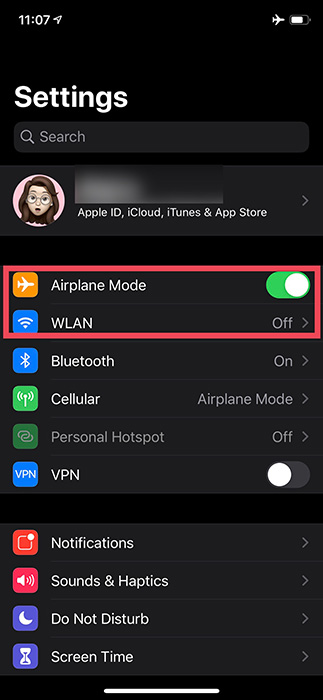 Step 2
Go to "Settings-Safari", clear history and website data.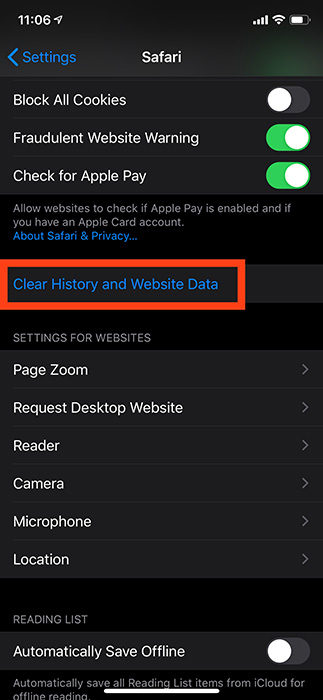 Step 3
Open revoked apps, although they can't connect to the Internet at this time, they can already open normally.
Step 4
Finally, turn off airplane mode and turn on WI-FI to connect to the network. Go back to the apps, and now you can open the revoked app.
This is also an temporary way but worth trying for the same reason: don't need to delete revoekd apps and some people can use it to download apps from revoked Panda Helper, which is better than the Method 1.
Pros: This method can reopen the revoked apps and remain previous data. Able to download apps from revoked Panda Helper.
Cons: Can't work on all devices;
Step 1 Go to Settings.
Step 2 Go to your wifi network and click i.
Step 3 Click Configure Proxy.
Step 4 Click Automatic; type url below(http://ffapple.com) and save.
Step 5 Turn off your wifi and turn it back on
You can repoen revoked apps and install apps from revoked Panda Helper.
Method 3: Jailbreak your devices to open revoked apps
Keep revoked apps and use jailbreak tools like unc0ver to jailbreak your devices, then revoked apps can be opened. We test this way on iPhone and iPad and it works well.
If you would like to install other apps from Panda Helper, please delete the revoked Panda Helper and install Panda Helper jailbroken version after you install AppSync Unified tweak from Cydia.
Tutorials for Panda Helper jallbroken version and AppSync Unified tweak.https://www.pandahelp.vip/blog/how-to-install-panda-helper-jailbroken-version/
Pros: This method can reopen the revoked apps and remain previous data.
Cons: Jailbroken detections of some apps will cause those apps unable to be used and other potential risks. Please think it over and google jailbreak before you decide.
You may be interested in:
*How to bypass jailbroken detections for bank apps?
*What Tweaks can Bypass Jailbreak Detection for Games?
Signing apps on PC is another way to get apps. Before you sign apps, please backup data first if you don't want to lose data, and delete revoked apps when you expect to sign apps have been revoked because apps can't co-exist.
Pros: Signed apps can last 7 days without revoke.
Cons: Have to resign after 7 days. The maximun of signing apps on one Apple ID is 3. There is a failure rate of signing and installing apps.
Step 1 Prepare app IPA files
Download app IPA files from Panda Helper Lite version on PC. Panda Helper Lite version website:https://www.pandahelperlite.com
There are a number of app IPA files provided from Panda Helper.
Here is a tutorial of downloading app IPA files from Panda Helper
Step 2 Sign and Install app IPA files
AltSigner supports for Windows OS and Altdeploy for MacOS.
For Windows users: AltSigner
Download AltSigner
Tutorial: Cydia Impactor Alternative: How To Sign IPA by AltSigner?
For MacOS X users: Altdeploy
Download Altdeploy
Tutorial: How To Download And Use AltDeploy On Mac OS?
Here is a video tutorial for Windows users:
Method 5: Reintall Panda Helper from our website
First of all, we are sorry for this inconvenience. The team will fix the revoked certificates, so when you meet this problem, please go to our website to install Panda Helper and check whether we solve.
If we fix it,
you are able to see a download button after installing a profile successfully on Panda Helper website.
At that time, please backup data first > delete all revoked apps including Panda Helper App > reinstall them. Remember to trust the certificate after installing Panda Helper:
Settings>General>Profiles&Device Management>click 【ENTERPRISE APP】>Trust.
If not,
you will see a revoked notification so that please follow our twitter account @PandaHelperApp to know when we solve and try methods above we suggest while working on it.