Unable To Verify App, grey icon after installation, apps crashing, all are problems that Panda Helper users will encounter. Today Panda Helper will give you a detailed introduction to the causes and solutions of this problem.
Tutorial index for unable to verify app, unable to install, crashing.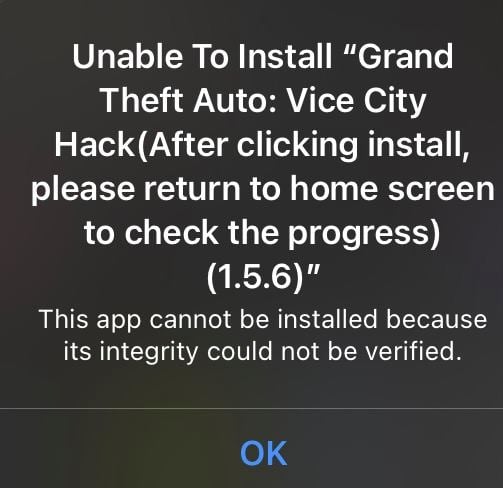 Situation 1: When Panda Helper App can be downloaded.
Situation 2: When Panda Helper App can't be downloaded.
Situation 3: Apps are crashing but Panda Helper App is working.
Situation 1: when Panda Helper app can be downloaded.
Apple sets some limitations on the common certificates for iOS 13 and later. Part of the devices gets blacklisted.
When getting tweaked apps or hack games for iPhone, there is a high probability of encountering issues such as the apps turning into the gray icon, unable to verify or crashing, which is due to the blacklist mechanism enabled by Apple on iOS 13, iOS 14 and iOS 15. Your device is safe don't worry but you can't use/open/install Panda Helper apps.
When you encounter apps gray icon, crashing or unable to verify, it indicates that your device or installed apps has been blacklisted. When Apple detects it, it blocks them.
How to solve Blacklist Issue:
Fix blacklist issue and remove your device from blacklist.

Panda Helper has solved the blacklist issue. If you meet the blacklist issue, pleasse learn how to remove your device from the blacklist by "Backup-Restore" method as the tutorial.

Text Tutorial: Backup and Restore To Remove Your Device From Apple Blacklist
Video Tutorial: What is Blacklist and how to Remove Device From Apple Blacklist
Situation 2: when Panda Helper app can't be downloaded.
The 1st Method:
Please wait for the next NEW common certificate to be fixed.

The 2nd Method:
Join Panda Helper VIP
Super certificate is a value-added service only for Panda Helper VIP members. It may be more stable than common certificates and it works on iOS 13 or above without crashing unless revoked by Apple, but due to Apple restrictions, we still CANNOT guarantee the valid date of the certificate.

If you are a free user but want to buy Super Certificate, you need to join Panda Helper VIP service and then can use Super Certificate to download apps immediately.

B. For VIP Users
If you are a Panda Helper VIP user with unlimited Super Certificates, you just need to uninstall and reinstall the apps. If you are a Panda Helper 1 year VIP or 2 years VIP, You can refer to the following methods:
The 1st Method:
Purchase a new Super Certificate again for continued use.

The 2nd Method:
Please wait for the next NEW common certificate to be fixed.
When the Panda Helper App can be downloaded normally from our official site, it means NEW common certificate has been fixed.
You can also follow Panda Helper's official Twitter and Youtube channel, and you will be notified when the fix is completed.

What Is The Super Certificate?
Super Certificate is basically unaffected by the blacklist mechanism at present, Panda Helper VIP users can purchase Super Certificate and re-install the apps.
However, it should be reminded that the Super Certificate may still be revoked by Apple, so you just need to purchase it again to continue using it.
Super Certificates are more stable and are less likely to be revoked than ordinary certificates.
If you encounter problems in the process of purchasing Super Certificate, please contact our customer service via Email: support@pandahelp.vip
Situation 3: apps are crashing but Panda Helper app is working.
If your Panda Helper and the apps downloaded from Panda Helper install properly on your device but you get crashes when using the app, this is due to a bug or unknown problem with the app itself.
How to solve app crashing:

Please record your operation process via screen recording and send the video to us via email with a text description of the problem. We will test them and try to fix the bugs.

Panda Helper Customer Service Email: support@pandahelp.vip
Related articles
Q&A for Apps Unable to Verify, Crash, or Grey icon
Certificates Solution For Panda Helper Free Users On iOS13-iOS15
How to Install Panda Helper on iOS - Free Download Hacked Apps and Games