Install Panda Helper on iOS 14-Free Download Hacked Apps and Games
Panda Helper iOS Version is an appstore from where you are able to download and install apps for free including hacked apps, tweaked apps, paid apps and ++ apps. Some people have a worry whether Panda Helper can work or not on iOS 14 because a new iOS system, iOS 14, have released recently and people can't wait enjoying the newest features of iOS 14, they upgrade their systems to iOS 14 even though it is a beta version and it makes some apps not working after upgrading it to the newest versions because of the compatibilty between apps and iOS systems .
However, Panda Helper is compatible with iOS 14 since we solve the compatibility problem between iOS 14 and Panda Helepr iOS versionso that don't worry about the problem and enjoy yourselves downloading apps from Panda Helper. It works on iOS 14. Download it.
How to install Panda Helper on iOS 14 (iPhone or iPad)
Panda Helepr iOS versions include regular version, VIP version and jailbroken version.
Regular version is a free version, which is enough for most users to download their favorite apps for free. We will tell you how to install regular Panda Helper on iOS 14. Since regular and VIP version is for unjailbroken devices, if you utilize unjalilbroken devices, please download regular Panda Helper; if you use jailbroken devices, please install jailbroken version of Panda Helper. We use regular Panda Helper which is a free verison of Panda Helper for unjailbroken devices as example.
Step 1: Open the official website of Panda Helper with Safari.
Step 2: Navigate to Reuglar and tap "Download Free Version".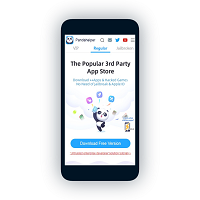 Step 3: Tap "install" when a pop-up occurs and wait for it to install on your homescreen.
Step 4: Go to Settings > General > Profiles & Device Management > Downloaded Profiles to trust a certificate used by Panda Heler. (Since apps need the certificate from Apple and are able to use on iOS devices, we need to trust the certificate to get the use.)
Open Panda Heper to install apps you like most.
How to install apps from Panda Helper on iOS 14 (iPhone or iPad)?
There are a variety of apps on Panda Helper able to be able to dowload. Hacked apps or tweaked apps providing unlimited HP, coins or diamonds, in-app purchase free or more features. What's more, you have an access to download paid apps on Panda Helper without payment.
Step 1: Open Panda Helepr app and enter the name of apps you want in the search bar.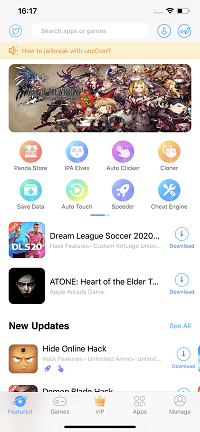 Step 2: Get all results indexed by Panda Helepr.
Step 3: Tap the app you want, read the description for it and press "Install Now" to start downloading.
Step 4: A pop-up will appear after installation finishes to tell you install the app.
Step 5: If you tap "Cancel" carelessly, please navigate to the main page of Panda Helepr and press here to install.
What are Panda Helper features?
1.Provides sorts of apps including ++, hacked, tweaked and paid apps.
2.Panda Speeder to change game speed on iOS 14
3.Panda Cheat Engine (CE) to modify games on iOS 14
4.Panda Auto clicker to click screen automatically on iOS 14.
5.Panda Auto Touch to record your operations and automate the game.
6.Panda Cloner to creat copies of apps from Panda Helper on iOS 14.
7.Panda Cloud Save to get unlimited items for games iOS 14.
8.Panda Save Data to save games process locally iOS 14.
9.Panda App signer service to sign your apps on your devices.
10.Panda IPA Elves to sumbmit games on which you would like to add Panda features.
Recommended For You