Panda Helper iOS Version is an app store from where you can download and install apps for free, including hacked apps, tweaked apps, paid apps, and ++ apps. This article will introduce three versions of Panda Helper for iOS. If you are looking for the download method of hack games and tweaked apps, you will get them for free with jailbreak through this article. In addition,you can download and install Panda Helper on your Android devices.
Contents:
√ 3rd Party Apps Library - Thousands of modified apps and hacked games.
√ Tweaks for iOS and Android - Supported on all types of mobile devices such as the iPhone, the iPad, and Android devices.
√ Safe and Secure - Strong SSL encryption to secure your downloads.
√ Free Download - Download apps without costing
√ Application Automatic Update - No requirement to manually mount updates to the applications installed via Panda Helper, as they can be updated straight via the application itself.
√ No Jailbreak or Roots
√ 24/7 Support - The support team supplies 24/7 customer survice
Panda Helper iOS versions include Free version, VIP version, and jailbroken version.
Panda Helper Free version, which is enough for most users to download their favorite apps for free. We will tell you how to install Panda Helper Free on iOS. Free and VIP version is for unjailbroken devices. If you utilize unjalilbroken devices, please download the Free version of Panda Helper. If you use jailbroken devices, please install jailbroken version of Panda Helper.
Step 1: Open the official website of Panda Helper with Safari. And tap On "Download."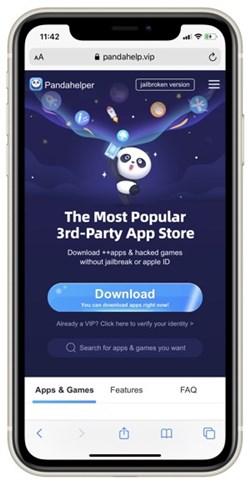 Step 2: Now, you will see both [Free version] and [VIP version], select [Free version], and click the "Install" button.
Then select [Free version], and click the "Install" button. If the Free Version cannot be used after installation, please install the web version.

Step 3: Follow the prompts to install the panda helper profile so that Panda Helper can be installed successfully. Please wait for it to install on your homescreen.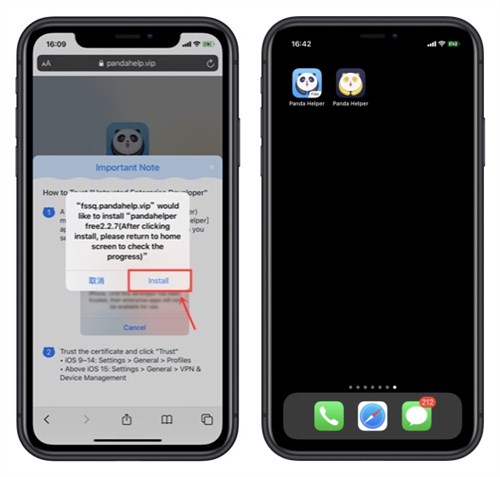 Step 4: Go to Settings > General > Profiles & Device Management > Downloaded Profiles to trust a certificate used by Panda Helper. (Since apps need the certificate from Apple and can use on iOS devices, we need to trust the certificate to get used.)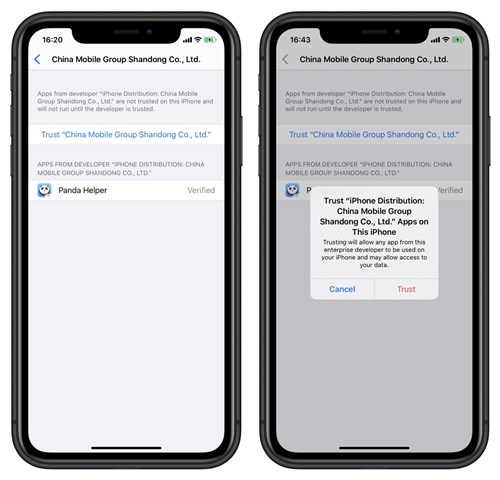 Open Panda Helper to install apps you like most.
Here is the installation tutorial for the VIP version.
> Please note the following:
Panda Helper can be installed for free when a common certificate is available. But common certificates are easily revoked by Apple. If Apple revokes the common certificate, you need to purchase A VIP before downloading Panda Helper. You can choose a 1-Month VIP or a 6 Times Card VIP. If you're going to use it for a long time, you can select a cheaper Monthly VIP. Within the validity period of VIP, Panda Helper can work typically. The 1-Month VIP means that no matter how many times the certificate is revoked within a month, it will automatically renew the certificate. The 6 Times Card VIP means that you can get six certificates within one year, and you have to repurchase for more than six certificates.
Step 1: Open the Safari to go to  Panda Helper official website
Step 2: When the website is loaded, there you can see the "Download" button. Tap on it.
Suppose you are joining the Panda Helper VIP membership. You can enjoy more features in the VIP version of Panda Helper, such as Auto Touch, Auto Clicker, Speeder, Cloner, Cheat Engine, etc. Click "Get VIP" to get.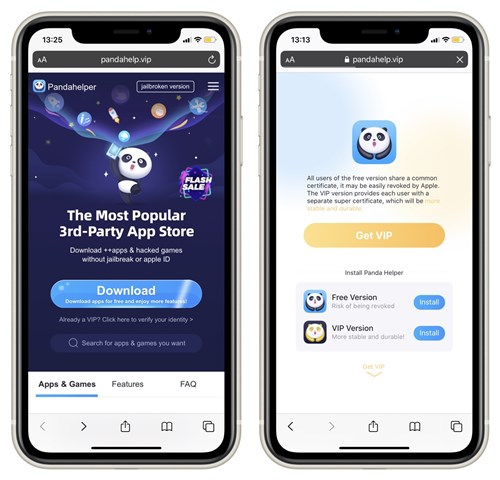 Step 3: If you are already the Panda Helper VIP user, click on the text link below the Download button.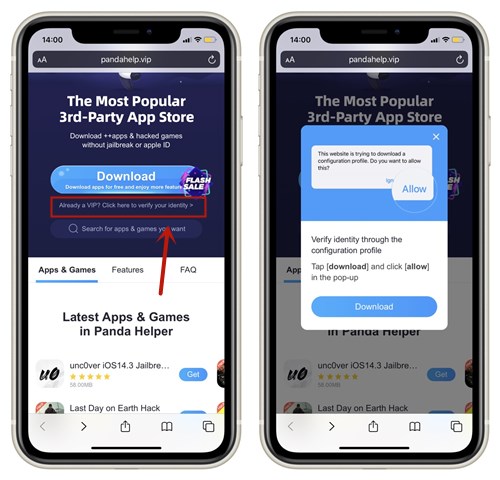 Step 4: When you open Panda Helper VIP for the first time, if you see the message "Untrusted Enterprise Developer". Follow the prompts to install the Panda Helper profile so that Panda Helper can successfully obtain your VIP expiration date.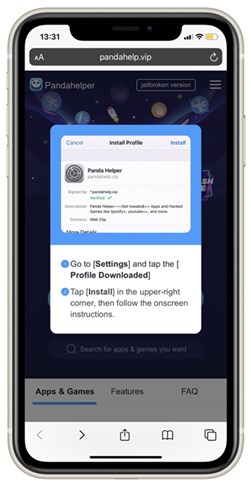 Three features of Panda Helper VIP
In addition to the 3 features that come with the Panda Helper VIP, Panda Helper offers 6 additional game tools, which can be purchased separately for the user of Panda Helper, both the VIP and Free versions.
Panda Helper Jailbroken Version is an alternative AppStore specially for jailbroken devices. It provides access to installing various hacked games and tweaked apps for jailbroken devices without certificate revoke problems for free. Go to download Panda Helper Jailbroken Version for free.
Panda Helper Android is most certainly one of the most thorough and helpful application stores. The most beneficial feature of Panda Helper Android is that it is dependable, safe, and free.
Step 1: Go to Panda Helper Android official website.
Step 2: When the website is loaded, tap on the "Download" option.
Step 3: If it comes up with the "Install blocked," you need to enable Unknown Sources option firstly to install third-party APK files on Android. Go to your Phone's "Settings > Security" and you will see the Unknown Sources option. Enable Unknown Sources and tap on OK in the prompt message. Once done, you can install third-party APK.
Step 4: Then find out Panda Helper Android and install it.
There are a variety of apps on Panda Helper able to be able to download. Hacked or tweaked apps provide unlimited HP, coins or diamonds, in-app purchase free, or more features. What's more, you have access to download paid apps on Panda Helper without payment.
Step 1: Open the Panda Helper app and enter the name of apps you want in the search bar.

Step 2: Get all results indexed by Panda Helper.
Step 3: Tap the app you want, read the description for it and press "Install Now" to start downloading.
Step 4: A pop-up will appear after installation finishes to tell you to install the app.

Step 5: If you tap "Cancel" carelessly, please navigate to the main page of Panda Helper and press here to install.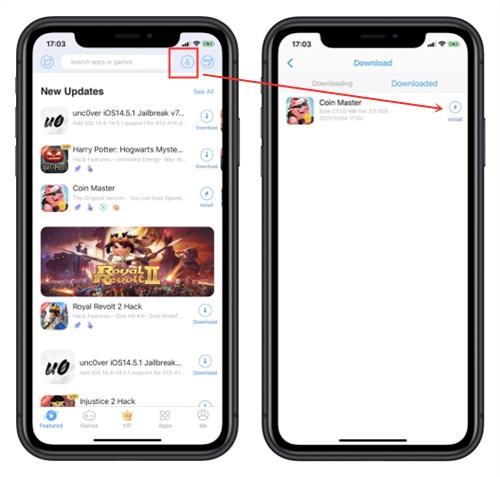 Step 6: When you open it the first time if you see the "Untrusted Enterprise Developer" message. Go to the Settings app, Settings > General > Profiles & Device Management, and trust the app's profile.
Q1: How to fix unable to verify App, unable to install App, crashing App that downloaded from Panda Helper?
A1: Go to get the tutorial on fixing Unable To Verify App.
Q2: How to transfer Panda Helper VIP services to new devices?
A2: When you change your device, you will find you can't use Panda Helper VIP services on the new device because Panda Helper VIP services only work on the devices which purchased them. Go to get the methods of transferring Panda Helper VIP services to new devices.
Q3: How do I know what apps have removed from the blacklists?
A3: Need at least two or three days to remove all apps from the blacklist due to Panda Helper's huge apps library. You can check removed apps apps from Panda Helper offical Twitter.
Q4: How to feedback if I meet the blacklist app?
A4: Send the name of the blacklist app and your system (e.g., iOS 13.4 ) to us: support@pandahelp.vip
Q5: How to find the PayPal/Alipay/Payssion Invoice ID or Billing ID?
A5: Find the Invoice ID or Billing ID for 3 different payment methods.
Q6: How do you fix profile not showing up on settings when using Panda Helper?
A6: 1. Clean up the Safari cache, restart your device and change your network.
2. Allow to download the profile and wait for the downloading profile process completed on Safari loading bar.
3. Check whether you download it successfully.
Q7: How do you Change DNS to make smooth network?
A7: Change your DNS is a simple things that follow this detailed guide to get it.
Q8: Is Panda Helper safe for Android?
A8: Panda Helper Android is 100% safe and secure to use. And it does not collect users' privacy data. The most important thing is Panda Helper VIP Android is free.
Tips: The above is a partial guide to questions about Panda Helper. If you don't find what you are looking for, you can log in to the Panda Helper FAQ or contact us.
These are the best apps like Panda Helper you may try.
AppValley
iosGods
TweakBox
Tutubox
TuTuApp
CokernutX
TweakDoor
Once you download panda Helper, you can install many popular games and applications for free, such as:
Spotify++
Unc0ver Jailbreak
YouTube++
Snapchat++
Minecraft
KineMaster Premium Hack
Clash Royale Private Server Hack
Last Day on Earth Hack
Panda Helper is a 100% safe and feature-rich unofficial application. Its developers will monitor and update it regularly. Since its launch, Panda Helper has been highly praised by most users. The free version has thousands of hacked games and tweaked apps, which have met the needs of ordinary users. However, many users prefer to upgrade to the VIP version for additional functions and higher stability.