Hay Day Town Strategies, Tips, and More New Walkthroughs
Collection of Hay Day town strategies, tips, and more tricks or walkthrough you want to know
As we said before, the Hay Day website which offered tips, tricks, wiki for Hay Day players would bring more stretegies, walkthrough of Hay Day. Recently they have focused on sharing strategies, tips, tricks and wiki about Hay Day town.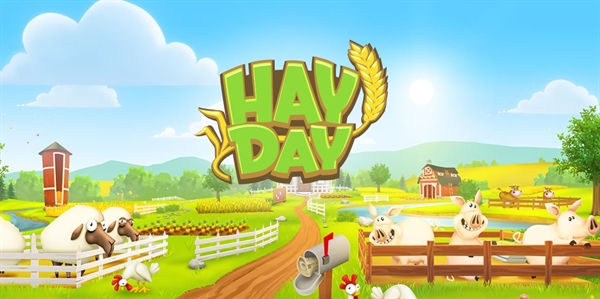 Hay Day town, another big part for players to expand, decorate, feed animals and serve town visitors. If you don't know how to flourish the town in Hay Day, check the following below.
You may be interested in Must-Read Hay Day Guides, Tips, Walkthrough, and Wiki
Strategies, tips and tricks for Hay Day town and town buildings
There are seven town service buildings in Hay Day town and one town train station. If you are unsure what strategies you can adopt or uncertain about how to upgrade it and what strategies, tips, tricks you can use in them to fulfill your need. See those:
Tips and Walkthroughs about Hay Day town building materials
Town building materials are items to upgrade town service building on Hay Day town. Here are tricks and tips for getting more and fast. Read:
Cheats and Tricks for Hay Day town land expansion
Land expansion is another imperative problem for players when running the town. However, there are not easy to find. We've gather the methods of earning them to help you. Have a loook:
Hay Day Best Ways to Get Expansion Items 2021
Fastest Get Hay Day Expansion Materials 2021
Hay Day Hack for More Land Deeds, Mallets and Marker Stakes
Tips about Hay Day town Sanctuary
Hay Day town Sanctuary is the home for wildlife.When you reach the certain level, you have the chance to unlock it and decorate it. But, there are some tips to step the process up.
Fastest Way to Unlock Hay Day Sanctuary
Quickly Get More Hay Day Puzzle Pieces to Unlock Sanctuary Animals
Hay Day Christmas Designs and Decorations on Snowy Town Sanctuary
Other Hay Day Tips You Need
How to Get Rid of Foxes on Hay Day (Guide)
What does the Exclamation Mark on Hay Day Farm Pass?
Fast Get Rid of Hay Day Frogs (Tutorials)
What is Hay Day Dock? Is It Worth Repairing?
What are Hay Day Boat, Boat Points and Boat Booster?
Hay Day Bot - Android Automatic Tool to Auto Farm
Hay Day Android Bot is an auto farming tool developed by Game Bots team. It can automatically plant, harvest, and sell wheat, corn and carrot for players 24/7 without stopping. What's more, Hay Day Bot can automatically play multiple Hay Day farms on one Android mobile!
As Hay Day Bot has those automatic features, Hay Day Bot is considered as an effective hacking tool and Hay Day cheat for the game resources like Hay Day coins, Hay Day supplies including building materials, land expansion materials, clearance materials etc.
Kick back and enjoy tons of resource without effort with Hay Day Bot!
Hay Day Hacks Bot for iOS
Download and install Hay Day from Panda Helper iOS
Grow wheat, corn or carrot automatically
Harvest crops automatically
Harvested items are automatically placed in roadside stands and sold automatically
Fixed bugs in weather and sell system
Supports all types of iPhone and iPad
Download Hay Day from Panda Helper.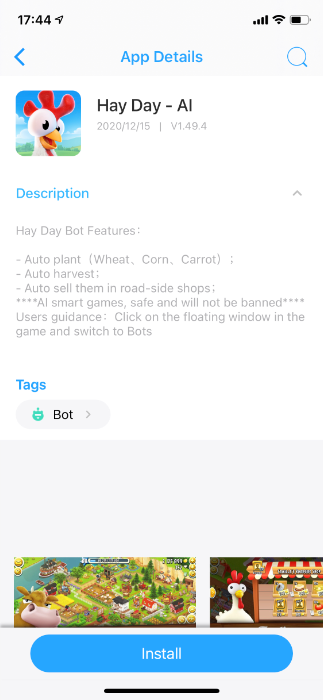 After entering Hay Day, press Panda icon to get the Hay Day Bot.
Pressing Hay Day Bot, you can learn more about the supported devices and other information.


Tap the button "Get" to run the Hay Day Bot, then press the Panda bot to open Hay Day Bot settings page.
Follow [About] to arrange the fields as shown for Hay Day Bot first.
Go to the [Main Function] and configure Hay Day Bot as you wish:
Hay Day Bot will run and boost your advantage.
Panda Bot Free for a Limited Time
Panda Bot is currently in beta test and is free for users to try and use.
Every users can start the 15-min free trial every 24 hours.
You can purchase additional duration if you want to get longer hours of use per day.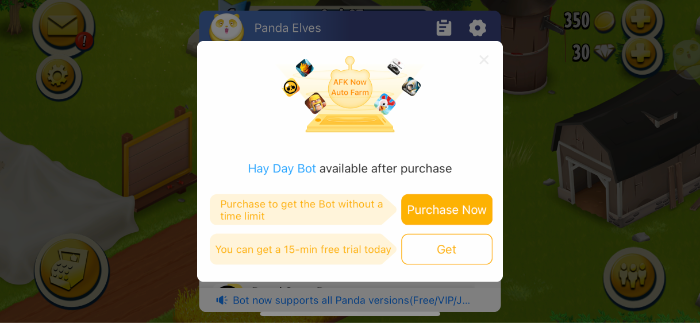 If you have used the panda bot feature, please fill out the questionnaire to give us your feedback.
The free time may expire at any time. The final display on the Panda Bot page shall prevail.
Panda Bot Contact:PandaHelperBots@gmail.com
Related Article