Hay Day is a fun time-killing business game. There is no difficulty in operation, and most players can quickly get started. If you want to play Hay Day faster and level up faster, you must not miss the following Hay Day cheats to help you get more out of Hay Day.
Download Hay Day on iOS for Free
Download Hay Day on Android for Free
Download Game Bots on Android for Free
Android devices need to download Hay Day and then Gamebots to use Hay Day Bot.
"Hay Day is a period of happiness and prosperity." The game involves:
★ ★ ★ Cultivating bushes and trees.
★ ★ ★ Growing crops.
★ ★ ★ Raising animals and pets.
★ ★ ★ Crafting various products on your farm.  
A player can trade with other players and non-playable characters (visitors) to earn coins and gain experience points to keep the game progressing.
You need to master the art of leveling up the game as it helps you unlock more crops, items, and features and unlock more buildings as you progress with the game.
As you progress with the game, you will come across two additional playing areas, namely the town and fishing lake, once you reach a certain game level.
When you want to spruce up your farm, you can buy customized features and decorations from the shop.
Events occur regularly, and during these events, a player can get an expensive or a rarer item as a reward for winning a competitive challenge. 
A player can also help and chat with their neighbors and sometimes combine efforts to compete for a hefty price in Derby races. 
The game also has multiple thematic, seasonal changes by the game developers.
Contents
Where Can You play Hay Day apk 2022
How to Hack Hay Day With Hay Day Bot 2022?
Hay Day Bot Frequently Asked Questions
Everything About Hay Day Supercell ID You Should Know
Where Can You Play Hay Day Apk 2022
Hay Day is a farming simulator mobile game developed by Supercell, the team behind trending strategy games Clash of Clans and Brawl Stars. Hay Day has less combat than Clash of Clans and Brawl Stars, but it's just as strategic as Clash of Clans and Brawl Stars.
Are you concerned about which devices you can use to play Hay Day Game? Fortunately, the game developers have taken care of both Android and iOS devices. 
Android devices from version 4.1 and later or iOS 8 or later should be able to support your game. 
If you want to play this game on multiple devices, all you need is to create an account for each device. 
Your game progress is saved on the server hosting the game so you can comfortably switch between your devices without losing your game progress.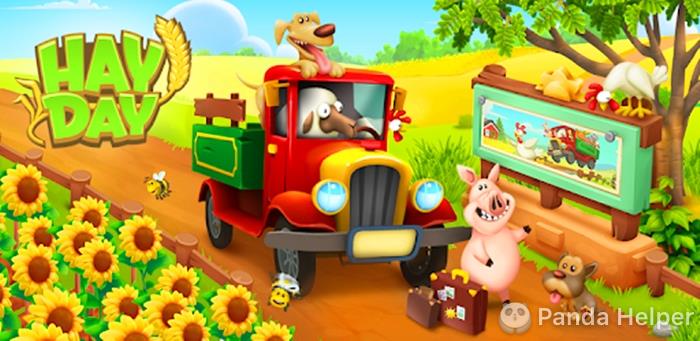 What is Hay Day Cheat
While playing Hay Day, you may want to get a version of the Hay Day hack to help you get unlimited coins and diamonds to use cash to buy more production buildings and products in the game, even expensive ones in the store decorations. You can also use diamonds to speed up various progress, buy unique decorations, and even buy items you need. I've also tried looking for Hay Day Cheats that work for unlimited items/ Coins/ Diamonds 2022 but found it unusable. Most are scams. I am often annoyed by not having enough Supplies to upgrade my storage building. Until finally, I found this Hay Day auto bot to cheat the Hay Day game successfully.

Hay Day Hacks is a version based on the original game that adds some modifications to help you experience the game better without affecting your account. Common Hack functions include unlimited coins, diamonds, automatic planting, harvesting, and sales. This Hay Day Hack is also called Hay Day Bot. Next, I will introduce you to its function and how to use it.
Hay Day Bot Features
- Compatible with all series of iPhone/iPad devices
- Auto Switch Supercell ID accounts
- Auto plant(Wheat、Corn、Carrot)
- Auto harvest
- Auto sell them in RoadSide Shops
Hay Day's farm helper, Rose, can automatically make feed and feed the animals, while Ernest can help you make dairy and sugar products. You can get accelerators to use for free.
And as the level increases, players can own more and more land. So here comes the problem. You have to spend a lot of time harvesting and growing crops, and when you quit the game, you won't be able to harvest. There are no farm helpers or boosters in the game to help you harvest and plant. You can't have more crops, harvest seeds for seeds, make products, or even sell them! The farm helper also can't work if you don't have enough crops.
Hay Day doesn't have a bot that can automatically grow and harvest, and the Hay Day Bot is one such cheating tool.
Advantages of Using Hay Day Bot
🌾 Hay Day Bot works on iOS and Android devices.
🌻 Hay Day Bot works 100%
🌷 Hay Day Bot is free to use
🌼 Hay Day Bot can help you grow automatically (wheat, corn, carrots)
💐 Hay Day Bot can help you harvest automatically
🍄 Hay Day Bot can help you auto sell and set up ads
Hay Day Hack Guides
Hay Day Valley Season 16 has Taken Place: How to Enter it?
Tips and Guides for Hay Day 2022 and the Latest Hay Day Bot Download Guide
Hay Day Town Strategies, Tips, and More New Walkthroughs
Play Hay Day Crop Boost Event with Hay Day Bot This Friday
How to Get Land Deeds in Hay Day
Best Way to Make Money in Hay Day
How to Level up Fast in Hay Day
How to Get Diamonds in Hay Day
Download Hay Day Bot 2022
Download Hay Day Bot 2022 on iOS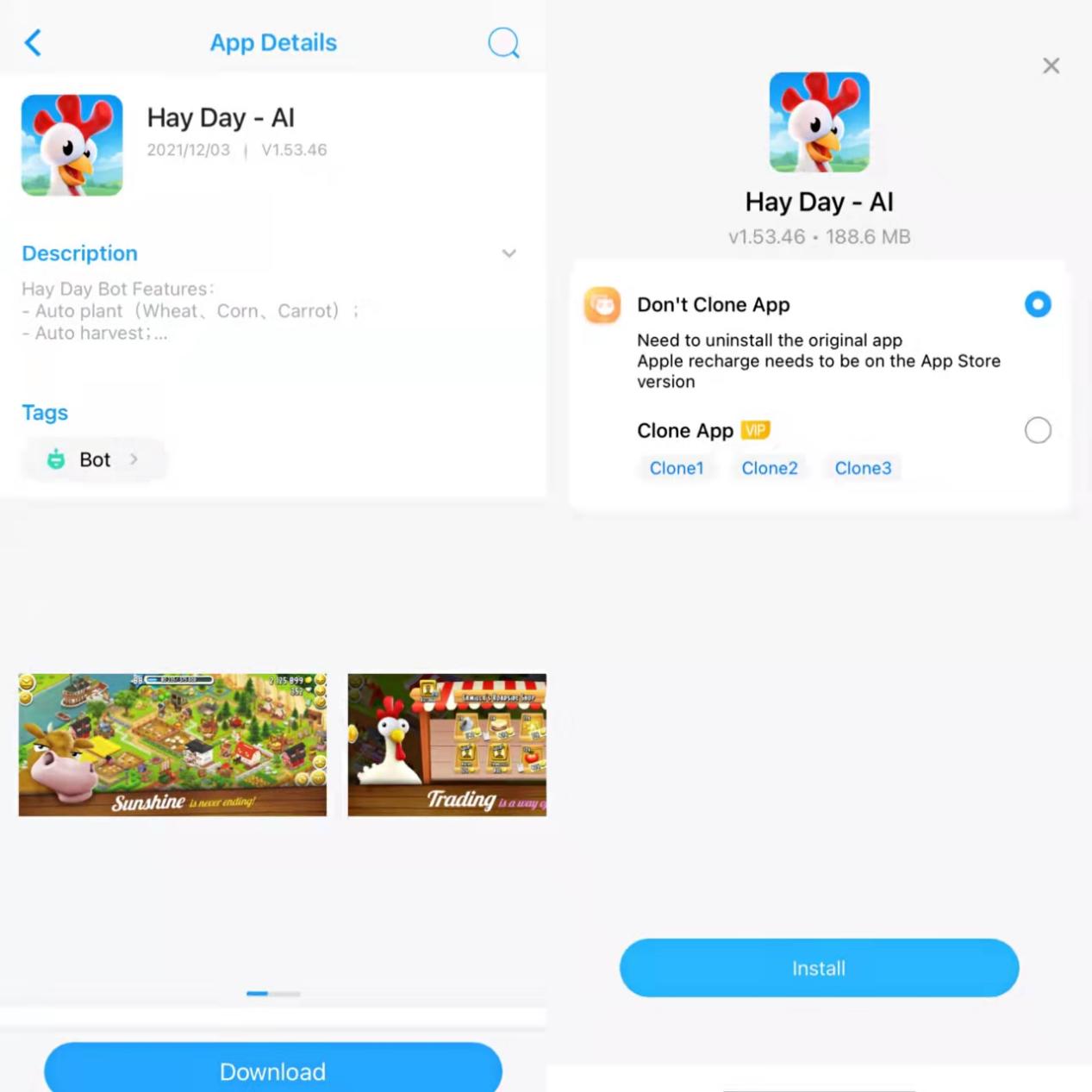 1. Download the free or VIP version of Panda Helper from the official website of Panda Helper.
2. After the installation is successful, open Panda Helper, search for Hay Day - AI, and download it.
Open Hay Day - AI, and you will find that it is the same as Hay Day you downloaded from the App Store. However, only Hay Day - AI supports using Hay Day Bot. Hay Day downloaded from the App Store cannot use Hay Day Bot.
Download Hay Day Bot 2022 on Android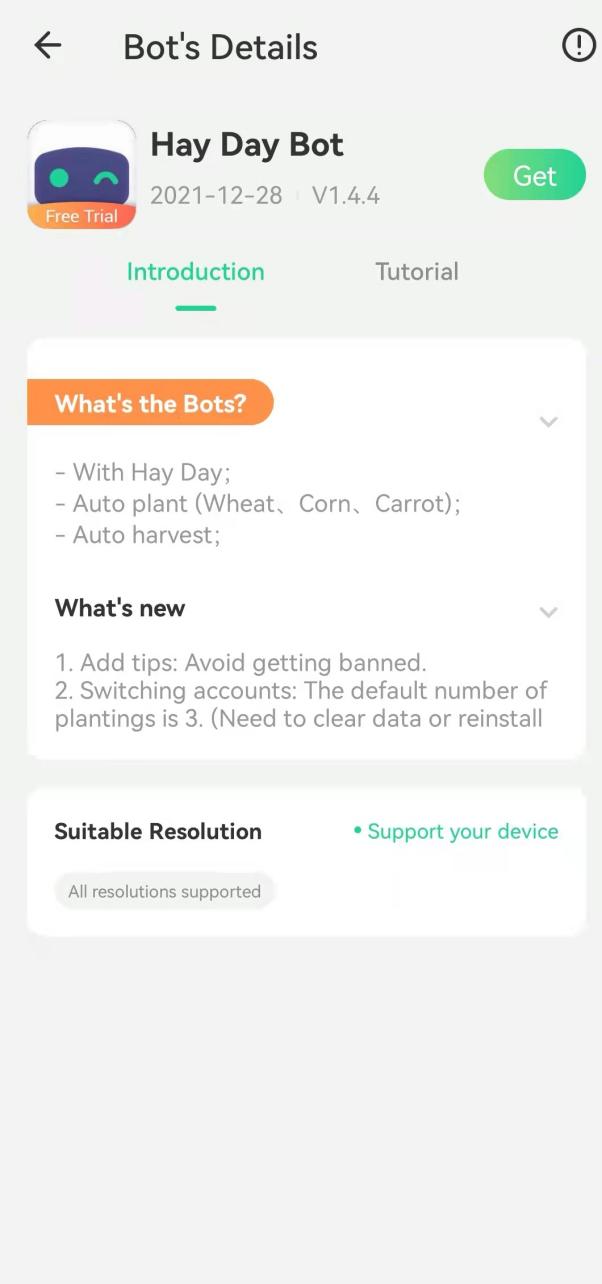 Unlike iOS, the Android version requires you to install the original Hay Day and then go to game bots to download Hay Day Bot for use.
1. First, download Hay Day from the App Store. If you have already downloaded it, start directly from the second step.
2. Download and install Panda Helper for Android on your Android device.
3. Open Panda Helper, find Game Bots, and download it.
4. Open Game Bots, get Hay Day Bot.
How to Hack Hay Day With Hay Day Bot 2022?
Hay Day Bot is considered an effective hacking tool. Hay Day cheat game resources such as Hay Day coins, Hay Day supplies including axes, saws, building materials, land expansion materials, and many more clearing materials. You can get this Bot by pressing the Panda icon visible after entering Hay Day.
Step 1. Open Hay Day - AI (Open Hay Day on Android devices)
Step 2. Because you downloaded from Panda Helper, you will see a panda floating icon on the right side of the screen.
Step 3. Click on the panda floating icon and select [Bot] on the right.
Step 4. You can see Hay Day Bot and click Get, so you can use Hay Day Bot to play the Hay Day game. Before starting to use Hay Day Bot, you must understand the details of [About] to use Hay Day Bot correctly.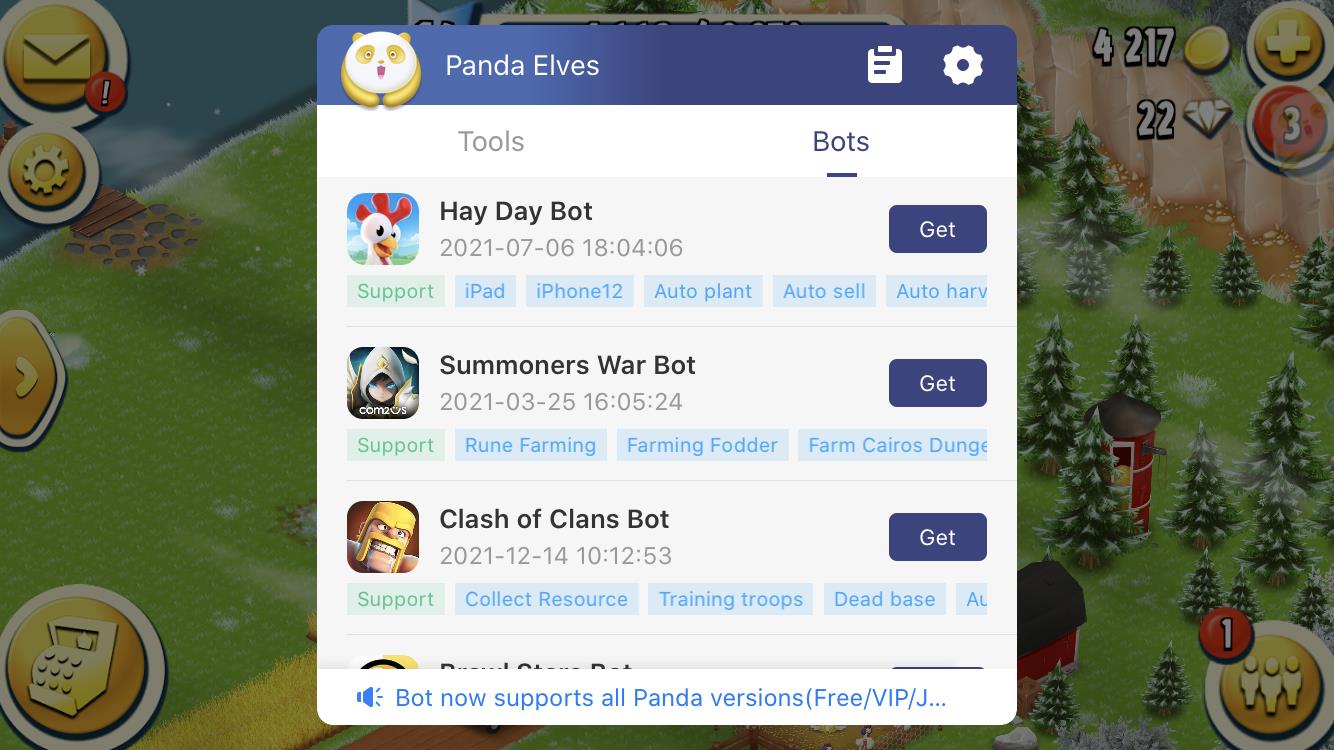 Move your land to the specified location as shown in the picture. Otherwise, Hay Day Bot will not work correctly.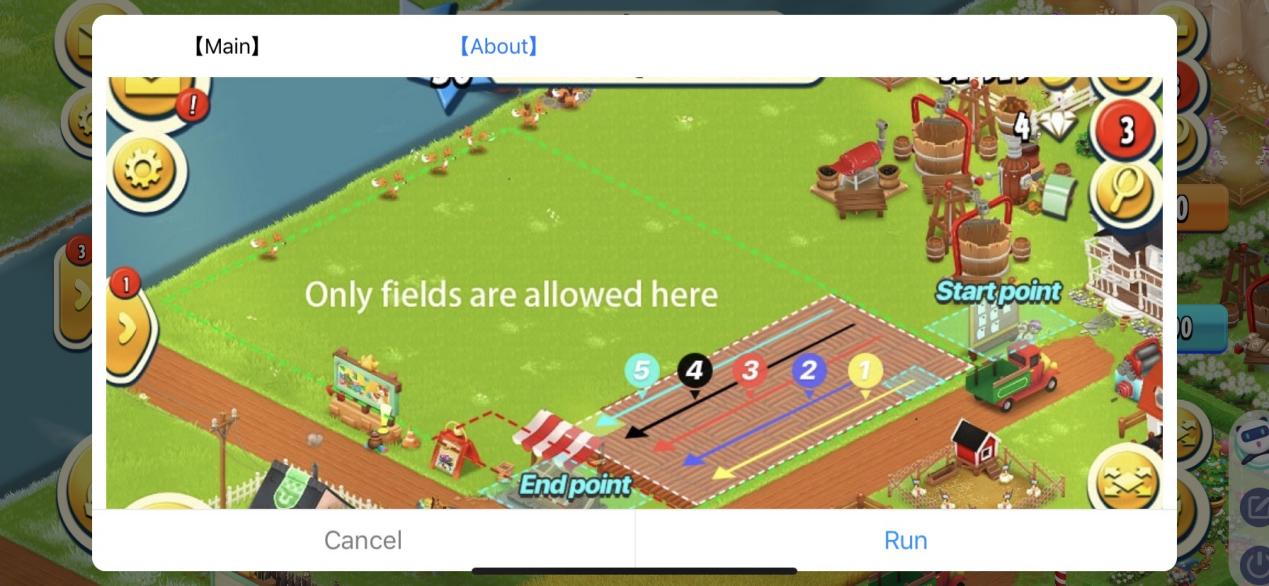 Hay Day Bot in the [Main] setting 
Step 1. Set the working mode of Hay Day Bot.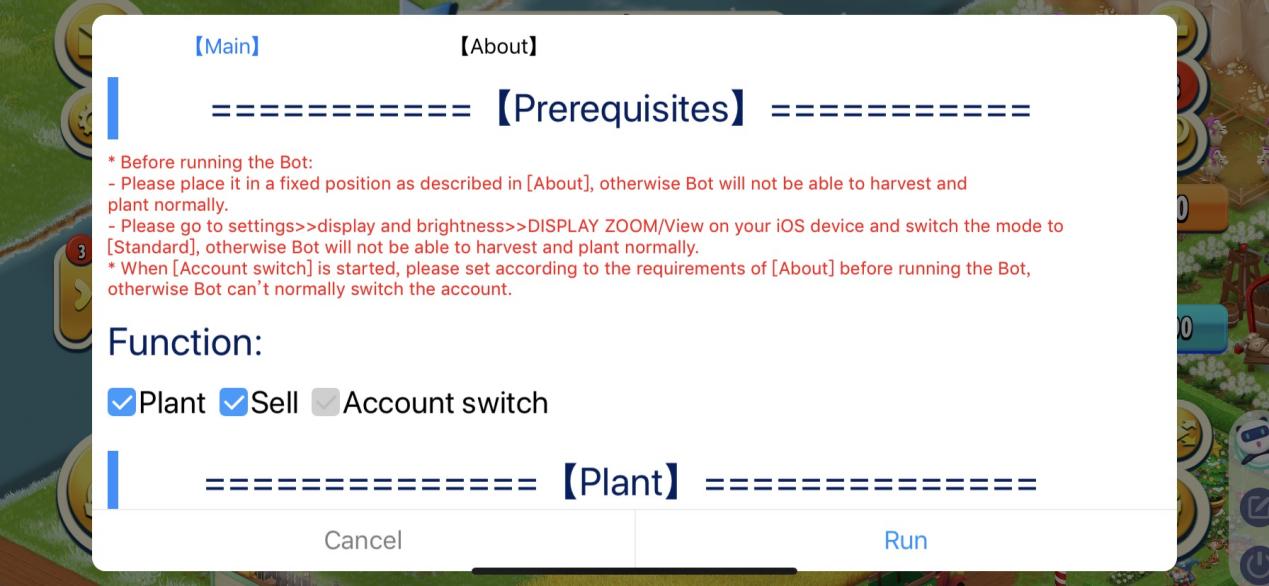 Step 2. Set the number of rows of land, crops to be planted.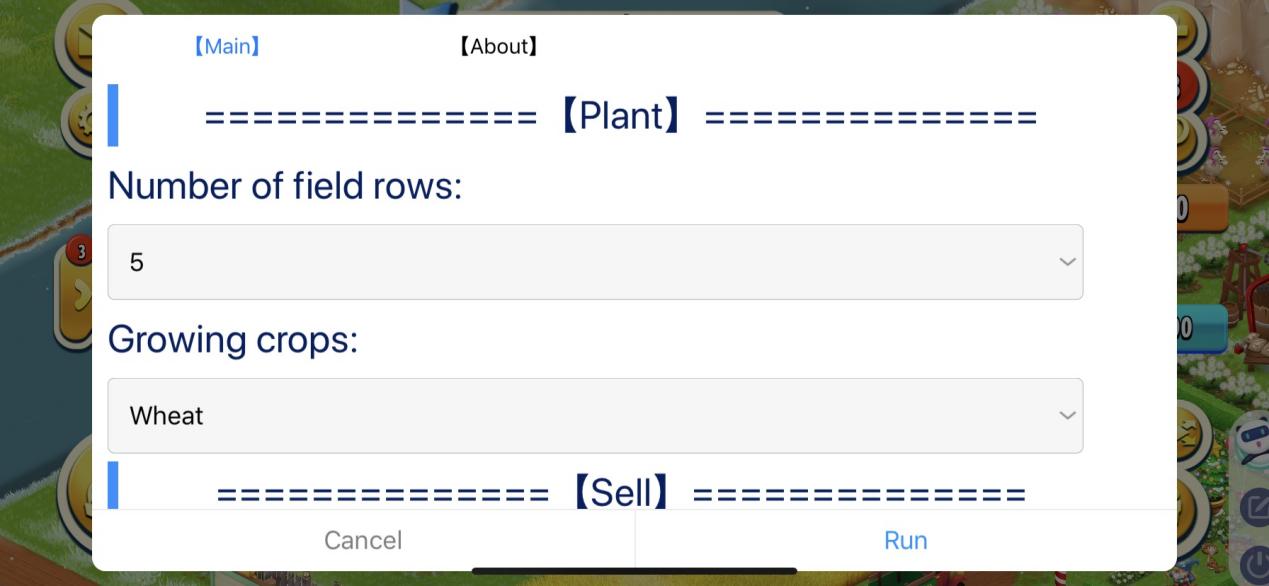 Step 3. Set the selling price and add advertisements to the products on the shelves.
Step 4. After setting, click Run in the lower right corner. Hay Day Bot is ready to start working automatically.
Hay Day Bot Frequently Asked Questions
1. Is Hay Day Bot Free to Use?
Panda Bot Free for a Limited Time.
Every user can start the 15-min free trial every 24 hours. You can purchase additional duration if you want to get more extended hours of use per day.
The free time may expire at any time. The final display on the Panda Bot page shall prevail.
2. Is Hay Day Bot Safe?
Hay Day Bot is a hack tool for Hay Day, but safer and more hidden because it only runs over the game as people play the game.
You will get it for your Hay Day Farm and boost your benefits ever after as you learn below!
Everything About Hay Day Supercell ID You Should Know
The Supercell ID is equivalent to the official account of the Supercell game. With this account, you can save the game progress, and at the same time, you can get an additional decoration - the pig rider statue.
In addition, Supercell ID has other uses, such as a free expansion of roadside store shelves. Let's see how to register and bind Supercell ID.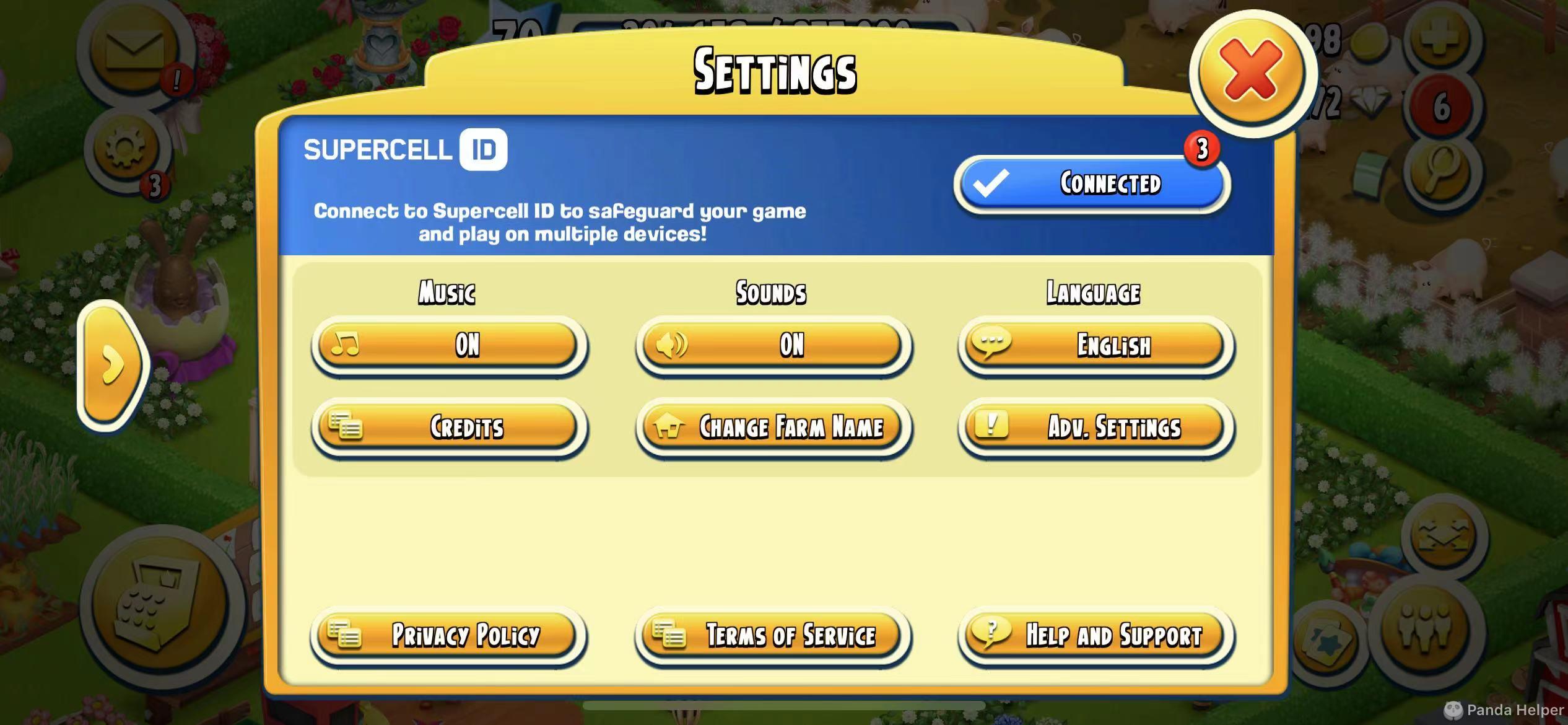 How to Register Supercell ID?
One of the best decisions you can make is registering a Supercell ID for each game account. If you want to switch between them smoothly,
You don't need a verification code. Go to the game settings (usually located at the button below the Supercell ID) and sign up for a Supercell ID.
If you want to use one Supercell ID to save your game progress in a different Supercell game, you need to" Log In" using your Supercell ID email address in each game.
1. Enter the game, and click the settings button in the upper left corner. Find the Supercell ID and click to log in
2. If you have already registered SC ID, you can log in directly. If you haven't registered, click Register Now, enter your usual email address and enter the verification code received by the email address to complete the registration.
3. Go back to the game to receive the statue decorations delivered to your door by the postman.
What Can Supercell ID Do?
Do you know that Supercell ID allows you to smoothly play all of your Supercell game accounts on your devices and safeguard your sensitive information about game accounts?
Remember, setting up your Supercell ID is not only easy but also free. You don't need any passwords to log in since you will receive a new verification code on your device.
Adding friends in-game via SC ID also increases the number of chests in your roadside shop so you can sell more items at once.
Games Like Hay Day
1. FarmVille 2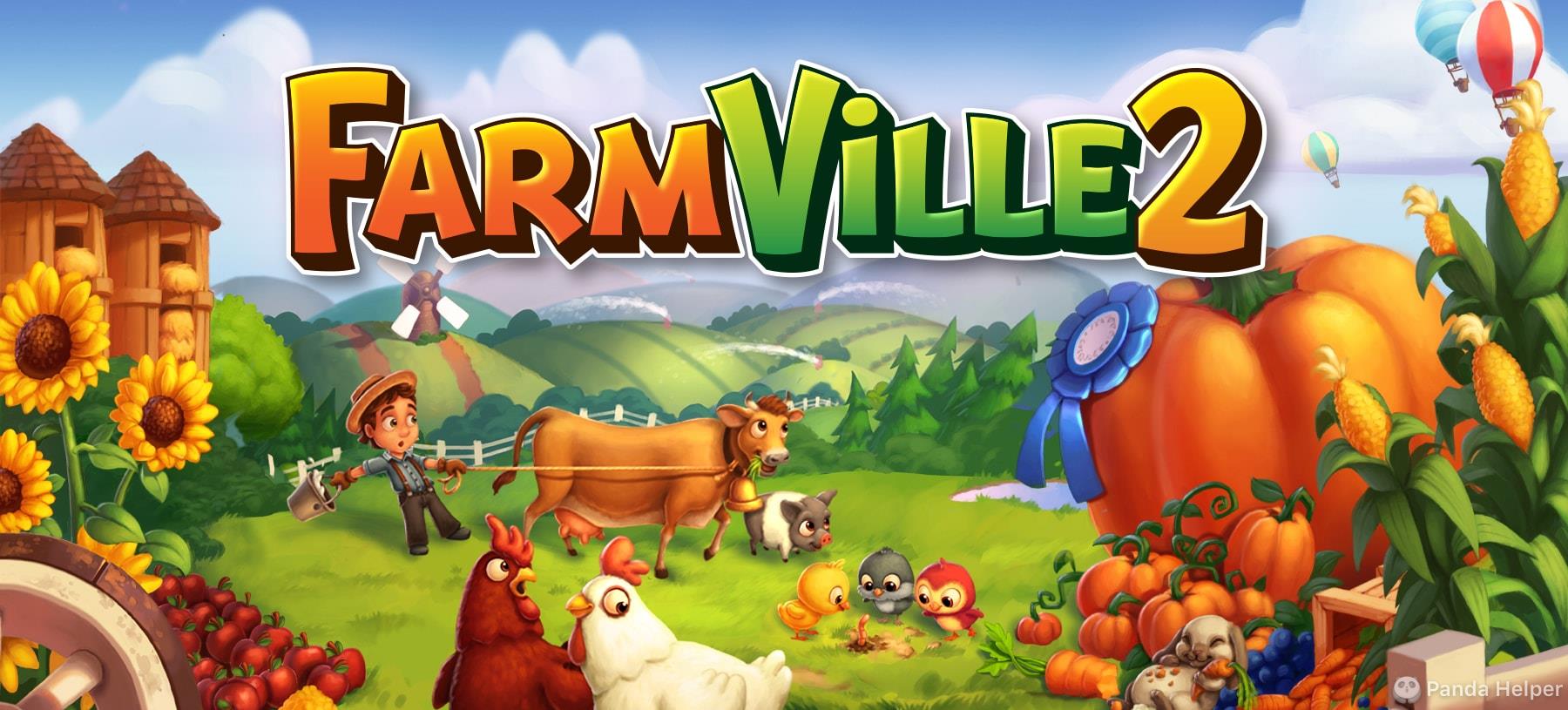 From scratch, create, build and nurture your dreams playing FarmVille 2.  
You will come across many interesting and funny characters, grow and unlock particular crops, take care of your animals and pets, and generally make your farm lively.  
You can trade with your neighbors, participate in your friend's farms and form a Co-op to work together with other established farmers. 
The Co-op's purpose means that you can access a Shared Order Board and progress on a practical Co-op Delivery Map and, in turn, receive huge rewards.
You start with an empty farm where you start fixing the mess, starting with the Farm Coins, the main currency in the game.
In the process, you will earn experience points (XP) after performing various actions in the game, such as buying items and plowing the land.
Your XP benchmarks will rise at a particular game level. 
As you gather more items and progress on the game, you can now access animals and crops via the Market, where you can buy items using the Farm Cash or Farm Coins. 
You earn Farm Cash by leveling your game or purchasing them using actual currency.
Download FarmVille 2 Hack on iOS
2. Township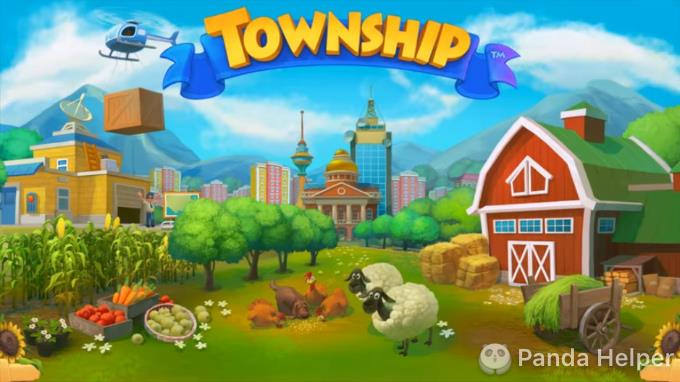 Township is a city-building and a casual farming game developed by Playrix for multiple platforms. 
The game objective is to develop and establish a starter town by harvesting crops, building new factories, and creating valuable goods. 
The game's main idea is to link single independent agriculture operations to a set of industry chains, increasing the value of the farm produce, increasing income, and expanding the farm's territory by making the town grow more prosperous by increasing its population. 
The gameplay is based on production and farming puzzle cores and informal order board games. 
You start by harvesting corn, wheat, potato, carrots, cocoa, sugarcane, tomato, silk, rubber, rice, strawberries, pepper, and rice.  
Ernie is the first person to guide your character, which takes your player through the tutorials. 
For example, he teaches your player the process of feeding dairy cows and how milk is produced, how to create wool, eggs, and bacon, and how to farm pigs, sheep, and chickens.
3. Big Farm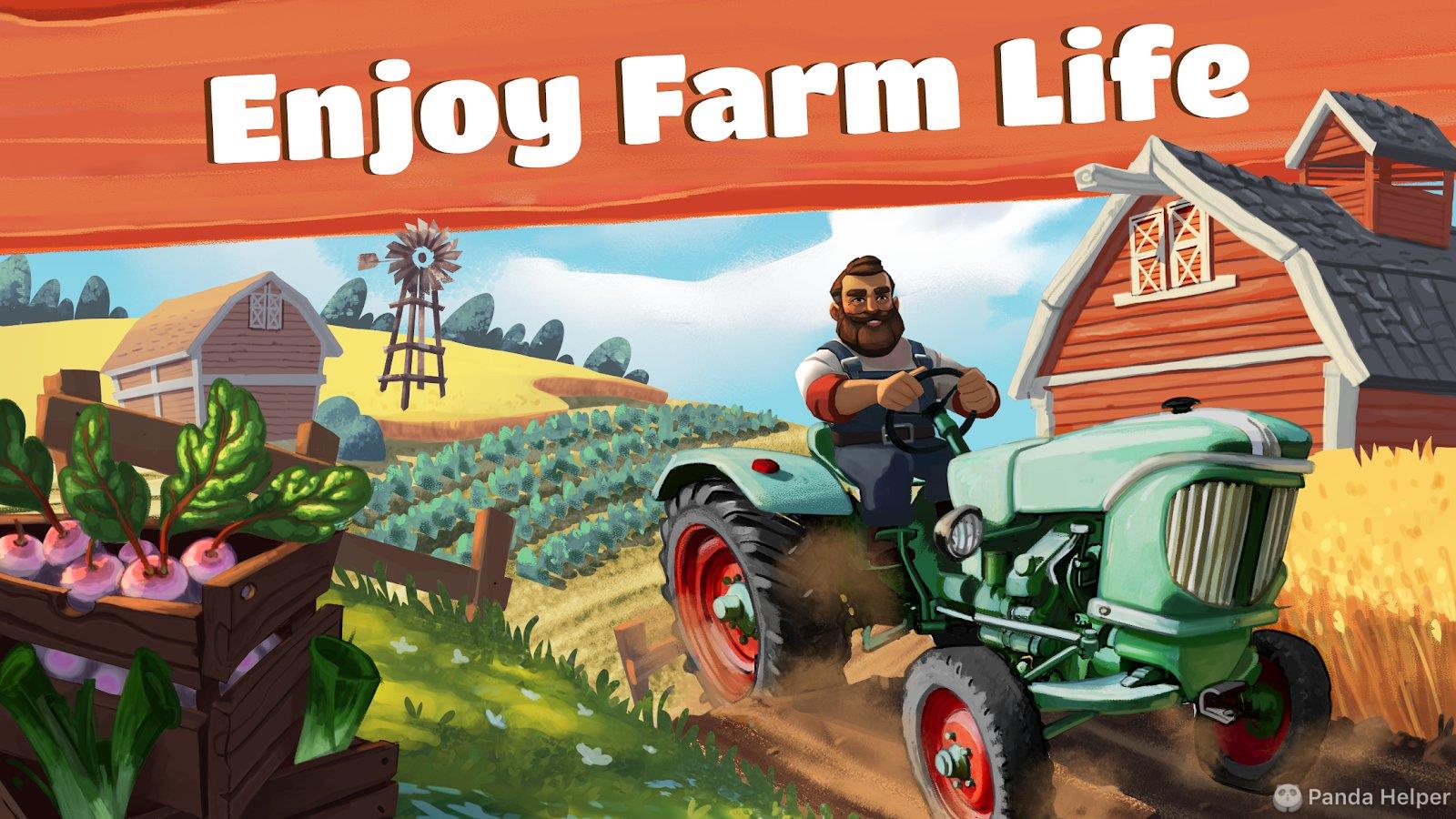 City life is boring and unbearable. Your next plan is to move out of the congested city and settle on your farm to breathe fresh air and be free from noise. 
Your grandpa mysteriously gifts you a very productive old farm; it's your chance to rebuild this farm to regain its former glory. 
You start by planting, harvesting crops, tending your fields, and generally taking care of your entire farm. 
You have the chance to build your dream farm and discover a growing village near your farm, very peaceful and surrounded by nature. 
Learn new personalities from friends you make in the village and ultimately shape the community you're living with.