For Apple devices with iOS 13.3.1, due to changes in Apple's mechanism, ordinary certificates may fail to install or cause crash.
New Solutions for Certificate Revoke on iOS 13.X Above
The First Method - Restore Device
The Second Method - With DNSCloak
If you encounter a problem, you can try to solve it by referring to the free methods provided in the above tutorials.
Solution for VIP users:
1. The first method:Super Certificate Service
Panda VIP users can choose to purchase Super Certificate service. We will offer super certificate to re-sign the service and the certificate is working well as of now.
What Is The Super Certificate?
Super certificates support iOS 13.3.1, the applications using super certificate will not crash on iOS 13.3.1, unless revoked by Apple.
Super certificates are more stable and are less likely to be revoked than ordinary certificates.
How To Purchase Super Certificate Service?
Go to the Re-signing Service page on Safari:
https://m.pandahelp.vip/resign/?s=gg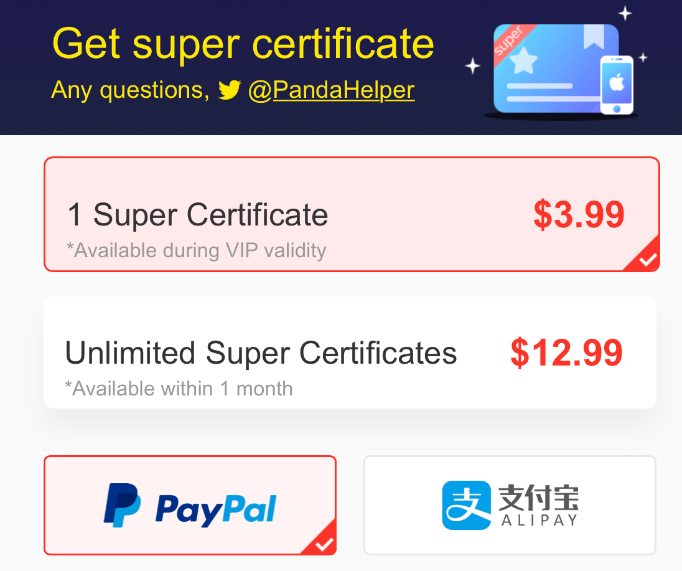 (Prices are subject to change and please refer to the price shown on the final page.)
$3.99: A single super certificate can only be used once. If revoked by Apple, it will become invalid.

$12.99: The super certificate is valid for 1 month. During the one-month trial period, if Apple revokes it, you only need to download Panda again, which can be replaced with a new super certificate to continue using it. After 1 month, if Apple revokes the super certificate, the service will become invalid.
Panda Super Certificate Service
1."Super Certificate" is a disposable service. Due to force majeure,we CANNOT guarantee the valid date of the certificate.
2.The above purchase item is independent from VIP qualification. (Your VIP valid date won't be increased or decreased from this service)
3.We DO NOT provide refund service. Once you paid, we'll regard you agree this.
4.Due to the network or payment system issue, it may cause order delay. Please DO NOT submit the order repeatedly.
5.Other questions related please contact us by Email (panda.helper.com@gmail.com).
2. The second method: Signing IPA by yourself
Notice: After our testing, the tools does not support the devices with iOS 13.3.1 and above. It's recommended that the devices with iOS 13.3.1 and above choose the first method. You can also test it yourself if you like.
Using the third-party signing tools is another feasible way, just as we used Cydia Impactor before, to sign IPA with our own Apple ID. You may have heard of Cydia Impactor alternatives like AltSigner and Altdeploy. We can try these tools to sign IPA by ourselves.
AltSigner supports for Windows OS and Altdeploy for MacOS.
For Windows users: AltSigner
Download AltSigner
Tutorial: Cydia Impactor Alternative: How To Sign IPA by AltSigner?
For MacOS X users: Altdeploy
Download Altdeploy
Tutorial: How To Download And Use AltDeploy On Mac OS?
Panda Helper VIP Features:
A new tool called Panda Control, a screen mirroring software, can help you enjoy COC on PC with a big view but without emulators now! You don't have to transfer data or log in your game accounts on emulators, just directly play the game with the same account on PC by Panda Control!
*See the step-by-step tutorial: How to play Clash of Clans iOS game on PC by using Panda Control without an emulator.