Panda Helper Works on iOS 13.0 - iOS13.6
Panda Helper Works on iOS 13.0 - iOS13.6
Panda Helper is an alternative App Store working on iOS 13.0 - iOS 13.6 , which owns a variety of apps for fulfilling different iOS users' need for free. Panda Helper has free paid apps, hacked apps and tweaked apps providing unlimited HP, coins or diamonds, in-app purchase free and more features. What's more, you will get great and powerful tools on Panda Helper for changing the games speed, values and auto playing games as you wish. Let's see how to install Panda Helper and what are those poweerful tools below.
Different versions of Panda Helper.
Before you download Panda Helper, it is important to understand different versions of Panda Helper to choose the most suitable version.
On iOS devices, Panda Helepr includes regular version, lite version, VIP version and jailbroken version.
Regular version and lite version are free versions, which are enough for most users to download their favorite apps for free. We will show you how to install regular Panda Helper on iOS 13.0 - iOS 13.6.
For Panada Helper lite version, it is totally the same as Panda Helper Regualr version, but you are able to download ipa files from Lite version if you need, which is the difference from regular Panda Helper App.
How to get ipa files from lite version? Check it.
Panda Helper VIP version is an exclusive version, wihch provides exclusive apps and exclusive features for VIP users such as Panda CE, Panda App Cloner, Panda Cloud Save and Panda Save Data.
For Panda Helper Jailbroken version, as you see, regular, lite and VIP versions are for unjailbroken devices, and Panda Helper jailbroken version is for jailbroken devices without revoke problems. To know more details about jailbroken versions, please check Panda Helper Jailbroken version on the official website.
How do you install Panda Helper Regular Version on iOS 13.0 - iOS 13.6?
Step 1: Open the official website of Panda Helper with Safari.
Step 2: Navigate to Reuglar and tap "Download Free Version".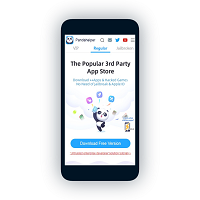 Step 3: Tap "install" when a pop-up occurs and wait for it to install on your homescreen.
Step 4: Go to Settings > General > Profiles & Device Management >
Trust a certificate used by Panda Heler. (Since apps need the certificate from Apple and are able to use on iOS devices, we need to trust the certificate to get the use.)
How to install apps from Panda Helper on iOS 13.0 - iOS 13.6?
After installing Panda Helper and trust the certficate, now open Panda Heper to install apps you like most.
Step 1: Open Panda Helepr app and enter the name of apps you want in the search bar.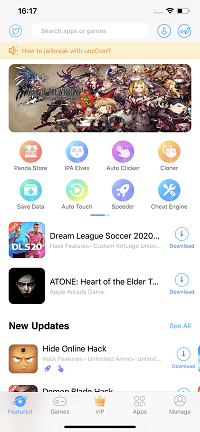 Step 2: Get all results indexed by Panda Helepr.
Step 3: Tap the app you want, read the description for it and press "Install Now" to start downloading.
Step 4: A pop-up will appear after installation finishes to tell you install the app.
Step 5: If you tap "Cancel" carelessly, please navigate to the main page of Panda Helepr and press here to install.

9 Panda Helper features add more power for apps: