Youtube++ is the world's most extensive video playing and sharing platform with many users. If you have used YouTube, you must know that Youtube++ IPA 2022 iOS is an APP that runs on iPhone/iPad devices, and Youtube++ APK 2022 is a Mod App that runs on Android.
Free Download Youtube++ Cercube IPA on iOS 
Free Download YouTube++ APK on Android
The following article will explain in detail how to use YouTube iOS, including how to save YouTube videos to iPhone on Youtube++ and block YouTube ads. And finally, how to download Youtube++ IPA for free.
YouTube Premium Overview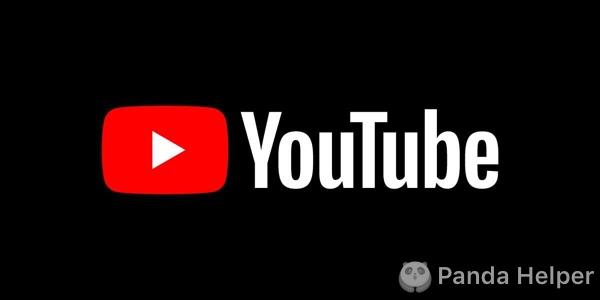 YouTube Premium supports free downloading of videos in 1080p or even higher resolution, video playback and downloading in the background, automatic removal of ads at the beginning of the video, and is available for iOS devices. But to use the YouTube Premium service, you need to pay extra. It's impossible to make everyone pay more. Now with Panda Helper, you can download Youtube++ Premium for free on your iOS and Android devices for an annual fee and get Premium service free without jailbreak or PC.
What is Free YouTube Premium 2022 on iOS
YouTube Premium Subscription offers paid users more features that free users cannot experience. Still, many users cannot pay for it for various reasons, so they need to know how to get Youtube premium for free in 2022. 
Youtube++ Cercube is a modified YouTube Premium free hack app that provides hack features that free users need. You need to download Youtube++ Cercube from Panda Helper and install it on your iPhone/iPad to have Youtube++ Premium Features for free immediately. Panda Helper is one of the top-rated third-party app stores. Apart from Youtube++ 2022, You can also download massive content of Tweaked Apps and Hacked Games for iOS and Android users. 
Youtube++ Cercube Features:
Download any video in any available quality, from 144p to 1080p.
View, manage and share downloads in Cercube's download manager.
Block ads.
Share downloaded videos with other devices via AirDrop.
Background playback for streamed and downloaded videos.
How to Download YouTube Videos on iPhone
We usually choose to watch videos online when we have high-speed Internet access. But in some cases, such as on the subway or airplane, we don't have reliable and stable internet, so it's essential to download and save YouTube videos to your phone or computer in advance so you can watch them anytime.
If you downloaded YouTube app from the App Store, in that case, you would find that you can't download videos directly, as this is a service available only to YouTube Premium Subscriptions. You can choose to pay for YouTube Premium, or you can choose to download and install Youtube++ Premium from Panda Helper and enjoy the born feature of downloading videos for free.
Let me use Youtube++ iOS as an example and give you a detailed demonstration of saving Youtube videos to the camera roll without paying for YouTube Premium.
First, open Youtube++ 2022 and log in to your Youtube++ Cercube account. This account is different from Google's account. Cercube provides the download item service, so you must follow Cercube's rules to get an account first. Registering an account is free. You don't need to worry.
Next,
Select the video you want.
Click on the button with the three dots.
Select Cercube (a download icon) in the pop-up menu.
Select the video definition (resolution) you want.
You will see "Added to downloads."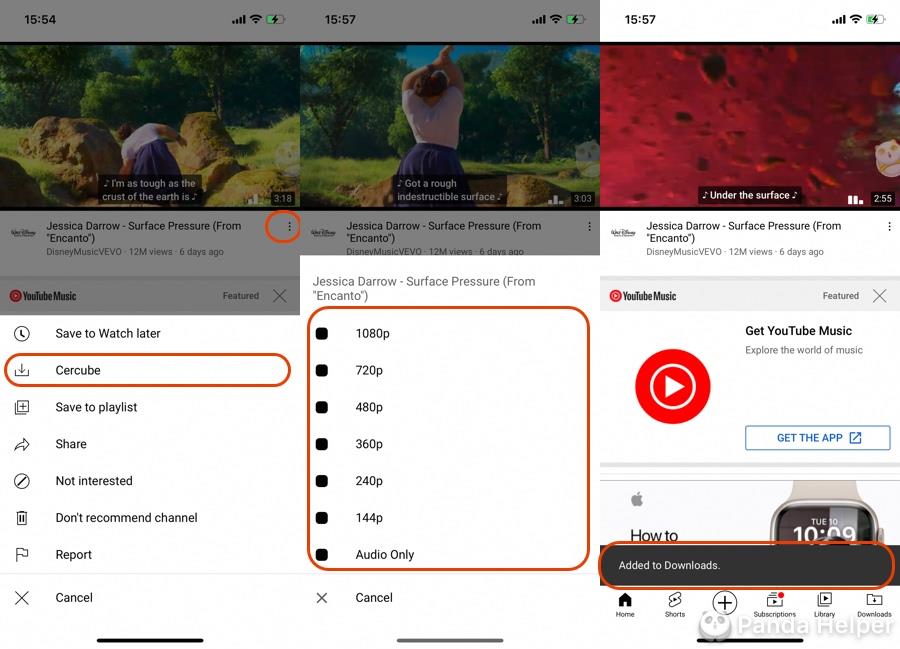 Finally, click "Download" in the lower right tab. You will see all the videos you are downloading and have already downloaded.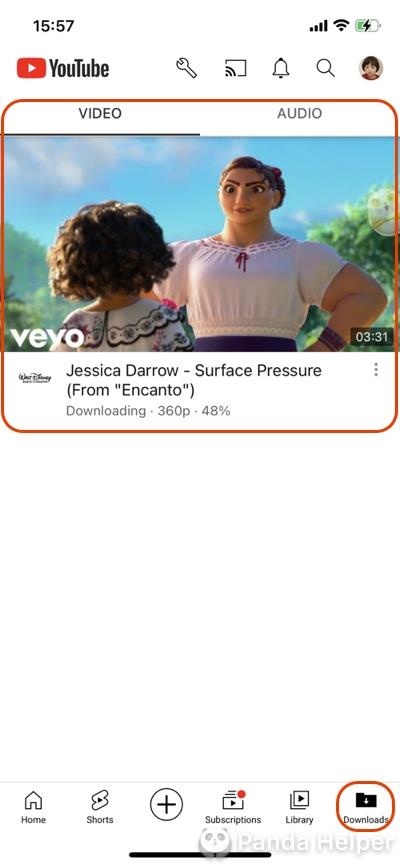 I'm sure you wonder why the downloaded videos are not in the camera roll? Due to the security mechanism of iOS, the downloaded video will only be in the app, not in the iPhone camera roll. However, you can still watch the downloaded video offline when you need it when you don't have internet, and you can even share the downloaded video to other devices via AirDrop!
How to Block YouTube Ads on iOS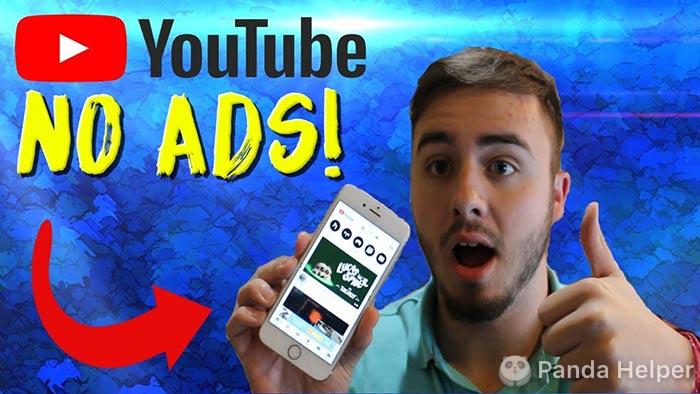 Is Youtube free? Yes. The Youtube that the App Store offers you is free to download. But free also means that it contains ads. The first advertisement we can still grudgingly accept. But these days, the increased number of ads on YouTube has made people even more impatient. And we can't skip youtube ads.
How can I get out of this trouble? How to download youtube without ads? None of us want to waste time watching commercials. As mentioned earlier, Youtube Premium can remove ads for free. All you need to do is download YouTube Premium to your device.
How to Download Youtube++ IPA on iOS for Free
First, launch Safari and access the official Panda Helper webpage. Wait for the page to load and click "Download."
Next, click the "Download" button next to Free Version on the new page. A new window will appear on the page, prompting you to install the description file. Follow the prompts to install the profile in the setting, then wait for Panda Helper to install on your home screen.
Then go to Settings > General > Profiles & Device Management > Downloaded Profiles to trust the certificate used by Panda Helper.
Open Panda Helper and lease search Youtube++. You will see here Youtube++ Cercube, Youtube++, and other tweaked apps.
Click the Youtube++ search result and move to the app information page. You can learn more about this tweaked app, including its use and notes. Youtube++ supports iOS 15, iOS 16.
Note: What to do When the Device Prompts Developer Mode Required?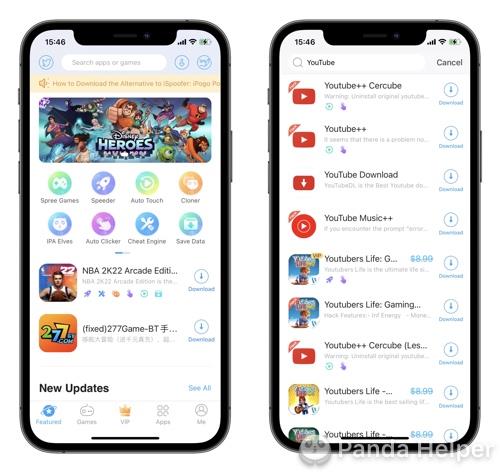 Click "Download" to start the download process of Youtube++. After waiting patiently, you can go back to the Home Screen of your iOS device. You will find Youtube++ on your iPhone/iPad in the installation process.
Once finished installation, please go to Settings->General->Profiles and trust the Youtube++ IPA profile. Then you are ready to launch Youtube++ Cercube. Start enjoying Youtube++ Premium service on your iPhone/iPad for free.
Download Youtube++ APK on Android
Of course, Youtube++ 2022 supports iOS 16 and has a Youtube++ APK that runs on Android, so Android users can get YouTube premium for free. What about downloading Youtube++ Android?
First, launch your browser and access the official Panda Helper Android page, waiting for the page to load, then click "Download" and install Panda Helper.
Next, launch Panda Helper, search for "YouTube," you will see many YouTube Mod APK, select "YouTube Vanced," move to the App info page and start the Youtube Vanced APK download.
After installation, you will see Youtube Vanced on your Android Homepage, launch it, and you can enjoy the world of video without the harassment of ads.
Since Google Play doesn't allow this type of modified apk shown on the store, you can only download it from third-party app store such as Panda Helper.
YouTube++ Troubleshooting (FAQs)
These are the detailed installation steps. Next, we share with you some Youtube++ and Panda Helper frequently asked questions. I hope it will help you in the process of downloading and using Youtube++ Premium.
Q: What Should I Do If I Can't Download YouTube++ Premium?
A: - Uninstall the original YouTube app before downloading and installing tweaked Youtube++!
    - Uninstall the failed app, go to Panda Helper to download the latest version, and install it again.
Q: What If YouTube++ Premium Asks for an Update?
A: Don't worry. Just be patient and wait for Panda Helper to update before downloading the latest version of YouTube++ Premium. You can follow Panda Helper's Official Twitter to get the newest information on updating or new apps.
Q: How to Download Youtube++ Premium for Free?
A: With the detailed tutorial and steps above, you can download YouTube++ for free on iOS. Launching YouTube++ will give you the Premium Feature mentioned above.
Q: Is Jailbreak Required to Download Youtube++?
A: No, you don't need to jailbreak your iOS device or use a PC; everything is done on your iPhone/iPad.
Q: Will There Be Revoke Issues With Youtube++?
A: Yes, because Apple controls the certificate, if Apple revokes the one you are currently using, the Youtube++ Premium you have installed may not open and cannot be verified. You can choose to be patient at this point, and Panda Helper will fix and replace the new certificate. All you need to do is remove the revoked one and download Panda Helper and Youtube++ Premium again.
Maybe you are wondering if there is an Anti-Revoke method, yes, there are some tips for this, but it doesn't always work. Check out this video tutorial for more information on how to Anti-Revoke Panda Helper.
Q: What Does Youtube++ Have to Do With YouTube?
A: Please note Youtube ++ is not in any way associated or affiliated with YouTube Inc, Google Inc., or Alphabet.
Please note that downloading videos from YouTube for which you do not have permission to do is against YouTube iOS. By installing this tweak, you agree to use it at your own risk.
Q: Is Panda Helper Safe?
A: Panda Helper is a reliable, secure, and trustworthy app. Jailbreak? NO! Request Apple ID? NO! Root? NO! All You need to do is tap and download! Easy to install and no advanced steps for iOS and Android, find out your interests. Moreover, The developers of Panda Helper ensure that each application is tested chiefly manually and scanned by virus software to ensure the effectiveness and security of each application. This way, the developers ensure that all the applications available on Panda Helper are safe to install.
You can also access some special features Panda Helper provides, such as Game Tools. With Game Tools, you don't have to be a Pro Gamer to rank higher and get more lives, gold, money, or coins. You'll find these game enhancers powerful yet easy to master and bring you more different experiences.
Apps Like Youtube++
YouTube Music is another app produced by Google, and it is a global trendy music player, aggregates all the popular music on YouTube, the copyright of various stars' big music albums included, supports music one-click search, international music online playback, friends who like to listen to music must not miss Youtube music iOS.
Similarly, subscribing to Youtube Music Premium offers the additional benefits of offline caching, no ad distractions, and the ability to continue listening to music when the phone is off-screen (playing in the background).
Panda Helper is accessible as a download for YouTube Music++ iOS, allowing any user to enjoy a service that would otherwise require payment.
Free Download YouTube Music++ ipa on iOS
YouTube Music++ is available for iOS and Android, of course. You can download Youtube music mod apk on Android .
3 Apps Like Youtube++ You Can Download From Panda Helper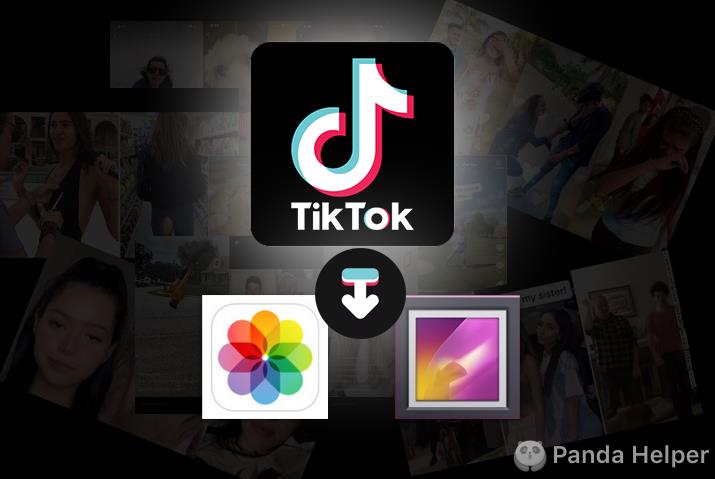 Tiktok++ provides you with:
• You can download the video by long pressing on the video .
Free Download Tiktok++ ipa on iOS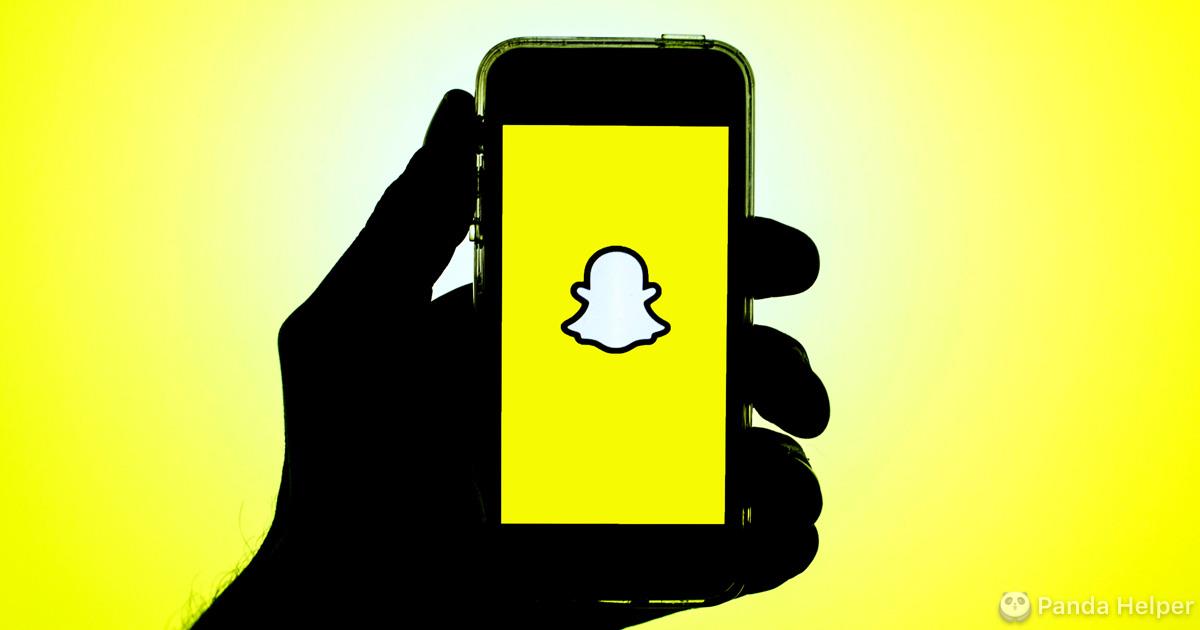 Snapchat++ provides you with:
Upload media 
Save media 
Screenshot Suppression 
Snap Save Spoofing 
Story Ghost Mode 
Snap Ghost Mode 
Disable Snap Timer 
Animated "Shadow" Header (RGB) 
Hide Friendmoji 
Randomize Best Friends
Free Download Snapchat++ ipa on iOS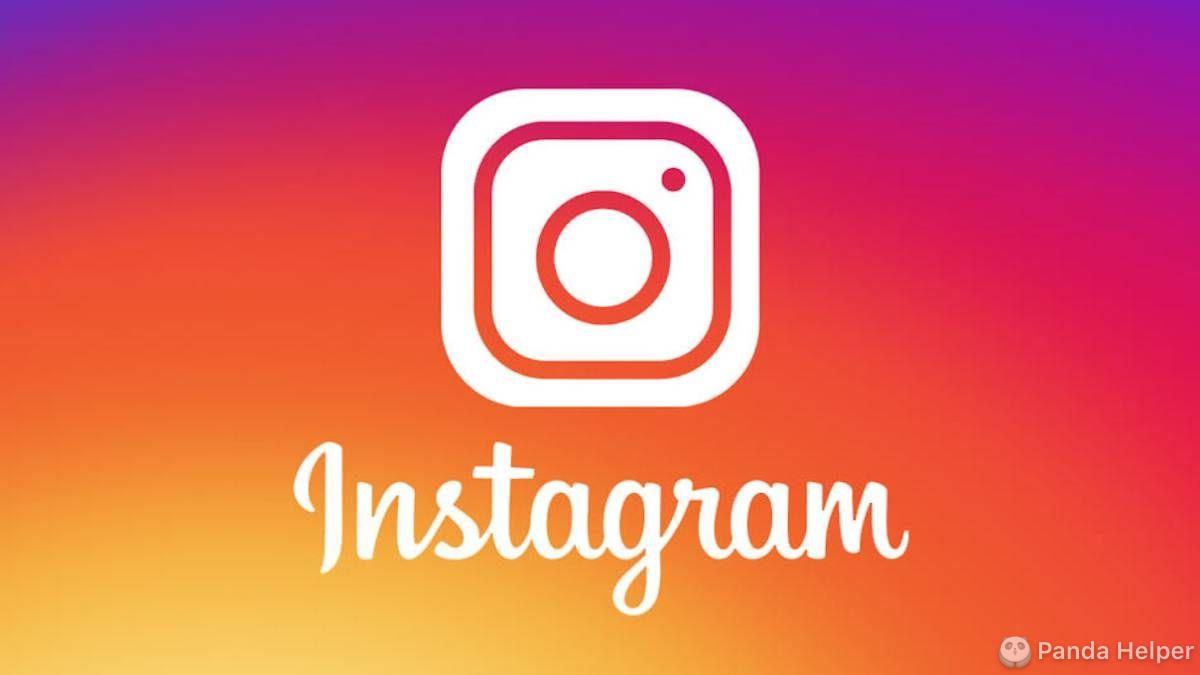 Instagram++ provides you with:
Save any photo or video to Camera Roll
Hold down on an image or video to view high-resolution version of i
Double tap or hold on a profile picture to view it in full-screen
Mute and unmute users from home and activity feed
Hide sponsored ads
Free Download Instagram++ ipa on iOS
If you want to know more about Panda Helper, you can follow the official Youtube account of Panda Helper.