This is a complete guide to auto touch in the game. You can download Panda AutoTouch 2.0 for iPhone with no jailbreak. To better demonstrate this feature, I will present it in various forms. You may get everything you want to know about auto-touch apps from the following.
What is Panda AutoTouch 2.0?
Panda AutoTouch 2.0 is a tool for recording and playing back touch actions. It records and plays back your operations on your iOS mobile device without jailbreak. You may use it to play games automatically to gain more scores and coins.
How to Use Auto Touch?
To make it easier for everyone to understand this feature, I will use "Art of War Legions " to show you how to use Panda AutoTouch 2.0 on the iPhone, a funny strategy game with massive amounts of spectacular battles.
1. Download the latest version of Panda Helper.
2. Search for the game you want to play with Panda Auto Touch. You will see some small icons below the search results that indicates the Game Tools available for the game.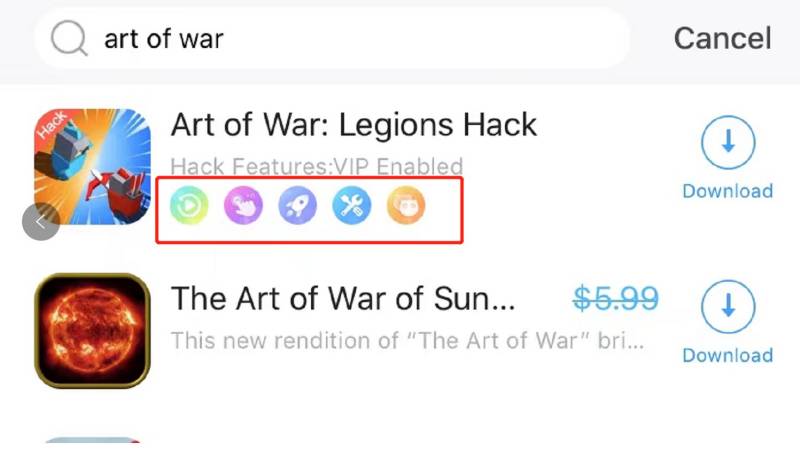 3. After installation, launch Art of War Legions Hack, you will see a panda icon on the screen. Tap on it and choose Panda AutoTouch 2.0.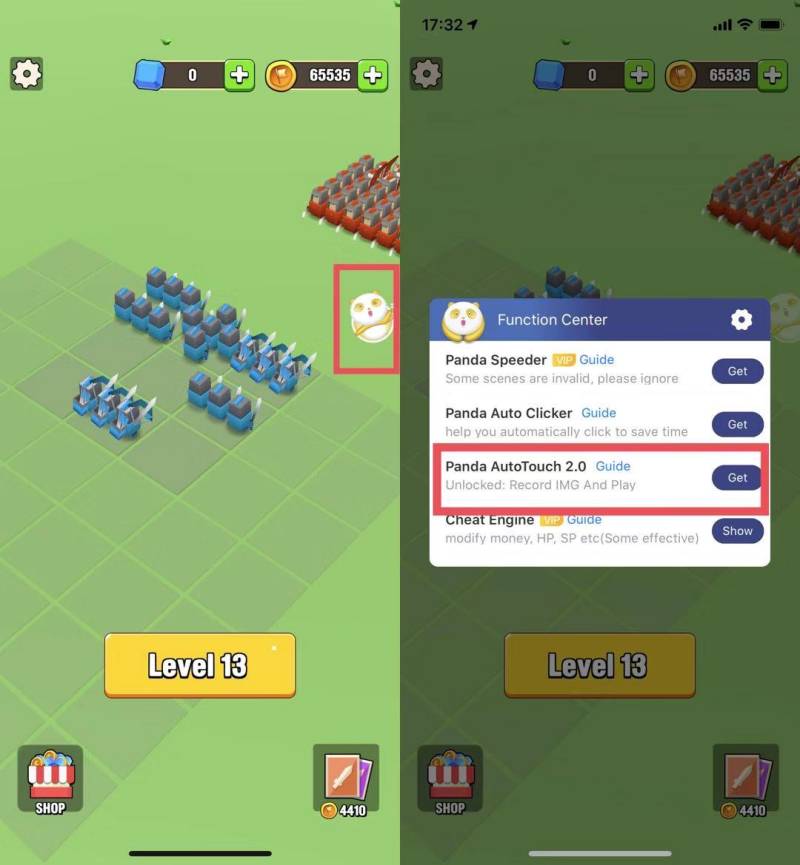 Tips:  Panda AutoTouch 1.0 has the feature of "Record And Play" , and  Panda AutoTouch 2.0 has the feature of "Record IMG And Play" .
6. To make the snap range of AutoTouch more accurate, I suggest that it can be set to a value of less than 20px in the Art of War Legions Hack. Here, I set the three values to 15px, 15px, and 30px. Please note that different snap ranges need to be set according to different games to ensure the accuracy of the range. Then press "Run" to start recording.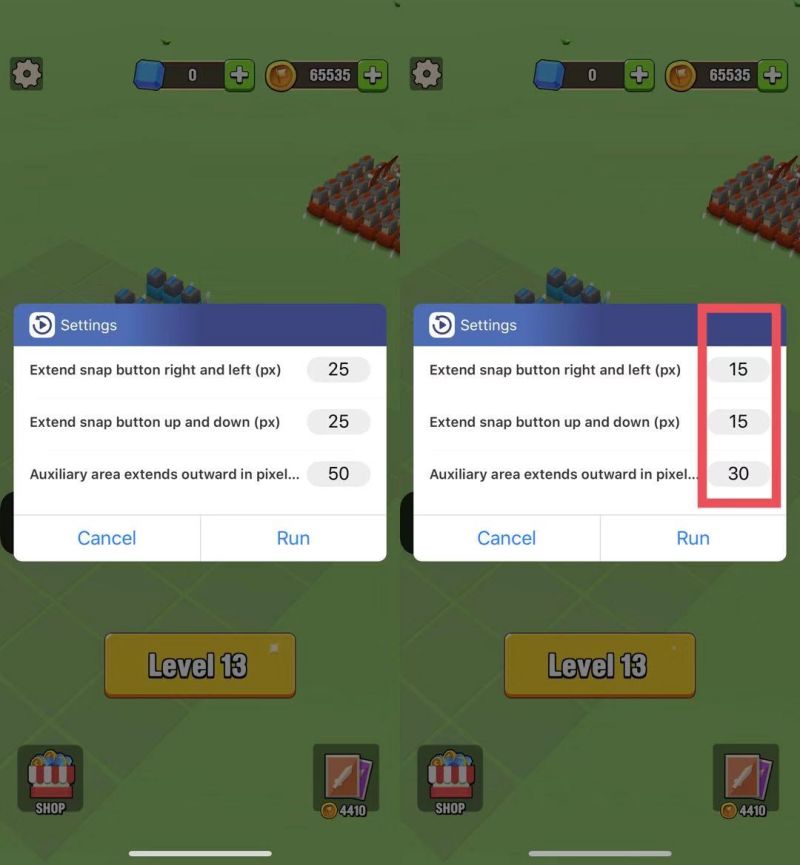 7. After the recording starts, the recording button will be red, indicating that the recording is in progress. Now we start to operate the game flow completely, that is, to complete a level game according to your regular click order. After recording, press the red recording button again to stop recording.
8. Rename and save the file you just recorded. Then go back to the game and select AutoTouch 2.0 again. This time we click "Playback" and then run the recording. AutoTouch will simulate your operation and help you automatically click and play the game.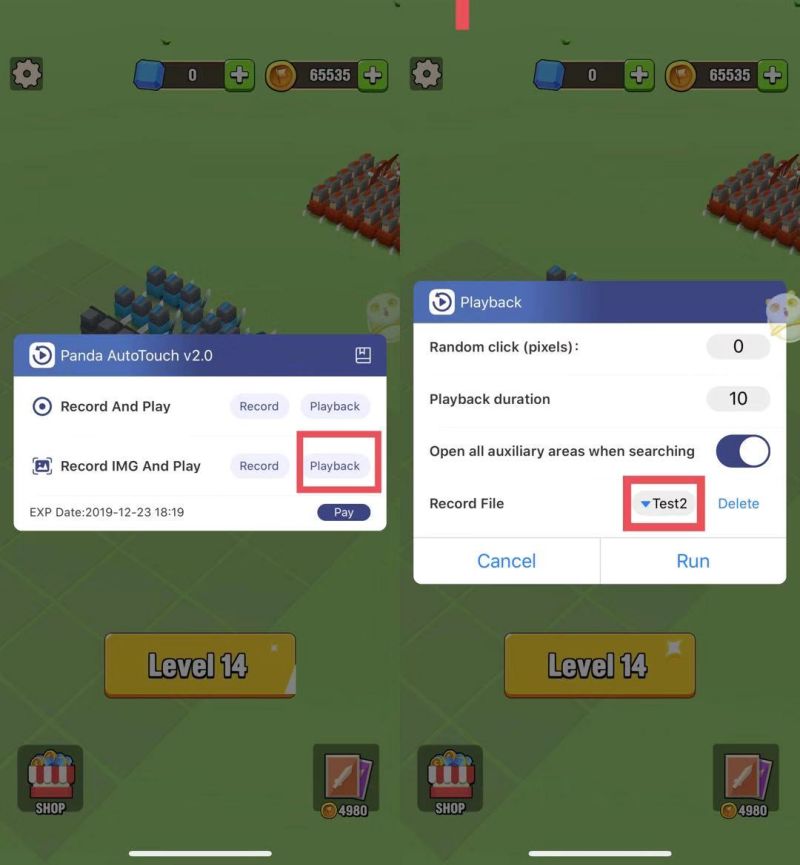 The Advantages of Panda AutoTouch 2.0
Panda AutoTouch 2.0 can identify the screen's image, and trigger the click when the image of the screen matches the recorded image. As long as you ensure the values are set correctly, a false trigger almost won't occur. Therefore, Panda AutoTouch has substantial game expansion and adapts to many app scenarios, such as Summoners War.
It is worth mentioning that it does not require JAILBREAK!
Panda AutoTouch is a Value-added Feature
Panda AutoTouch is a value-added feature for Panda Helper VIP member. Experience Panda AutoTouch now with a limited-time discount, only $4.99 a month, $10.99 a year. As this feature is exclusive to Panda VIP only, only Panda VIP can pay for this feature service.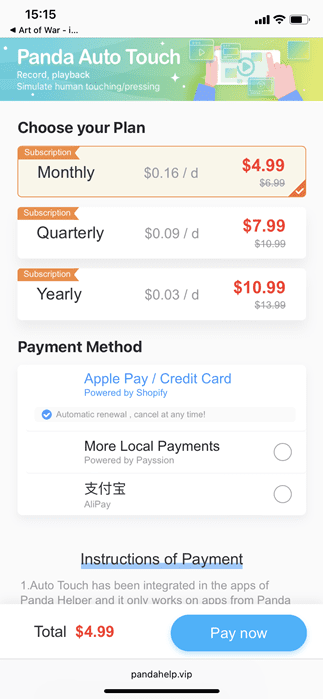 Panda VIP has one hour free trial of Panda AutoTouch 2.0. You can experience it before you buy it and then decide whether to purchase it or not.
Difference Between Auto Clicker and AutoTouch
Panda Auto Clicker
Panda Auto Clicker is an automatic click tool that simulates finger clicking on a mobile phone screen, which helps gamers to free their hands and easily win battles in the game.
Users who have used Auto Clicker know that Auto Clicker can only record and simulate finger clicks and cannot simulate other operations such as sliding or dragging on the screen. It is only suitable for relatively simple game scenarios.
Click To Know More About Panda Auto Clicker.
Panda AutoTouch
AutoTouch is also more intelligent and can determine whether to act by judging the image on the screen. For example, the duration of each game round may be different, and Auto Clicker may execute the click before the button appears, causing the process to be interrupted or clicked by mistake. The AutoTouch is more intelligent. During the playback operation, when the round has not ended, the touch will not click and will continue to cycle through each action until the matching image appears. So it is more adaptable and suitable for automation scenarios of more games and apps.
Click To Know More About Panda Auto Clicker Tutorial.
Other Game Tools
There are some Game Tools developed by Panda Helper. That are:
Panda Auto Clicker
Panda AutoTouch