Panda App Signer is an iOS app signer for iPhone users that can re-sign apps and bundle them into .ipa files that are ready to be installed on an iOS device. Panda App Signer is an IPA signer online service. With this iOS signer, you can sign IPA online you want to install it. Even if it is not available for download in Panda Helper or other third-party stores, you can install it on your phone by yourself with Panda App Signer.
In general,iOS users have to mount cracked apps or .ipa files on iPhone or iPad via computers, which is bothersome if you don't have computers when you expect to install .ipa files on your devices. With Panda App Signer, this is no longer a problem! You can install apps quickly without a PC. All the installation procedure is on mobile devices. You have the ability to install .ipa files anytime on iOS15/iOS14/iOS13 mobile devices utilizing Panda App Signer.
Contents:
▼ How To Download iOS App Signer For iPhone?
▼ How To Install .ipa files on iOS devices via App Signer?
▼ Notice For Use iOS AppSigner
▼ App Signer Troubleshootings (FAQs)
▼ Final Words About Panda App Signer
▼ Other Amazing Panda Features
How to download iOS App Signer for iPhone?
Step 1: Download Panda Helper VIP on iOS15/iOS14 to use iOS App Signer.
First, You need to download Panda Helper VIP. If you have already installed Panda Helper VIP, please update it to the latest version. Open Safari and go to Panda Helper's official website to download Panda Helper VIP.
Step 2: Purcahse Panda App Signer.
Then purchase the App Signer iOS Service according to your needs. The price of Panda App Signer iOS Service is at $4.95 (5 chances)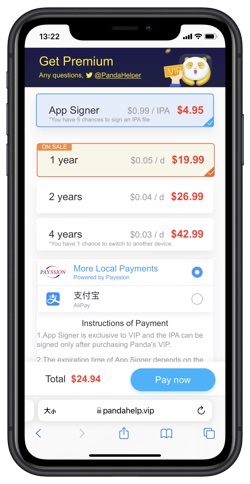 How to install .ipa files on iOS devices via Panda App Signer?
Step 1: Prepare the .ipa file that needs to be signed.
First of all, prepare the .IPA file that needs to be signed. For example, you can use the tools like Email Attachment, Dropbox, iCloud, Google Drive,One Drive,MediaFire,Safari, etc. to save the **.IPA file.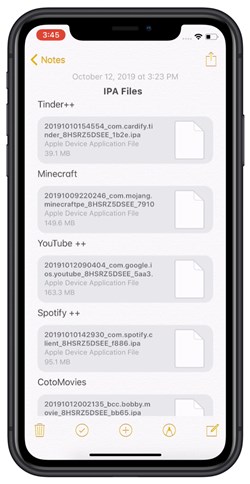 Step 2: Upload your .ipa files to Panda Helper app.
Use the iPhone's SHARE function to upload .ipa to Panda Helper VIP from Email, Dropbox, iCloud, Google Drive, iOS Notes, and other available tools. Share it, then copy to Panda Helper VIP.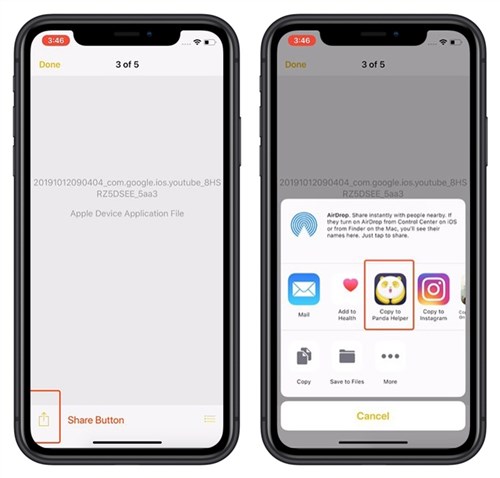 Step 3: Sign .ipa files on Panda Helper.
In the "My App" list of the Panda Helper VIP, the .ipa file you just uploaded will appear. Select the IPA file you want to sign and click the "Resign" button to sign it by Panda App Signer.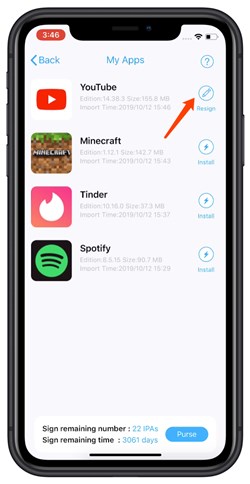 Step 4: Wait for signing .ipa files.
The signing process needs to wait for a while. After signing completely, the "Install" button will be displayed.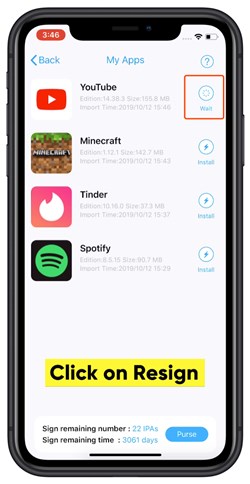 Step 5: Install .ipa files after the siging process finishes.
Then click "install" to successfully install .ipa file to your iPhone.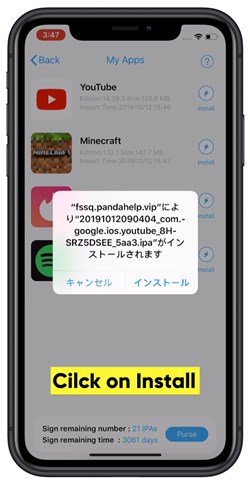 Notice for use iOS AppSigner
Panda App Signer is the exclusive function of Panda Helper VIP. You can purchase Panda App Signer's signing service after becoming Panda Helper VIP.
The expiration time of the Panda App Signer depends on the VIP membership of Panda Helper. If the Panda VIP membership expires, you will need to re-purchase the Panda Helper VIP to continue to use it.
Panda App Signer can only sign one .ipa file at a time.
Panda App Signer only supports signing services. Panda Helper will not accept refunds due to problems that cannot be used due to the App (.ipa file) itself.
Panda App Signer cannot sign the encrypted .ipa file downloaded from the AppStore, nor can it sign the damaged .ipa file.
App Signer troubleshootings (FAQs)
1. Why cannot App work by using Panda App Signer to sign?
Panda App Signer is just a virtual service that helps you provide a certificate for your App. The use of the App depends on the version of the App itself.
2. Can I get a refund after purchasing Panda App Signer service plans?
Sorry, it is no refund due to the special nature of Panda App Signer service. Please consider carefully before purchasing, once purchased, you agree and accept the terms.
If your App fail to sign, please try to reinstall Panda Helper VIP client, or try again after changing the network environment.
4. What Should I do if the .ipa becomes a gray icon after installation?
The gray icon indicates that the certificate used by this App has been banned or expired, please Re-sign the .ipa by Panda App Signer.
Although Panda App Signer has signed an app, it is still a gray icon after re-signing. If this happens, please visit the Panda official website and update Panda helper VIP to the latest version.
5. I am not a Panda Helper VIP member. Can I use the Panda App Signer feature?
Panda App Signer is a value-added service for Panda Helper VIP. You need to be Panda Helper VIP first, then purchase Panda App Signer service according to your needs.
Tips: If there is no answer you want above, please go to Panda App Signer Q&A.
Final words about Panda App Signer
This was all regarding App Signer on iOS. If you have any other questions you can contact us via Panda Helpr official Twitter or email (support@pandahelp.vip).
Other amazing Panda features: