The article will introduce an Auto Clicker for iPhone in Tap Titans 2 Hack.
Tap Titans 2 is a mobile game in the classic tap-tap type. Today I want to share the most accessible way on iOS 15 to play Tap Titans 2 Hack with Panda Auto Clicker and without jailbreak!
Tap Titans 2 is an adventurous game where you must keep tapping the screen to kill hundreds of titans with your sword. Tap Titans 2 has tens of thousands of levels, and you need to keep challenging more levels to get more rewards. However, clicking all the time manually can be a bit tiring. Instead, use Auto Clicker from the Panda Helper team.
What is the Panda Auto Clicker for iPhone?
Panda Auto Clicker is an automatic click tool that simulates fingers' clicks on a mobile phone screen like a jailbreak tool AutoTouch. Panda Auto Clicker is available for games such as AbyssRium (Tap Tap Fish), summoners War, Tap Titans, etc., which require players to tap the screen to attack enemies and collect coins. Or it is an RPG game with a lengthy character dialogue, which can help you automatically scroll through the character dialogue with an automatic click. Panda Auto Clicker supports iOS 15, iOS 14, and iOS 13 without jailbreak.
Panda Auto Clicker is a PRO feature.
– For Panda Free users
you can purchase the Panda Auto Clicker feature separately without paying Panda Helper VIP. Then you can experience the games that support this feature.
– For Panda Helper VIP users
you can enjoy a lower discounted price for Panda Auto Clicker (up to 75% discount).
Because the selling price may be adjusted according to market strategy, the final price is subject to the purchase page.
How to Play Tap Titans 2 Hack iOS 2022 With Auto Clicker for iPhone?
If you are an iOS user:
1: First of all, you need to download Panda Helper VIP. If you have already installed Panda Helper VIP, please update it to the latest version. Open Safari and go to Panda Helper's official website to download Panda Helper VIP.
2: Search for games you want to play. Here I will download Tap Titans 2 Hack from Panda Helper VIP.
3: Once Tap Titans 2 Hack is installed, open it and wait a moment to see the Panda icon appear in the game. Then tap on the panda icon, and you will see Panda Auto Clicker in the pop-up.

4: I will show you how to use Panda Auto Clicker next. Tap the control bar "+" on the right side of the screen and add a target sight, then drag it to put it on where you want to click.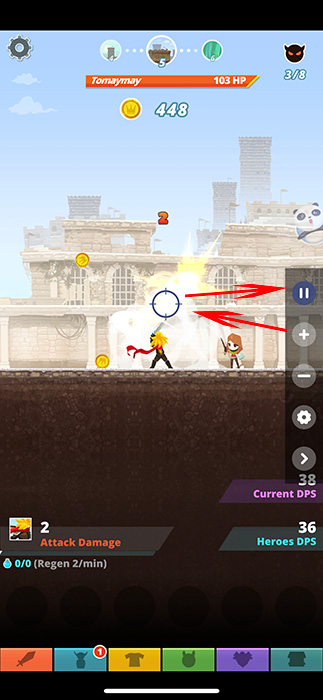 5: You can edit each target sight's start/end delay time according to your needs.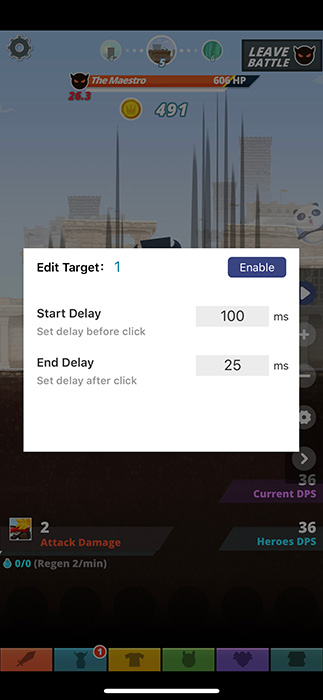 6: To save the configuration, you can tap the gear icon on the control bar to save it.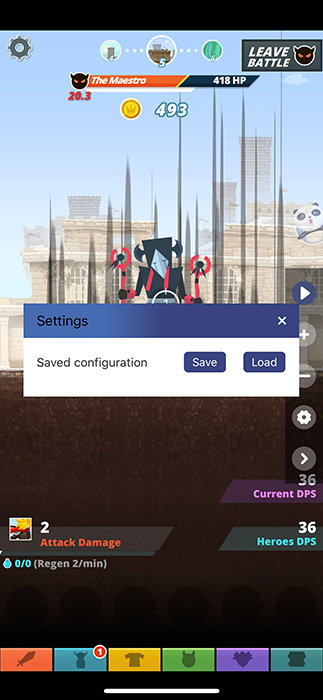 7: Don't forget to tap the start button on the control bar, and Let's look at Tap Titans 2 Hack effects using Panda Auto Clicker – automated attack.
If you are an Android user:
Auto Clicker does not currently support Android, but it can be downloaded to the Tap Titans 2 Mod APK for free. First, install Panda Helper for Android on your device, then open Panda Helper, search for Tap Titans 2 Mod and download it.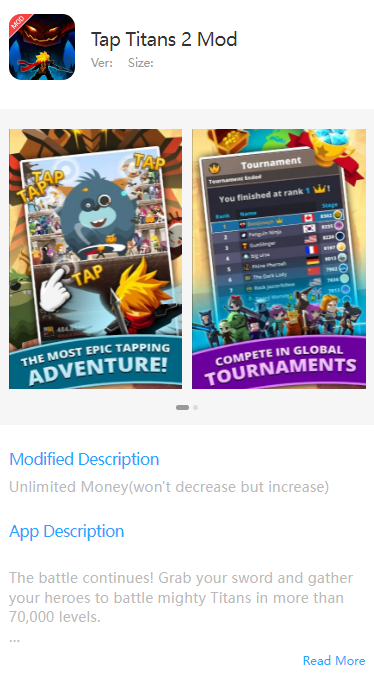 Other Amazing Panda Features