The certificate is working, but you can't download the app—common problems and solutions you need to know.
Like Panda Helper, all third-party iOS App Stores require certificates to work properly. Once the certificate is revoked, you cannot download any apps on your iPhone. Many people have faced the pain of the certificate being revoked, but sometimes you will find that the certificate is working, but you still cannot download it usually. What is going on here?
When certificates work, you still meet "unable to verify", crash or grey icon like revoke .
You must be wondering why this is happening and how to solve it.
Here we are going to answer questions you may have.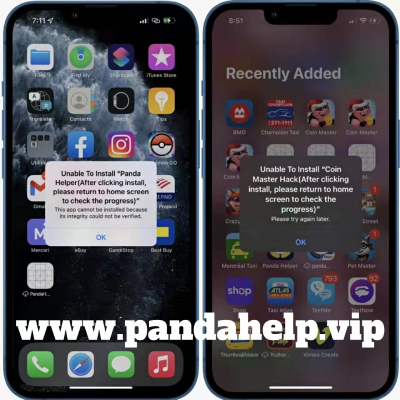 Note: when certificates revoke, those problems appear on apps as well.
You can do this: How to use apps after revoke.
As your devices or apps you installed have been added to the certs blacklists by Apple.
Your device is safe but you can't use apps on certs due to blacklist.
The blacklist is added on iOS 13 & iOS 14 & iOS 15. Devices with iOS 13 below don't have the problem.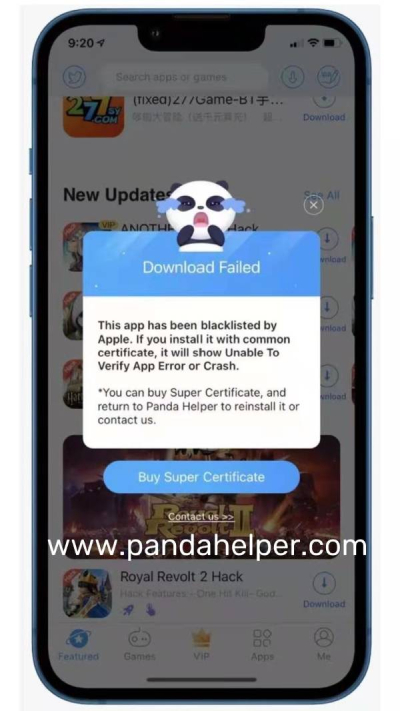 ★ Method 1: Remove Blacklist
1. Panda Helper team needs to remove apps from the blacklist.
2. You need to remove your device from the blacklist by erasing all content and settings after you backup your device data.
Here is the specific tutorial method: A method for resolving certificate unavailability
3. After 1& 2, you can reinstall apps.
After the successful installation, check to see if you can install any previous Apps.
If it is resolved, you can continue to use the app downloaded from Panda Helper.
If there is no solution, please see the following solution.
★ Method 2: Super Certificates
Panda Helper VIP Super Certificates is another method to get apps when the blacklist problem happens.
Super certificates are working certificates without blacklist problems. (Check our official website for super certificates info.)
★ Method 3: Jailbreak Devices
Jailbroken devices don't have the blacklist and revoke problem, so it is a method to solve it. Download Panda Helper jailbroken version after you jailbreak and install AppSync Unified tweak.
Tutorials for Panda Helper jallbroken version and AppSync Unified tweak.
Cons: Jailbroken detections of some apps will cause those apps unable to be used and other potential risks. Please think it over and google jailbroken devices before you decide.
★ Method 4: Sign Apps by Yourself
If you have PC or Mac, you are able to sign apss on your own to avoid the blacklist problem. Download Apps IPA files from Panda Helper Web version and sign them.
Here is everything you need to know about it : Download and Sign App IPA Files (Need PC)
Need at least two or three days to remove all apps from the blacklist due to Panda Helper's huge apps library.
But we will tweet part of the removed apps first for you.
You can check other apps later after we tweet. Panda Helper official Twitter
Send the name of the blacklist App and your system (e.g., iOS 13.4 ) to our email : support@pandahelp.vip
A new tool called Panda Control, a screen mirroring software, can help you enjoy COC on PC with a big view but without emulators now! You don't have to transfer data or log in your game accounts on emulators, just directly play the game with the same account on PC by Panda Control!
See the step-by-step tutorial: How to play Clash of Clans iOS game on PC by using Panda Control without an emulator.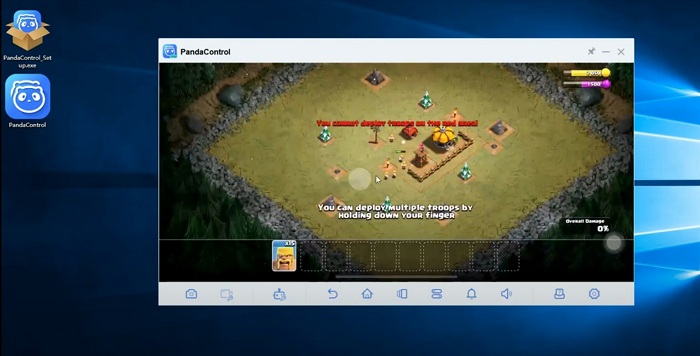 Read More About Panda Helper