Are you wondering how to get the Hay Day booster? How do boosters work in Hay Day? Your favorite Hay Day booster guides 2022 are all in this article!
What Is the Hay Day Booster?
A Hay Day Booster is a card that helps players to reduce game difficulty, get more bonuses or boat bonuses, enjoy discounts, and save time while performing different tasks. The cards are unlocked from farm level 35. Since these cards can significantly boost your game, it's okay to use the various tricks and tips to find and store more boosters. However, boosters are typically stored separately and accessed through the booster button in the lower right corner of your game screen.
How to Get the Hay Day Booster?
There are many ways to get free boosters while playing Hay Day. If you don't have a booster available now or your booster warehouse is not complete, you can get a free booster in the following ways.
1. As a reward for the Farm Pass Season.
Each month during Farm Pass Season, the players are rewarded with several exciting rewards after completing a task and winning the highest Farm Pass points. Booster is one of those great rewards players receive. A player can confirm it while on the Farm Pass Season road, particularly at the beginning of every month, to check whether the boosters you want most are available.
2. Purchase your Hay boosters at the valley Shop.
The Valley Shop is located at the Valley, next to the single roadside shop. You can purchase your Hay Day booster using currency acquired while playing your game. Always check the function of the booster you intend to use.
3. Find Hay Day boosters at the treasure chests and mystery boxes.
Randomly, at least one gift from the treasure chests and mystery boxes on the town and farmer's farm has a booster. Open them and access a free reward such as screws, nails, boosters, map pieces, coins, diamonds, etc.
4. Get boosters for attaining a Hay Day experience level threshold.
When upgrading to the higher game level, a player reaches the experience level threshold and receives random rewards, one of them being boosters.
5. Win boosters at derbies and global events.
You have a chance to win a booster as the award of winning in a derby or a global event.
6. By spinning the Wheel of Fortune to get a random booster.
If you believe you're pretty lucky enough, you can spin the Wheel of Fortune and get a booster.
7. Earn boosters while at certain truck events and boat events.
8. At the catalog packages.
Use your gift card to redeem small, medium, and large mystery packages for a chance to win a Hay Day booster.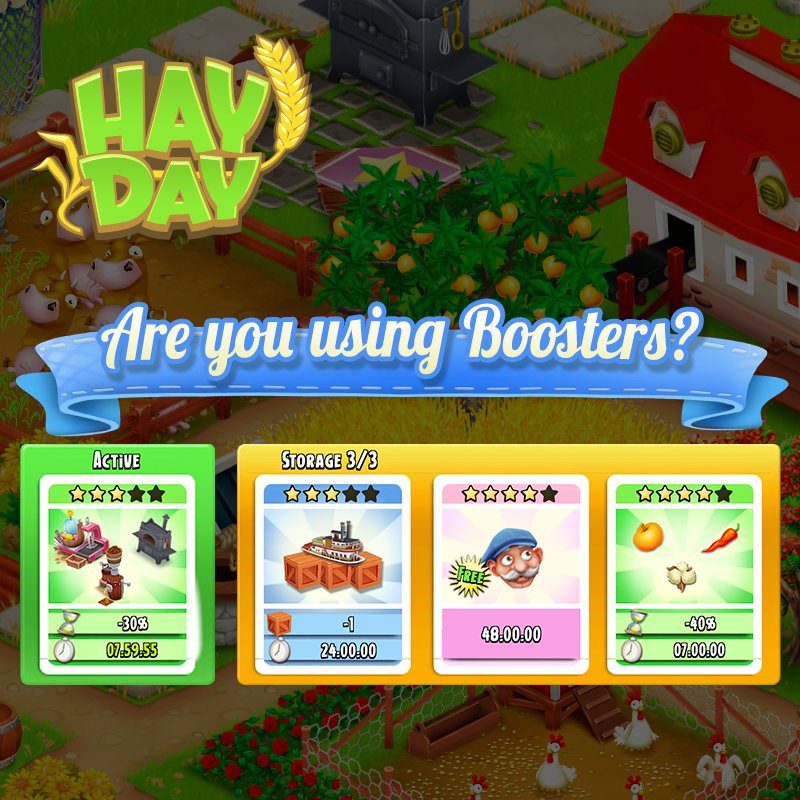 How Do Boosters Work in Hay Day?
Remember, these boosters can significantly boost your productivity. By using them, you will be able to work at your best and will be able to do more with your time. This means you will move to the following game levels very fast, stock more diamonds that you can use to store more boosters, and generally become more productive and get more money.
To know how boosters work well in Hay Day, you need to know what types of Hay Day boosters are available.
Typically, there are seven categories and 140 different boosters. They include:
5 Blue Boosters. These boosters can randomly fill at least one or more of your boat crates.
10 Golden Boosters. These boosters will give you access to more coins or experience more coins
60 Green Boosters. The green booster makes the crops develop and grow faster, makes your machines work efficiently and quicker, and boats come more quickly or your Tom's nap brief.
30 Light Blue Boosters. They help shorten your fishing time and produce special fishing gear to help you get heavier fish.
15 pink (sometimes red) Boosters. They let players use Ernest, Tom, and Rose for free.
5 Purple Boosters. They give players a more extracted ore.
15 Orange Boosters. They help reduce your servicing time while in the town.
Note that each booster comes in 5 versions, rating from 1 to 5 stars. The 5-star booster comes with incredible benefits and lasts much longer. Typically, the chances of getting a 1-star booster are much higher than that of a 5-star booster. Players in the higher derby league are more likely to get better boosters.
The Difference Between the Booster With Diamonds and the Regular Booster
When more than three free boosters occupying memory want to store, It costs you two diamonds to keep the extra one booster, four diamonds to store the additional second booster, and six diamonds to hold the extra third booster. Similarly, When you want to use multiple champions simultaneously, it will cost you two diamonds to activate the second booster, four diamonds to activate the third booster, etc. The extra slop will automatically disappear once the booster is used up. When you have at least one booster active, the booster button will drink green on the main game screen. Remember, you cannot activate two boosters simultaneously with the same functionality and effect. However, you can trash the active boosters simultaneously.
When you receive an additional booster card, and your storage capacity is complete, you can either discard the extra new booster or swap it with an existing stored card. You're only allowed to accumulate a maximum of 3 different boosters for free, and the rest comes at a price. A red number blinking on the booster button is an indication to let you know the total number of extra boosters you have.
How to Store More Hay Day Boosters for Free?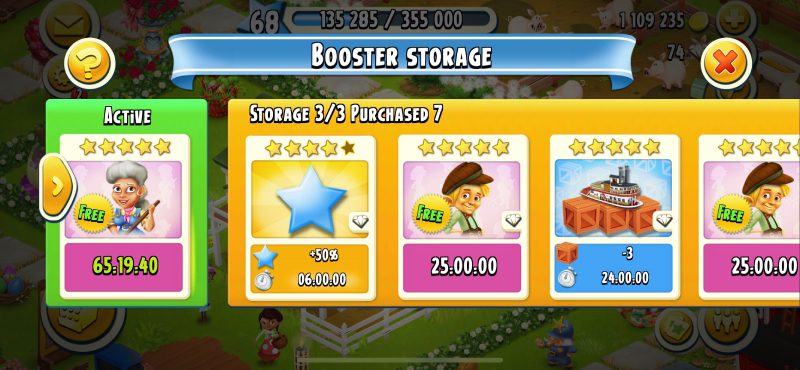 The boosters obtained through Farm Pass, Valley Shop, and Inbox have their diamond logo, which will not occupy your free booster inventory. You can collect as many boosters as possible.
Prioritize the use of boosters without diamond logos, and free up accessible inventory locations, so that you can store newly acquired boosters for free.
Check your inventory first when collecting ordinary boosters through derby, treasure chest, and turntable. If it is complete, use a booster that takes up the list first, or choose to replace or discard one of the boosters.
You can use boosters to hire farm helpers to automatically make feed, feed animals, and make dairy and sugar for you. But you may also need an auto-growing Hay Day Bot to help you manage your farm automatically.
Hay Day Bot can help you grow crops such as wheat and automatically harvest and sell them in roadside shops. So you don't have to worry about not having enough stock to store crops. Hay Day Bot, which realizes the cycle of planting, harvesting, and selling, can be downloaded from Panda Helper. If you are interested, you can learn here:
Working Hay Day Bot 2022 Automatically Manages Farm from Panda Helper