Pokemon Go Location Spoofer Cheat is a tool that allows players to joystick their GPS location in the game. By using this cheat, players can trick the game into thinking that they are in a different location, enabling them to catch rare Pokemon and access exclusive features that are only available in certain regions.
Pokemon Go Location Spoofer Cheat on iOS and Android Apk
Fortunately, you can cheat on iOS and Android Apk with Pokemon Go location spoofer. It is a trump card to use iPoGo to spoof your location. Next, we will introduce the three functions of joystick, map and feeds in detail. You can change the place in any of the following ways.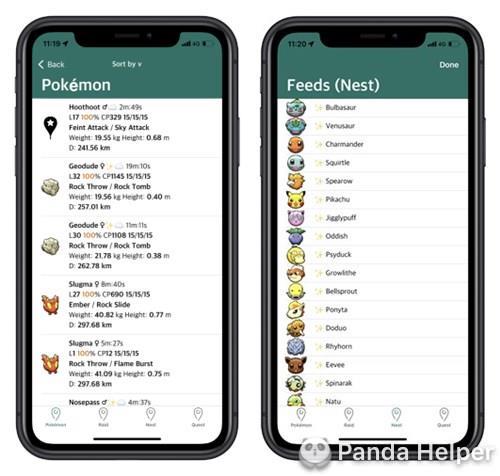 Pokemon Go hack joystick via iPoGo
Pokemon Go hack Joystick allow you to spoof your GPS location and play pokémon go online. You need to use a long press with one finger anywhere on your screen, and you can stay at home and visit all of your favorite locations. Pokemon Go hack Joystick is a feature of iPoGo that you can get on iOS by downloading iPoGo.
Pokemon Go hack map via iPoGo
It is a feature to catch Pokemon far from your actual location in pokémon go online. To change your location, you can click on the Map icon (located at the top of the iPoGo interface). You can find the target location by address or coordinates.
Pokemon Go hack feeds via iPoGo
There are four options: Pokemon, Raid, Nest, and Quest.
Pokemon: You can add your favorite Pokemon from here. And also can customize a list specifically through the custom option.
Raid: walk/teleport to said raid that you are interested in it.
Nest: Go to the nest which the Pokemon you want to have.
Quest: there are three options: Pokémon, Item, and Stardust. And you can click the stop what you want to go.
Notice: iPoGo Cooldowns
The Cooldown is the amount of time you need to wait after using an in-game action with iPoGo. You will need to wait for said cooldown before you can use your next in-game action, otherwise you will fail said action. The cooldown time is calculated based on the distance you move between in-game actions. This is important to avoid the risk of your account being banned.
Tutorial: Another method for Playing Pokémon Go Hacks from Home 2022 without Jailbreak.
My View of Pokemon Go++
Pokemon Go++ is a game that combines some innovative and technologically advanced features. He is different from other games but combines games and sports to let players go out of their homes, it Getting Sunshine for us. I think the features is one of the factors of its success. Besides, nostalgia is another attraction for us. Because we avidly played Pokémon on Nintendo DS once. Some people feel that the hack version of Pokemon Go spoils his fairness and fun, but I think it just makes the game a little easier when you want to be lazy. Isn't the purpose of the game to enjoy it?
If you have any other questions, you can contact us via Panda official Twitter or email: support@pandahelp.vip.