Moviebox Free on iOS and Android
Before learning to get MovieBox free, let's know more about it. MovieBox Pro is the best-tweaked app released for users interested in watching and downloading movies. However, super annoying ads pop up every time we open the MovieBox app. The in-app ads often interrupt our use of the app. Where can we download MovieBox iOS with in-app, no ads? Here is the method.
Do you want to watch movies & TV Shows without any ads? Well, this tweaked app called Movie Box pro can do that!MovieBox pro is MovieBox without ads; hence, you will have a much better experience watching movies.
Panda Helper has already removed ads from MovieBox Pro to bring you a better user experience. Now you can get MovieBox free without in-app ads from Panda Helper. Moreover, hot tweaked apps such as Spotify++, Youtube++, MovieBox ++, Facebook ++, Deezer++, Twitter++, Instagram++, YouTube Music++, and WhatsApp++ don't have ads if you download them from Panda Helper.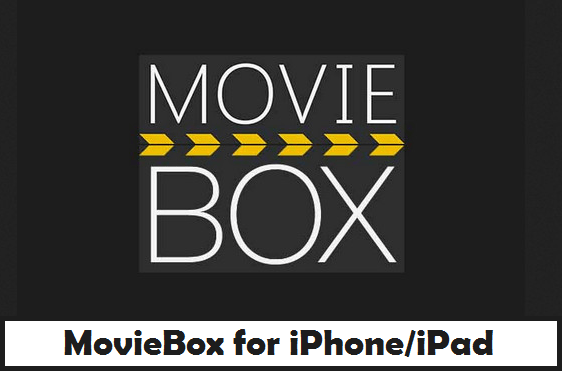 MovieBox Features
Movie Box No Ads
Support iPhone & iPad iOS, including Full-Screen iPhone X
Compatible with Jailbroken & Non-jailbroken devices
Can installed without a computer
Moviebox Free Download Without Jailbreak by Using Panda Helper
You need to install Panda Helper to get MovieBox++ for your Device because you can't get MovieBox ++ from the iOS app store.
Firstly, go to Panda Helper's official website with Safari. And tap on "iOS Download."
If you are not a VIP member of Panda Helper, you have two choices: to be the VIP member or try Panda Free version.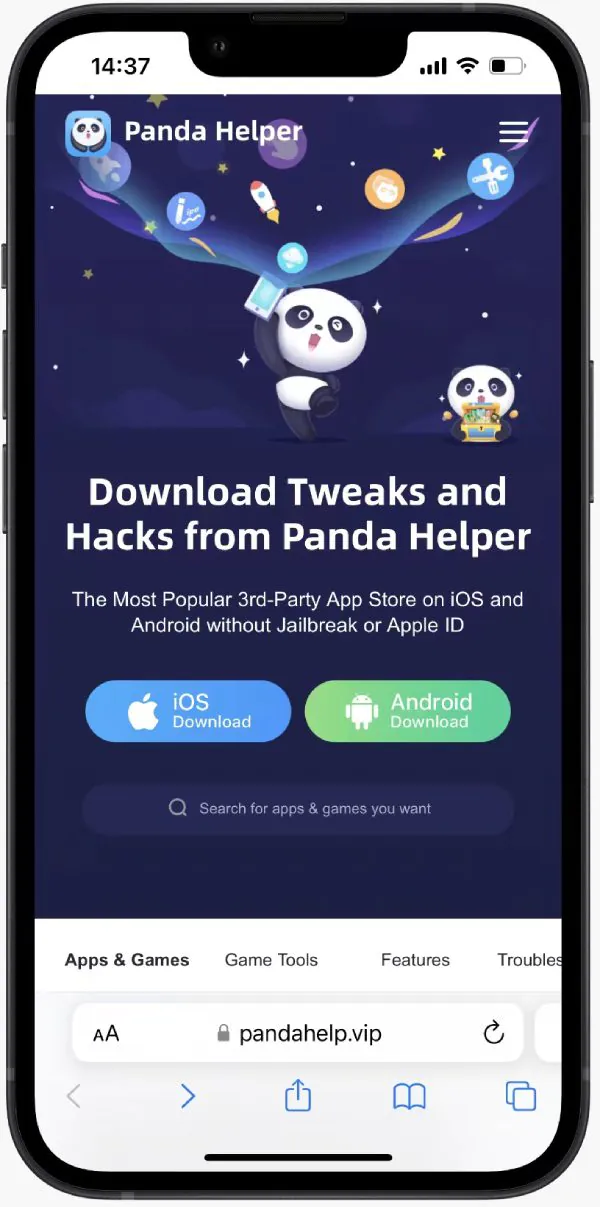 Secondly, you will now see the "Free" and "VIP version." Select "Free version" and click the "Install" button.
Please install the Free web version if the Free App Version can't download.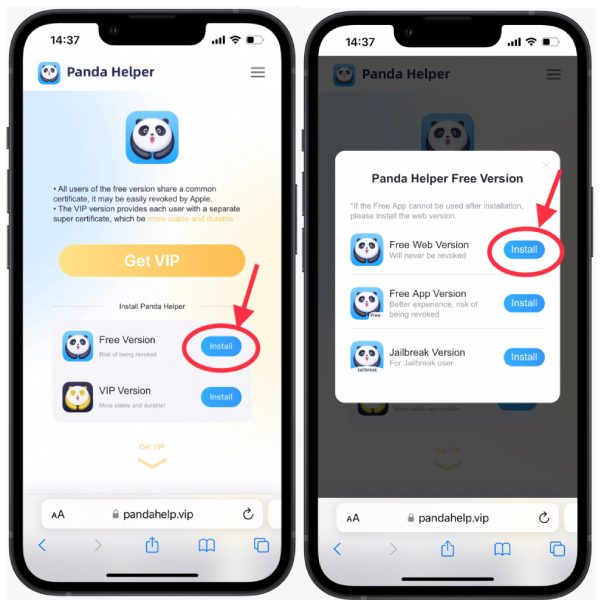 Afterward, follow the prompts to install the panda helper profile so that Panda Helper installs successfully. Please wait for it to install on your home screen.
You can go to Settings > General > Profiles & Device Management > Downloaded Profiles to trust a certificate used by Panda Helper. (Since apps need the certificate from Apple and can operate on iOS devices, we need to trust the certificate to get used.)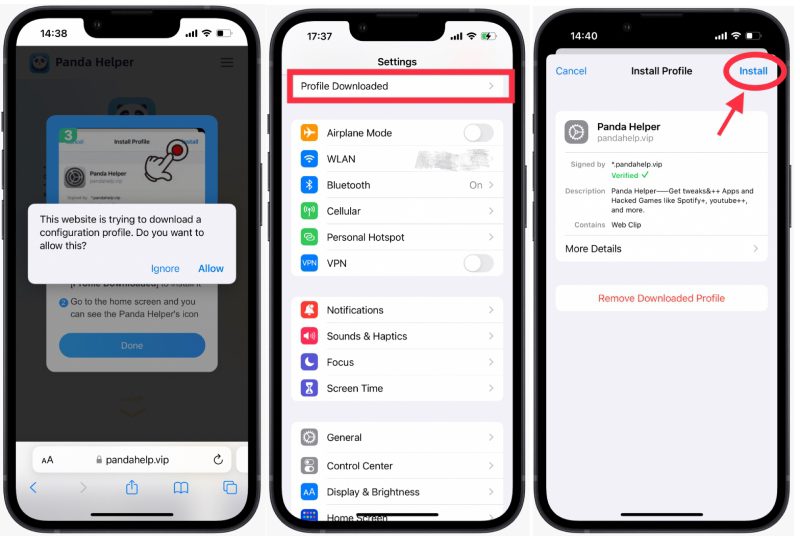 Now launch Panda Helper, search for MovieBox Pro and install it. When you open it for the first time, you see the "Untrusted Enterprise Developer" message again. Just go to the Settings app and trust the profile belonging to MovieBox ++ as you did with Panda Helper.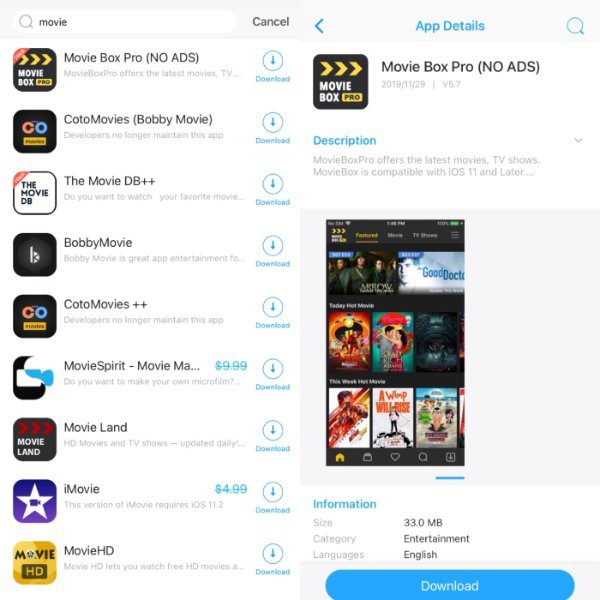 Lastly, Check out MovieBox iOS and enjoy it.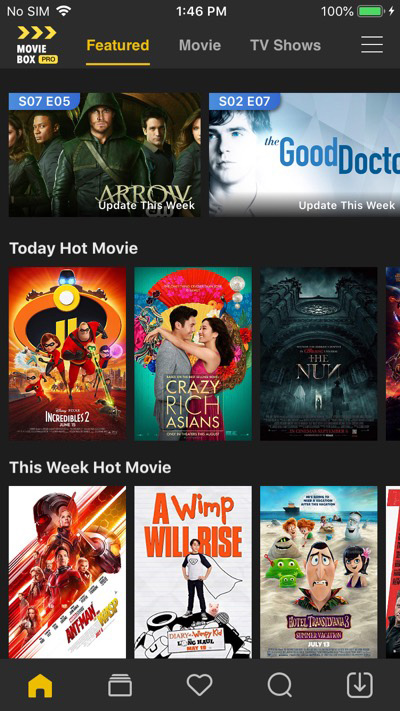 In addition, the MovieBox Pro also supports the App Cloner hack features.
Notice: For a better experience, we recommend you consider joining the Panda Helper VIP membership. Not only download limited to VIP exclusive games, but You can also enjoy more features in the VIP version of Panda Helper, such as Auto Touch, Auto Clicker, Speeder, Cloner, Cheat Engine, etc.
FAQs of MovieBox Pro You Maybe Interested
Is MovieBox Free?
Moviebox Pro iOS is the ultimate solution for your entertainment needs. The app allows you to stream your Fav Movies, Music Videos, TV Shows, trending Trailers, and generally everything you need to keep your eyes entertained. Amazingly, everything is free of charge, with absolutely no monthly subscription.
Is Movie Box Pro Still Working?
You are absolutely 100% active once you download it from our store, Panda Helper, at no charge. Its time to enjoy your shows at your most convenient place
How do I Watch MovieBox on my TV?
Are you looking forward to watching your movies on movie box pro on your TV? Here are simple to understand step by step on how to have the system connected and working. First, open your Moviebox app. Proceed to log in if you have an existing account or create a new one if it's your first time in the system. Once logged in, choose your Fav Video you will be watching. On top of the screen, click the Cast Button and select your Chromecast device and TV.
Many other questions are waiting for you to inquire.
Apps Like Moviebox