This is a technique to prevent certificates from being unavailable by Apple. When the app prompts "Unable to Verify App", don't delete the unavailable app from your iOS devices. Apple has strengthened its certificate revocation prevention mechanism recently, and we have found new ways to avoid Apple's revocation (Remove Device From Apple Blacklist) .
Contents:
Why Unable to Verify Apps?
Resolving Certificate Unavailability by Device Recovery
How to Fix Certificates Revoked?
Why Unable to Verify Apps?
There are two situations when you experience 'NOT Installing(grey icon)' or 'Crashing after Verify' or 'Unable To Verify' after Verify.
Situation one: The common certification is functioning currently. It means you are blacklisted by Apple, and you can try the method for resolving certificate unavailability by device recovery.
Situation two: Certificates of those apps are revoked by Apple.
Tips: You can get the latest information by following the Panda Helpr official Twitter or contacting our customer service(Email:support@pandahelp.vip).
Resolving Certificate Unavailability by Device Recovery
You can get Video tutorials on What is Blacklist and how to Remove Device From Apple Blacklist.
Tips: There is no guarantee that it will work for every device, so please be patient and make multiple attempts.
The text tutorial to Remove Device From Apple Blacklist
Step 1: Open Settings App
Step 2: Please Backup Your iDevice First
Go to [Settings > Apple ID > iCloud > iCloud Backup > Back up your iPhone]
Step 3: Make the Backup
If your iCloud doesn't have enough storage space for backup, please try make the backup via iTunes.
Step 4: Erase Your iDevice.
Go to [General -> Reset -> Erase All Content and Settings]
Tips: This step Will delete all data on your device, so please make sure to backup before doing the step.
Step 5: Select Your Wifi Network.
When your device restored, go to [Settings-Wifi]. Select your Wifi Network.
Tap on the [(i) -> Configure Proxy -> Automatic] type in http://ffapple.com then tap on [Save].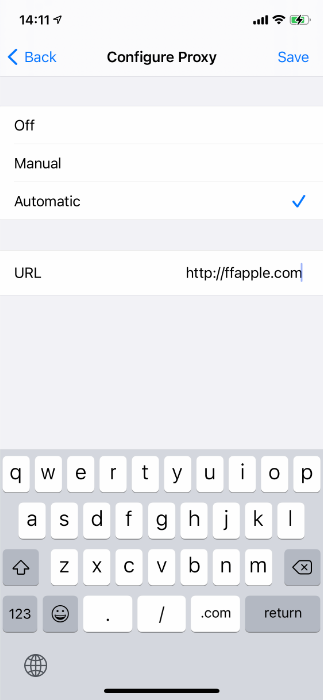 Step 6: Disconnet and Reconnet from Your Network
Step 7: Clear Your Safari History Cache
Go to [Settings-Safari-Clear History and Website Data]

Step 8: Download Panda Helper Again
1.You should now be able to install Apps! Go to download Panda Helper.
2.If you still Unable to Verify Apps. You can choose the most suitable solution from the solutions we provide.
Go to buy Super Certificate, and return to Panda Helper VIP to reinstall it or contact us.
Wait for the following common Certificate to hit the shelves and try installing again.
Jailbreak your devices. Keep revoked apps and use jailbreak tools like Unc0ver to jailbreak devices, then revoked apps can be opened.
Sign apps IPA files on PC.Before you sign apps, please backup data first if you don't want to lose data, and delete revoked apps when you expect to sign apps have been revoked because apps can't co-exist.
What to do after Certificates Revoked?
If you meet apps crash and tell you "unable to verify", and make sure certificates of those apps are revoked by Apple (via Panda Helper official Twiter). There are 6 Tips to Fix "Unable To Verify".
Related Certificate Unavailability Articles You May Interested: