Pokemon Go Hacks iOS and Android Apk for Free 2022
Pokemon Go is one of the most popular AR games Currently. As you know, There are a total of four hack versions of Pokemon Go that can spoof your location on it; they are Pokemon Go++ by Spoofer Go, iPoGo, iSpoofer and SpooferX. But now iSpoofer don't work anymore on iOS. Next, we will introduce more about iPoGo and have a closer look at how to play Pokemon Go hacks 2022 at home. You can download and install the latest Pokemon Go hacks by iPoGo app from the link below: 
Download Pokemon Go by ipogo on iOS
Download Pokemon Go by ipogo on Apk
What is the Pokemon Go Hacks by iPoGo?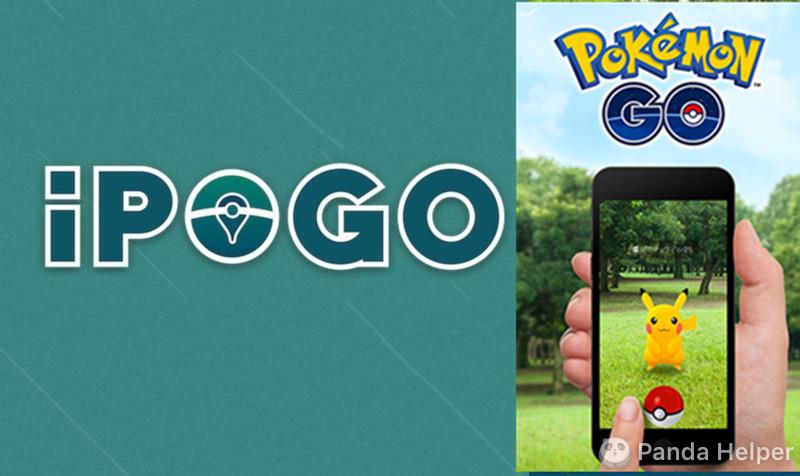 Pokemon Go is a mobile game that was first augmented into reality ( AR) in 2016 by Niantic in collaboration with Nintendo and Pokemon Company for both Android and iOS devices. Pokemon Go++ by iPoGo app is a modificar Pokemon Go that all the players can play games without you having to move outside. You have to make the game think you're moving. Changing locations is the most popular feature for Pokemon trainers. Players can enjoy it again as past On iPoGo app. iPoGo adds a new dimension of possibility to pokémon go, such as Autowalk, feed, and joystick overlay. This way, players can get a deeper level of fun in the game.
Why do You Need Pokemon Go Hack (Pokemon Go plus)?
Pokemon Go hack(Pokemon Go plus)allows us to play pokémon go without leaving home. Even when we are at home, we can teleport to anywhere in the world and control our characters by using a comfortable and functional virtual joystick. This will please users who can't leave the house due to illness or other reasons, which is great for now.
Hack features of Pokemon Go plus, such as:
Teleportation Feature:Catch your favorite pokemon quickly by teleporting to its location. It will be easier to get the rare pokemon and show off to your friends. Unlike the original app, you'll have the chance to get ahead of your friends and catch solid virtual creatures.
Joystick Navigation:With the Pokemon Go++ b Ipogo, you can navigate the game conveniently using a joystick. You can quickly move your character to places you want and improve your gameplay.
Other features of Pokemon Go plus:
Automatic Walking:One of the best features of this modified Pokemon Go app is its auto walking feature, providing effortless gameplay.
Access to Feeds:Pokemon Go++ allows the players to access the feed, including Pokemon, Raids, and Quests. In addition, the players are updated with almost everything about the game.
Enhanced Throw:Using the mod app will also have the chance to win every pokemon battle as the developer included a feature for you to have enhanced throw.
Search: You can discover nearby Pokemon and set reminder alerts. It can also automatically search for pokemon near you to fast catch it.
Download and install Pokemon Go Apk Hacks (iPoGo) for Free Without Jailbreak
Of course, You can download iPoGo app from the official website, but it needs to jailbreak your iOS device and Purchase Vip. If you want to download and install  iPoGo ipa file on your iOS device without jailbreak, you can one-click install it via Panda Helper or Signulous. But it will cost $20 per year, per device using Signulous. So I think Panda Helper iOS is the best choice to download Pokemon Go hacks for free without jailbreak. However, if you are an Android, you also can download Pokemon Go hacks for free on Android from here. In addition, Panda Helper Vip provides additional game tools such as Auto Clicker and Auto Touch for Pokemon Go++ by iPoGo. By the way, game tools require a fee to use. The application also provides an option to import and export or settings with one click. Please remember to remove the original application from your device before installing the mod. 
Tutorial: How to free download iPoGo on iOS devices from Panda Helper?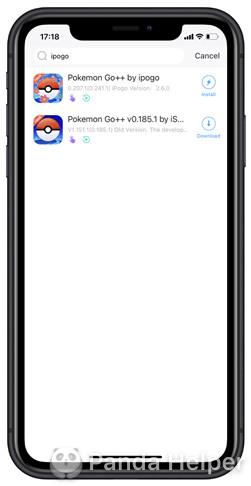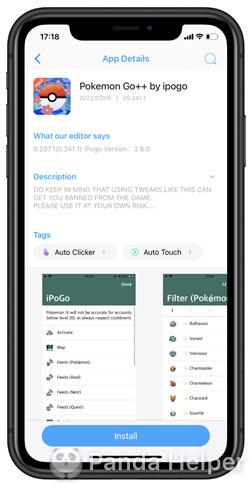 Download and Install iPoGo for Pokemon Go on Android
If you are an Android user, you also can get the corresponding installation link here. Panda Helper for Android is free to download, and you don't need to pay for VIP. So you can download the Pokemon Go hacks Apk on Android for free. Like to Panda Helper iOS version, Panda Helper Android also offers a large number of the mod app for free.
Install the Jailbroken Version of iPoGo ipa file by Cydia
The jailbroken version of iPoGo app is for the unc0ver jailbreak tool running on iOS.  Add iPoGo Repo to your Cydia resource list. 
You can get tutorials on how to download iPoGo on jailbroken device.
Step 1: Open the Cydia app on your jailbroken device.
Step 2: Click Sources → Edit → Add Official iPoGoRepo.
Step 3: Switch to the Search tab and enter iPoGo Pokemon Go.
Step 4: Click the Install button.
Notice:  If Pokemon Go++ crashes after jailbreaking your  iOS13 and iOS 14,and is because of the jailbreak detection from Pokemon Go. 
Pokemon Go Location Spoofer Cheat on iOS and Android Apk
It is a trump card to use iPoGo to spoof your location. You can change the place in any of the following ways.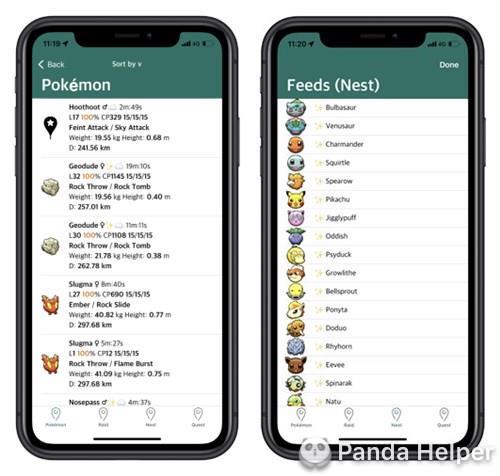 Pokemon Go Hack Joystick via iPoGo
Pokemon Go hack Joystick allow you to spoof your GPS location and play pokémon go online. You need to use a long press with one finger anywhere on your screen, and you can stay at home and visit all of your favorite locations. Pokemon Go hack Joystick is a feature of iPoGo that you can get on iOS by downloading iPoGo.
Pokemon Go Hack Map via iPoGo
It is a feature to catch Pokemon far from your actual location in pokémon go online. To change your location, you can click on the Map icon (located at the top of the iPoGo interface). You can find the target location by address or coordinates.
Pokemon Go Hack Feeds via iPoGo
There are four options: Pokemon, Raid, Nest, and Quest.
>Pokemon: You can add your favorite Pokemon from here. And also can customize a list specifically through the custom option.
> Raid: walk/teleport to said raid that you are interested in it.
> Nest: Go to the nest which the Pokemon you want to have.
> Quest: there are three options: Pokémon, Item, and Stardust. And you can click the stop what you want to go.
Notice: iPoGo Cooldowns
The Cooldown is the amount of time you need to wait after using an in-game action with iPoGo. You will need to wait for said cooldown before you can use your next in-game action, otherwise you will fail said action. The cooldown time is calculated based on the distance you move between in-game actions. This is important to avoid the risk of your account being banned.
Tutorial: Another method for Playing Pokémon Go Hacks from Home 2022 without Jailbreak.
Pokemon Go++ by iPoGo Troubleshooting
Q: Why iPoGo for POGO is Not Working?
A: If Apple revokes the certificate you are currently using, your iPoGo installation may not open and cannot be verified. You can choose to be patient and Panda Helper will repair and replace the new certificate.
A: If Pokemon Go++ by iPoGo crashed and you see pop-up words that "Unable to Verify App." You must delete the app first. Then, You can choose to be patient and Panda Helper will repair and replace the new certificate.
Q: How to Solve Grey Icon?
A: Please long press the icon to delete iPoGo ipa, then download and install again. Assuming the problem is not resolved. As your devices or apps you installed may be added to the certs blacklists by Apple.
Tutorial: How to solve the Blacklist Problem?
NEWS
How to Get Binnacle and Barbaracle in the Pokémon Go Event
Niantic responds to player protests over Pokemon Go Hack iOS rules change
Frequently Asked Questions
Q: Is Pokemon Go++ by iPoGo Safe to Download From Panda Helper on iOS?
A: Yes, You can install iPoGo through Panda Helper without jailbreak so that he won't steal your information.
Q: How to Spoof in Pokemon Go Without Getting Banned?
A: Niantic may flag your account, which may lead to being banned, so don't change your location often. If you use a joystick hack that gets your account banned. You will be given a temporary limit of 12 hours. During this time, you cannot play Pokémon Go.
Q: Can I Play iPoGo for Android?
A: Yes, you can downloaf iPoGo for Android devices. And you can download Pokemon Go++ for Android from Panda Helper Android.
Q: What's the Eevee Nickname Tricks in Pokemon Go Hacks?
A: Evolve Eevee is one of the more significant talking points in Pokemon Go hacks all along. Below, we've listed all of the names for Eevee in Pokemon Go.
| | |
| --- | --- |
| Pokémon            | Nickname               |
| Jolteon | Sparky |
| Flareon | Pyro |
| Vaporeon | Rainer |
| Umbreon | Tamao |
| Espeon | Sakura |
| Leafeon | Linnea |
| Glaceon | Rea |
Q: How to Play Pokemon Go Hacks for PC?
A: Pokemon Go hacks is currently only available for iOS. But You can download and play Pokemon Go hacks for PC after installing the emulator. But, Niantic also said that "using a emulator " could get you banned for life. So please use the emulator with caution.
Video About Pokemon Go Hacks
My View of Pokemon Go++
Pokemon Go++ is a game that combines some innovative and technologically advanced features. He is different from other games but combines games and sports to let players go out of their homes, it Getting Sunshine for us. I think the features is one of the factors of its success. Besides, nostalgia is another attraction for us. Because we avidly played Pokémon on Nintendo DS once. Some people feel that the hack version of Pokemon Go spoils his fairness and fun, but I think it just makes the game a little easier when you want to be lazy. Isn't the purpose of the game to enjoy it?
If you have any other questions, you can contact us via Panda official Twitter or email: support@pandahelp.vip.