Betelguese is launched, a one-click macOS Odysseyra1n installer
Odysseyra1n is is a custom Procursus-based bootstrap that installs Sileo for devices jailbroken with the Checkra1n tool, providing libhooker tweak injection.
Previously, Odysseyra1n needed to be installed through a terminal with a command-line interface. But as of today, this has changed with the release of Betelguese.
Betelguese is essentially a one-click Odysseyra1n installer with macOS support for all iOS devices that have been jailbroken with checkra1n, including iOS 12, iOS 13, or iOS 14.(By @23Aaron_ and @hkirb)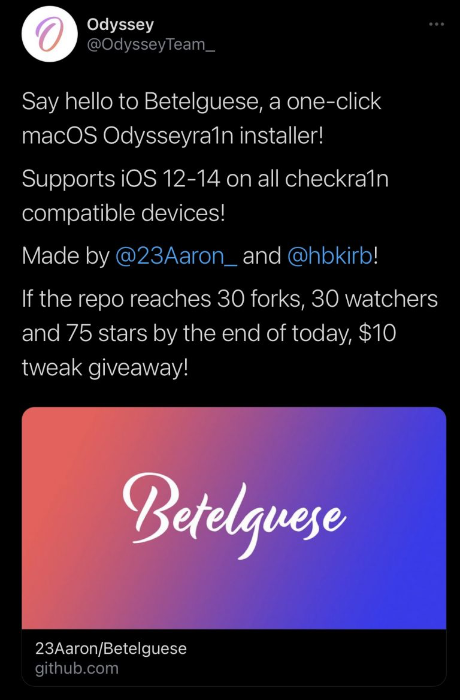 Odyssey Team recently announced the release of Betelguese, with a link to the project's official GitHub page. Beteguese makes it easier for even casual jailbreak users to use Odysseyra1n, replacing the intimidating command-line interface with a simple one-click interface for jailbreakers to use.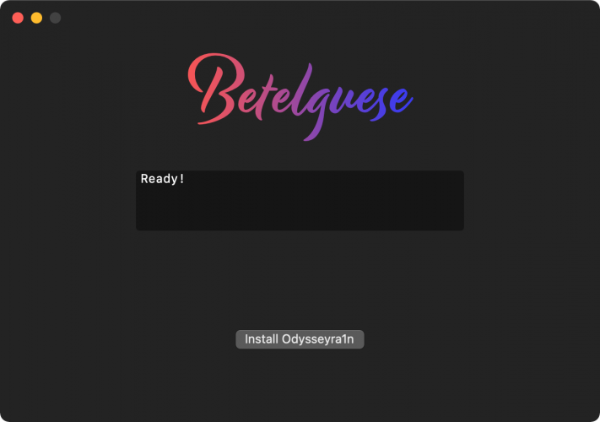 Connect an iPhone or iPad that has been jailbroken with checkra1n to a Mac computer via USB-A and simply click the button provided on the Betelguese interface to complete the rest of the boot-injection operation.
It is worth noting that installing Odysseyra1n on a Checkra1n device will uninstall Cydia and replace it with Sileo. Thankfully, the Procursus bootloader supports four different package managers, including Cydia, Installer, Sileo, and Zebra. this means that you can also reinstall Cydia later if you want.
Users of Checkra1n devices who are interested in experiencing the new Betelguese one-click Odysseyra1n installer for themselves can download it from the official GitHub page.
Related Article:
When will Odyssey 14 Jailbreak be released? CoolStar teases Sileo on iOS 14.3