Download Instagram++ free without jailbreak
Instagram++ or Instagram Plus Plus is a modified Instagram that adds many premium features. As you know, Instagram is a photo-sharing and social media application. It allows you to share your photos and videos with your everyone. But it still many features missing from the app. That's what Instagram++ does, and it can fill that gap. You can't download it from AppStore due to Apple's stringent policies. But here, you can free download Instagram++ iOS, Instagram++ Android without jailbreak from Panda Helper.
Content: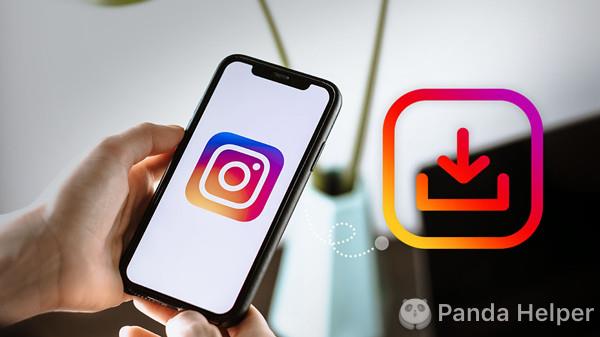 How to fix Instagram keeps crashing? (100% Working)
Why does Instagram keep crashing on my iPhone? This is one of the problems that Instagram users face frequently. It makes you feel confused and dissatisfied when Instagram keeps crashing on your device. Here, you can get more information on the causes and solutions to the Instagram Crashing problem.
Instagram++ keeps closing reasons and solutions
Your Instagram needs to be updated
It is preferable to update your Instagram to the latest. If Instagram keeps crashing on your phone due to an error or glitch in the app, this may be resolved by updating Instagram to the latest version. It will optimize and fix bugs contained in the previous version.
Your iPhone or Android phone is not compatible with this version error in Instagram
Sometimes, your device is running out of date, but Instagram is the latest version. It's best to upgrade your iPhone or Android phone to the newest version. The new updates will fix compatibility issues of some apps bugs and increase performance.
Instagram++ Certificate Removed
As with Panda Helper, all tweaked apps require a certificate to work on iOS without jailbreak. The certificate of Instagram++ is revoked by Apple when the apps crash and tell you "unable to verify ." And Instagram keeps closing. There are 6 tips to fix Instagram++ Certificate Removed.
Jailbreak error
Sometimes, Instagram keeps closing if you jailbreak your iOS devices already. So, you can test to set up your iPhone or install Instagram++ again. It may be better to jailbreak your iPhone again after the above operation.
Tips: To avoid file loss, please backup iPhone data.
The features of Instagram++ iOS (Instagram Rocket、Instagram Rhino ) 
Panda Helper offers several enhanced versions of Instagram for users to download for free without jailbreak. Each Instagram plus plus has different features, so you can choose the one that suits you according to your needs.
Instagram Rocket 2022 for iPhone (via Panda Helper)
Instagram Rocket 2022 is a tweaked app with many features that the common version doesn't have. It will enhance your experience.
>You can save photos or videos which you want to have to Camera Roll
> You can hold down on an image or video to view a high-resolution version of it
> Double-tap or hold on a profile picture to view it in full-screen
> Mute and unmute users
> Hide ads
> Show user status
> Share images
> View direct messages without notifying the sender
> Change feed layout between grid or list view
> Shows confirmation message when double-tapping a post to like it
> You can view the post's date and time
> You can view stories without marking them as seen
> Download photos and videos from stories
> Manually mark stories as seen
> Show entire gallery instead of last 24 hours in story maker
Instagram Rhino 2022 for iPhone(via Panda Helper)
Instagram Rhin 2022 is a powerful extension of the official Instagram app. It brings a lot of other user-requested features to the Instagram app. You can download Instagram Rhino on iPhone, iPad, and iPod touch for iOS 10 or later.
> Download feed images and videos
> View any user's profile image
> Determine if users are following you
> Download images and videos in Inbox
> View disappearing photos/videos
> Disable marking messages
> Download Story images and videos
> Download Live Videos
> Disable marking stories as Seen
> Hide Live Chats during live streams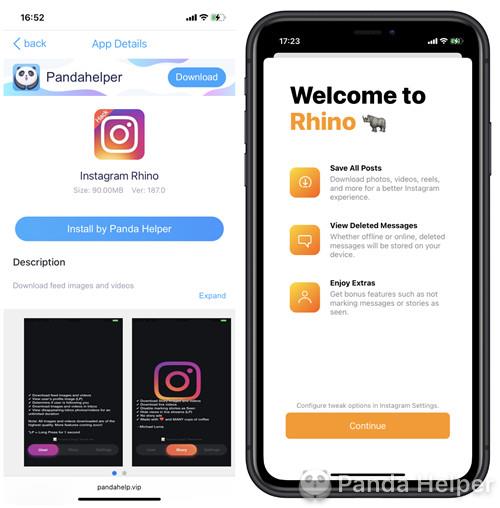 Instagram video download
Sometimes you may want to save Instagram videos, stories, and reels when scrolling Instagram feed. But Instagram doesn't allow you to download any one of Instagram. So, we can solve this problem with Instagram++.
>If you are an iOS user, you can download Instagram Rocket to download Instagram videos. Instagram Rocket can save any photo or video to Camera Roll. In the Panda Helper iOS, Instagram Rocket is 100% free. You did not pay anything to download videos on Instagram.
How to download Instagram video on iOS (via Instagram Rocket)?
Step 1: Open the Instagram video and tap the button "download" at the bottom.
Step 2: Follow the prompts to select the location where you want to save.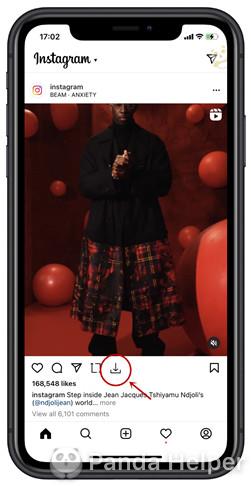 >Panda Helper Android also provides Instagram to download the Instagram video if you are an Android user. GBInsta can easily download images, stories, reels, and IGTV videos for free.
How to download Instagram video on Android (via GBInsta)?
Step 1: Open the Instagram story, and you can see a 3 dot menu at the bottom.
Step 2: You will see an option to download Instagram stories on your devices.
Tips: Please allow storage permission when the app asks you.
The Instagram private profile viewer
On Instagram, It won't allow you to check private accounts. The user needs to send a message requesting to see their private accounts. If you get a rejection, it still has no access to private accounts, and only a message "This account is private" is displayed. But, Instagram Rhino comes with a private profile viewer that allows the person or stalker to view the photos and other activities on the private accounts. I think this can be attractive to many users.
How to remove ads from Instagram?
If you're tired of scrolling past annoying ads on Instagram, here will guide you on how to remove ads from Instagram. Hide sponsored ads are one of the best features on Instagram Rocket. In other words, it is an ad-free application. You will have an ad-free experience on your timeline. You have to buy the PRO version of Instagram Rocket to remove the ads. But all free if downloaded from Panda Helper.
Free download Instagram++ (Instagram Rocket、Instagram Rhino ) for iOS 
Instagram Rocket is just as easy to use as the original and offers even more. Read on if you want to get all of his features for free without jailbreak. Panda Helper is a great third-party store that provides you with almost all the modded and hacked apps. And you can free download hacked apps such as Instagram Rocket, Instagram Rhino, whatsapp+, YouTube++, etc.
Step 1: Launch the safari to go to the Panda Helper Official Website.
Step 2: Tap on the"Download" button when the website is loaded. Then click the "Download" button next to Free Version on the new page.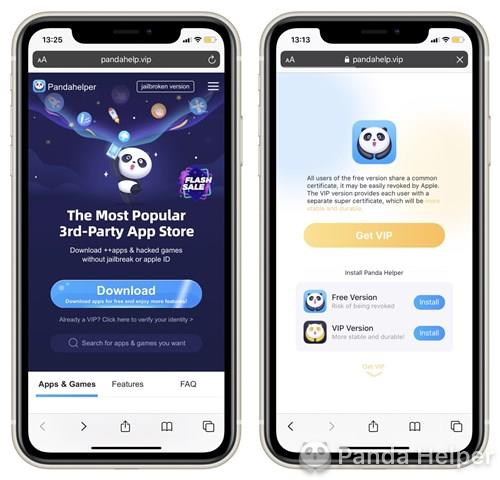 Step 3: Follow the prompts to install the Panda Helper profile to install the Panda Helper successfully.
Step 4: When you open it the first time, you see the"Untrusted Enterprise Developer" message. Go to the Settings app, Settings > General > Profiles & Device Management, and trust the Panda Helper profile.
Step 5: Now, search for Instagram Rocket, download and install it.
Step 6: Once the installation is finished, please go to Settings->General->Profiles and trust the Instagram Rocket IPA profile. Now Start enjoying Instagram no ads on your iPhone/iPad for free.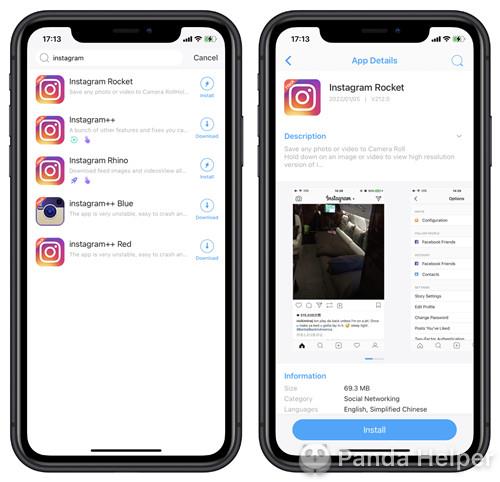 Free download Instagram++(GBInsta) for Android
GBInsta(or InstaPro) is a mod for the original Instagram that helps users download Instagram posts, stories, reels, and IGTV videos. You can download everything you want by GBInstagram. Even it is a private profile picture. It is no longer challenging to download Instagram pictures, videos, and stories without a third-party app. The GBInsta APK can be a free download in the Panda Helper Android. Panda Helper for Android is 100% free for you.