If you are a Pokemon Player, you must have heard about the Spoof Pokemon Go GPS location App that can hack your location and many other functions. As a Pokémon Go player, you know that the character only moves when you walk physically in the real world. And this cannot be very pleasant because you must walk miles to reach new locations & pokemon. Do not worry.
This blog will discuss the Spoofer Go App, its features, how to use it to change your virtual location, and how to install it on iOS devices without a computer. So, keep reading if you want to level up faster in playing pokemon & catch all the unique Pokemon without moving from home.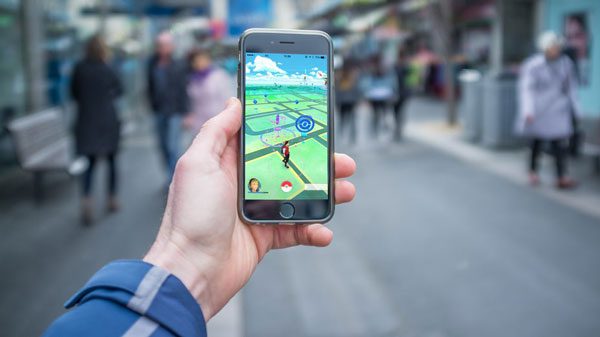 What is Spoof in Pokemon Go?
"The term Spoof pokemon means "Deceive or Cheating." And Spoof Pokemon Go means that you are using an unofficial tool to hack/cheat GPS spoofing App for quick benefits."
If you are in this article, you are most likely a lover of the Pokemon Go game. And for those who haven't played Pokemon Go yet, let me explain what it is;
"Pokemon Go is an online multiplayer game. In this game, your Phone camera becomes your new eye, and you need to move around physically to discover new places, pokemon, & other players. You can also catch free Pokemons & match with other Players."
Pokemon Go is undoubtedly a great game, but its biggest feature is its demerit: you need to walk/ride physically to play pokemon game.
Well, walking is a good thing because it helps you stay healthy & discover the outside environment, but it's not possible in most situations;
What is Spoofer Go GPS spoofing App?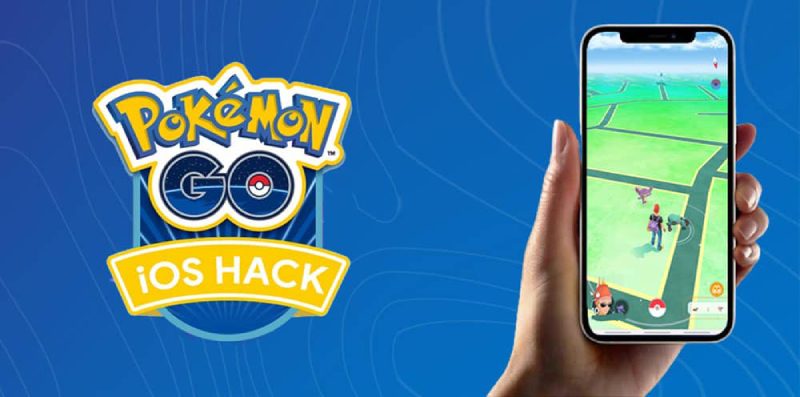 "Spoofer Go is a hacked version game of Pokemon Go. And it allows you to play the official Pokemon Go game but with more free benefits."
Spoofer Go is different from other spoofing methods, for example;
In traditional Spoofing methods,

you install a tool on your phone or PC to hack the original Pokemon Go game while you play.

But in the Spoofer Go method,

you are not installing a tool; you are installing a hacked game; the original game is deleted from your mobile.
Spoofer Tools Vs. Spoofer Go
Using a spoofer tool is very risky & there are high chances of account suspension/blocking because,
Not applicable ×
With every game update, there is a risk that tool will not work.
Not up-to-date ×
A spoofer tool will never sync properly with an official game in real time.
Unsafe ×
It would help if you jailbroke your mobile software, which weakens the mobile security wall.
While using Spoofer Go, you can there is very low or no chance of account suspension because;
No computer required ✓
A very complex spoofing code ( hacking code ) is integrated into the original game itself to make an updated version of Pokemon Go with more features. In this technique, no tool is fooling the game, which can be caught, but the game itself is giving you benefits.
No jailbreak required ✓
There is no need for phone jailbreaking, which makes Spoofer Go much safer.
Safer ✓
After one transfer is completed, it will take a while before the next transfer can be used. Otherwise, you will be considered by the system as cheating.
What are the features of Spoofer Go?
Spoofer Go has all almost all the hacks for the Pokemon game challenges, which you can never find altogether in other Spoof tools, such as;
Change Location
Move Without Moving
Catch Pokemons Easily
Skip Boring Animations
Information on Famous Places
Other Hacks
Change location
"Using this feature, you can change your location to another city, region, or country."
This fake GPS location App function helps you in many ways, such as;
Can join Tournaments that are location specific

Can discover new regions & have more adventure

Can capture Pokemon that were not available in your area

Can go to famous playing locations & meet new players without moving from your home
Spoofer Go also has a teleport feature that moves you instantly to any desired far fake location, such as Raids, Gym, Pokestops, etc. But this teleportation feature has its limit, and you have to wait a certain time for the next teleportation. And if you jump too often, the game AI will recognize you are using a hack and suspend or, even worse, block your account.
However, you don't have to worry because in Spoofer Go, the wait time, also called the "cool down" time counter, is built-in and tells you when it's safe to teleport and when it's risky. It is important to note that in other pokemon Spoofer tools, this waiting feature is mostly not present, and that's why they are not safe.
"In short, the location & teleportation feature enables you to level up quickly & catch more pokemon than you can imagine."
Move without moving
"Using Moving Simulator, you can fool the game into thinking you are walking or riding something while sitting in your bed."
Moving Simulator is the primary reason why you need a Spoof app to play Pokemon Go. Without it, you need to get up from your bed & walk miles of distance to play this game.
You can move your character in Pokemon Go in 2-ways;
i) Virtual Joystick: In this mode, a joystick will appear on your screen, and you can move it in all directions to move around, such as forward/backward/right/left.
ii) Auto-Walk: Using the Joystick is great, but sometimes when you are far away, it can become tiring to control your character all the way to the destination. In that case, Spoofer Go has a built-in Auto-Walk feature. Using this function, all you need to do is tap on any location on the map & your character will walk/ride automatically to that location.
Unlike other Spoofer tools, Spoofer Go moves the character sometimes slowly & sometimes fast, which seems to the game that a real human is controlling it. And, without a doubt, you can also control the speed setting.
Catch pokemons easily
"This feature allows you to defeat & catch pokemon easily in Pokeballs."
Using any Spoofer tool, you can find Pokemon, but catching them is another problem. For example;
Catching strong pokemon is mostly impossible on the first try.

Not all Pokemon have high-IV levels. If you catch a pokemon with low IV levels, it is useless, and you wasted your Pokeball.
However, Spoofer Go has built-in Pokemon catching functions, which allows you to catch on the first try and always the right ones.
You can increase your chances of catching 4-ways;
i) Auto Catch/Spin: By activating this feature, you only need to throw the ball, and the Spoofer Go will catch & control the pokemon on its own.
ii) Control Pokeball Throwing: If you activate this feature, your character will throw the ball at a curved angle, increasing the chances of catching it.
iii) Freeze Pokemon: When turned on, this feature allows you to freeze the Pokemon when you throw the ball, so pokemon does not resist and can be controlled easily.
iv) Increase AR & Expert Handle Level: Using Spoofer Go, you can edit your alert level during capturing, which helps you control the Pokemon.
Plus, Spoofer Go also allows you to see the IV conditions of Pokemon before catching them so you can decide whether they are worth it. While in the official game, the IV conditions of Pokemon are only visible after catching.
Moreover, if you don't like your Pokemon or want to replace it after the capture, you can use the release catch feature to free the Pokemon and save your Pokeball.
Skip boring animations
If you are a daily player and seem to think that animations like capturing, egg hatching, evolving, etc., do not amaze you anymore, and they only waste your time, then you can skip them using Spoofer Go.
This animation skipping feature is not present in the Offical games, and not most spoofer tools offer this.
Information on famous places
In Pokemon Go, there are several famous places like Gyms, Pokestops, Hotspots, etc., which are always crowded with players or players but finding them is not easy.
However, Spoofer Go has a built-in map that gives you real-time data of all the famous crowded places, so you can go there, meet/fight other players and catch pokemon.
This feature is handy, saves time, and build-up interest in the game. Without it, you will probably wander alone, most of the time, without any persons or pokemon in sight.
Other hacks
Spoofer Go also offers many other advanced functions that other spoofer tools do not have, such as;
Team Rocket – One Hit:

With this amazing function, every time you encounter a team rocket, you can beat them with just one hit and collect bonus points.

Virtual Go Plus:

Using this feature, you can avail yourself of many chances to collect stardust which you can use to evolve & power up your Pokemon and increase your level in the game.

Auto-Inventory Clean-up:

It may not seem important, but it will really help you sort out the unnecessary items from your inventory and delete them, so you always have extra storage when you need it.
Spawn Booster: While playing Pokemon Go, finding Pokemon is not easy, and sometimes you have to wait for hours to get to the next pokemon. But this feature allows you to see all the Pokemon in your area & other regions, so you are never out of hunt & adventure.
How to use Spoofer Go to spoof Pokemon Go location?
One of the best benefits of using Spoofer Go is that you do not need to use VPN or connect your mobile to a computer to spoof ( change ) the area, city, region, or country of your character in Pokemon Go.
You can spoof the location using Spoofer Go in 2-ways;
a) By Maps
b) By Location
c) By Nearby Function
d) By Joystick
a) By Maps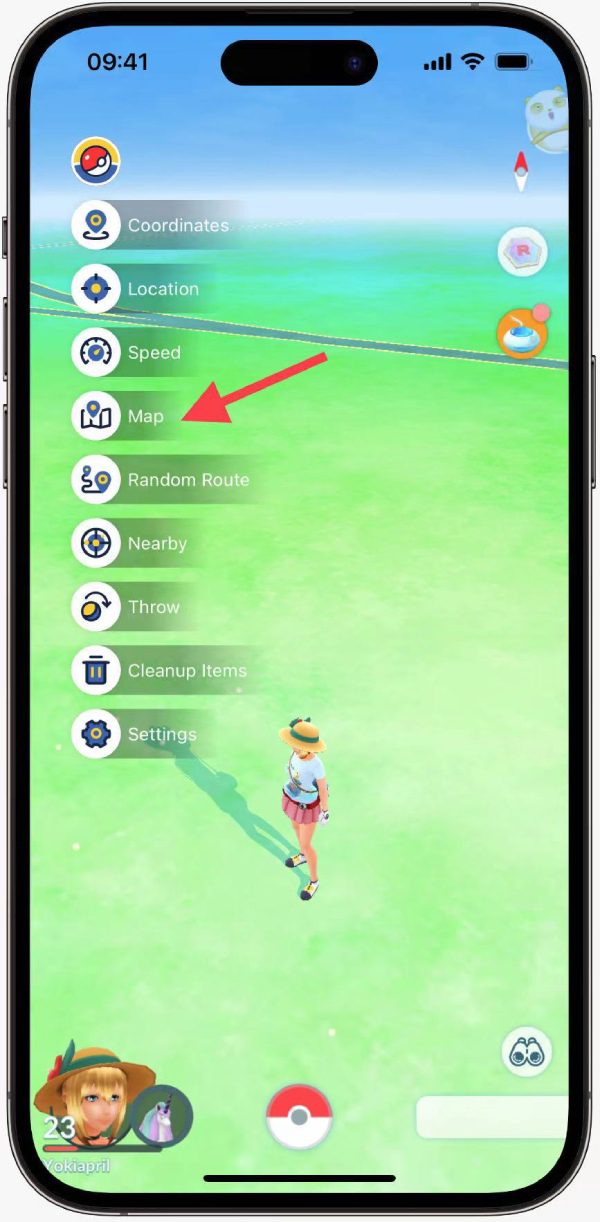 "This Map feature of Spoofer Go shows all the Pokemon, Gyms, Pokestops, Trainers, & all other important things in one place."
This Pokemon Go GPS spoofing method is useful when choosing a location based on real-time data. And you can use it in the following way;
Open the Spoofer Go app and tap on the menu icon ( upper left corner ).

From the given list > Choose the Map option.
You will see a map of your area, which you can zoom in & zoom out. On this app, you will see a lot of markers that represent players, locations, pokemon, etc. > choose any one of them to walk/teleport to that location.
b) By Location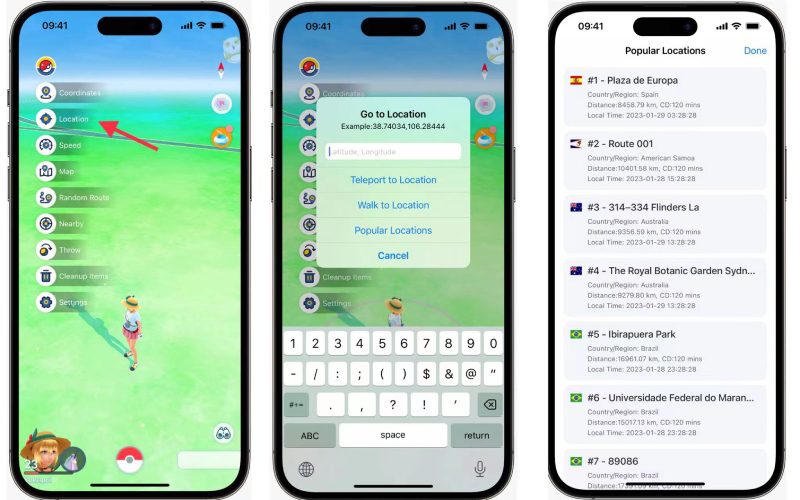 "Spoofer Go Location feature is useful when you want to move to a certain place or see all the hotspots in Pokemon Go."
You can use this feature in the following way;
Open the Spoofer Go app and click on the menu icon in the upper left corner.

Tap on the Location ( which is the 2nd option ), and you will see a pop-up menu with an empty text bar > enter your desired location and click on any of the following ways to move;
Teleport to Location ( instant )

Walk to Location ( Time-Taking )
If you do not know a place's name, you can click on "Popular Locations" and see all the famous crowded area suggestions. Simply click on them, and your location will be spoofed to that area.
c) By Nearby
"This Nearby Function is very helpful when you want to see which Pokemons, hotspots, & players are around you."
One of the great benefits of the nearby function is that it allows you to see real-time data of pokemon around you, such as name, gender, distance, and whether it has been captured or not.
You can use the Nearby feature of the Spoofer Go app in the following steps;
Open the Spoofer Go app.

See the left-side upper corner, and you will notice a menu icon; click on it.

Now, a list will appear > at the bottom of the list; you will see Nearby > tap on it.
d) By Joystick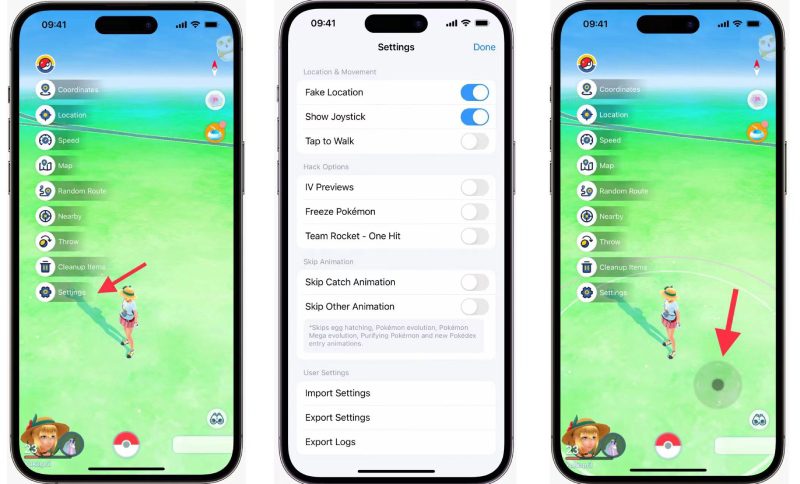 "This feature allows your Pokemon Go game character to Walk to a destination without moving a foot in real life."
Joystick is the safest mode when you want to spoof your location. It is primarily used for nearby destinations or when you have done too much teleportation in a single day.
You can access this mode of Spoofer Go in the following way;
Launch your Spoofer Go app & select the Menu icon ( left upper side ).

From the given list > Go to the bottom > Choose Setting.
Now, in the setting menu > you will see the "Show Joystick" option > turn it on.
Get back to the main game, and you will see a joystick on the bottom right side; use it to move forward/backward/right/left or any way you want.
How to download Spoofer Go on iOS – without a computer?
With so many Powerful hacking features, Spoofer Go is the best GPS Spoofing app for Pokemon go, and many of you may have probably decided to use it. Spoofer Go works well with iPhones/iPads.
On the Spoofer Go Official website, you can see 3-ways to download it;
i) Directly Download the Installation File – ( Certificate needed )
ii) Download via Panda Helper – ( No Certificate needed )
iii) Download via Altstore – ( Computer needed )
Out of the above options, choose 2nd one because, via Panda Helper, you don't need a certificate or a computer to install Spoofer Go on your iOS device.
"Panda Helper is a third-party app store, which contains most game hacks & other illegal applications, which are not available on Apple Store or Google Play store."
It is important to note that Panda Helper works with Android and iOS devices.
Download Spoofer Go via Panda Helper
You can download Spoofer Go from the Panda Helper app store in the following way;
First of all, delete the official Pokemon Go game app from your iPhone/iPad.
Now, go to Safari web browser & and search the official Panda Helper website. Then download Panda Helper Free Version or VIP version download. After the download is complete, find Spoofer Go and install it.