Best Pokemon Go locations you can get in the blog. We will enlist the top 10 Pokémon Go Locations to spoof where you can find Pokestops, Gyms, other Trainers, and tons of Pokemon to catch. We will also mention in detail the rarest pocket monster, where to find them, and which pokemon can counter them.
And that's not all. In the end, If you are a Pokémon Go trainer tired of running out aimlessly for days without a rare catch in sight, then you have come to the right place. You will learn about one of the best location based apps to spoof pokemon without using a VPN. So, keep reading if you want to become the greatest Pokemon Trainer in the world.
Best Pokemon Go locations with coordinates to spoof 2023
i) Porto Alegre, Brazil
ii) Shibuya, Tokyo, Japan
iii) Buyukpark, Izmir, Turkey
iv) The Colosseum, Rome, Italy
v) Circular Quay, Sydney, Australia
vi) Parc Cordelles, Barcelona, Spain
vii) Lumpini Park, Bangkok, Thailand
viii) Disneyland, Anaheim, United States
ix) Negara Zoo, Kuala Lumpur, Malaysia
x) Paralibros-Poza Rica, Veracruz, Mexico
i) Porto Alegre, Brazil
| | |
| --- | --- |
| Coordinates | -30.031016, -51.234585 |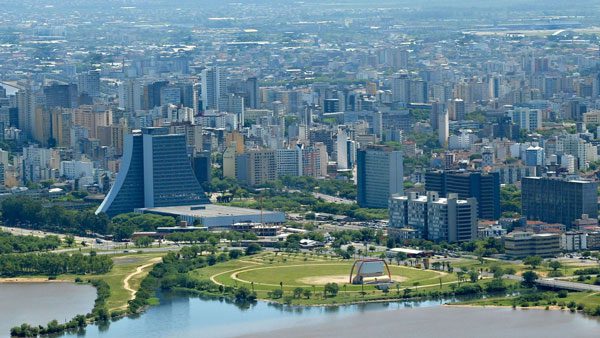 In 2019, Porto Alegre was made as a Pokémon Go Safari Zone due to its popularity. It is an ocean-side area with a lot of beaches & islands.
As goes for Pokemons, you can find a lot of rare aquatic ones in this area. Porte Alegre is famous for its Psychic Pokemon, such as Slowpoke nests, which can be really an opportunity. If you are finding Brazil Pokemon, this place is the best starting point.
ii) Shibuya, Tokyo, Japan
| | |
| --- | --- |
| Coordinates | 35.685001, 139.710007 |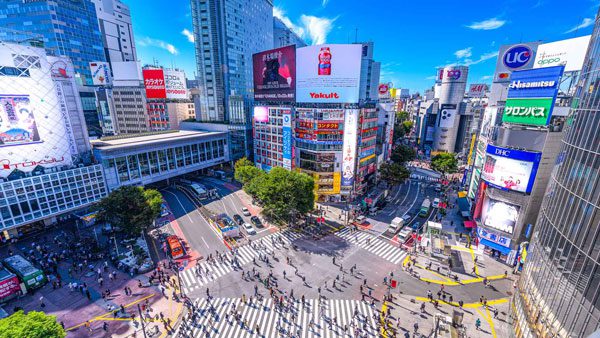 Most of you already know that Pokemon originated in Japan. And as you already know from movies & media that Tokoyo is like the heart of Japan, so it goes without saying that it is also one of the best Pokemon Go Locations.
In Tokoyo, many places offer their services as Pokestops, Gyms, Parks, etc. Tokyo has a lot of rare & common Japan Pokemon. Plus, this city is crowded with players, so you will find a lot of opportunities to fight or make friends. And it's a kind of moral obligation for every player to visit the birthplace, only for real Pokemon fans.
iii) Buyukpark, Izmir, Turkey
| | |
| --- | --- |
| Coordinates | 38.462894, 27.216275 |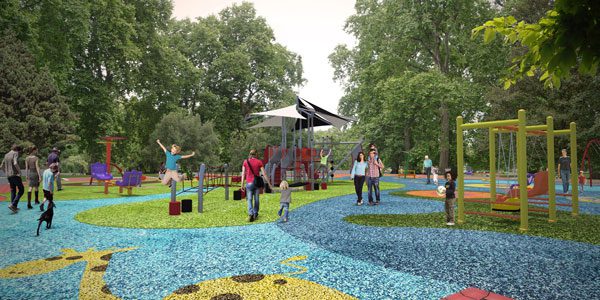 As you already know, Turkey is a hot place for tourists from all over the world due to religious & spiritual lures, so Turkey is one of the best Pokemon Go locations; no wonder.
Izmir, a metropolitan city, is the best location for Pokemon Go in Turkey. It is located on the Aegean Coast, with an ocean-side view and a lot of tall buildings. In the Buyukpark, you will find 28 stops of Pokémon Go, each with its own wonders & lures. 
With a lot of Players & Pokemon wandering around, you can fill your Pokedex & catch some Pokemon in no time.
iv) The Colosseum, Rome, Italy
| | |
| --- | --- |
| Coordinates | 41.890251, 12.492373 |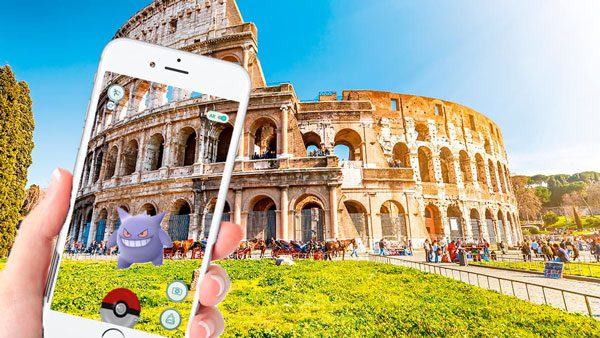 The Colosseum was the largest Amphitheater ever built in ancient times, and despite it being near to 2000 years old, it is still the largest Amphitheater in the World. In ancient times it serves the purpose of gladiator fights, animal hunts, etc. So, it makes sense; it is one of the crowded places for Pokémon Go players.
You can find a lot of rare and legendary pokemon in the Colosseum of Rome, like Pikachu, Squirtle, Oddish, and so on. With its capacity much higher than the physical world's 80,000 people, the Colosseum of Rome is the place where you go to fight and win matches.
v) Circular Quay, Sydney, Australia
| | |
| --- | --- |
| Coordinates | -33.865143, 151.209900 |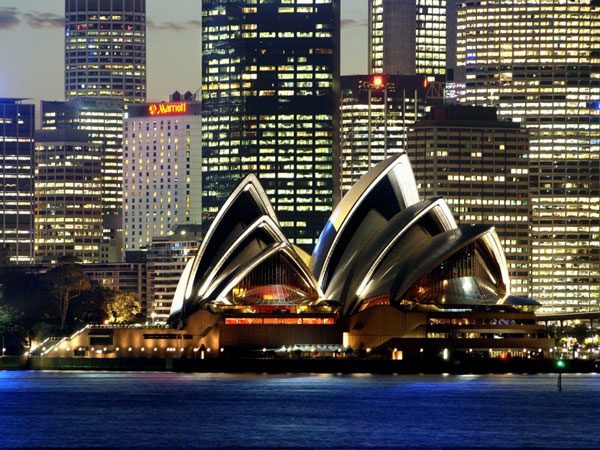 Australia is known for its Tropical Beaches & Rainforests. It is a famous tourists sports worldwide. In the Circular Quay of Sydney, just around the waterspots, you can find a lot of rare water-type Pokemon.
Plus, around this area, you can find Gyms, Pokestops, etc. This area is not as crowded as other ones, but it is famous for its scenic views.
vi) Parc Cordelles, Barcelona, Spain
| | |
| --- | --- |
| Coordinates | 41.496293, 2.133689 |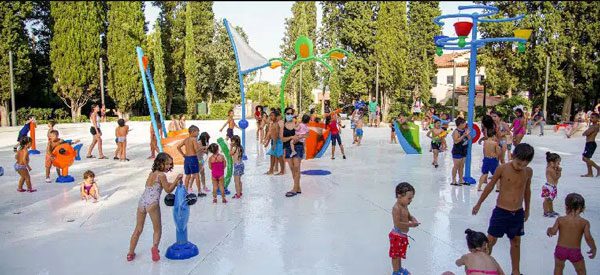 Barcelona has one of the most amazing churches, La Sagrada Familia, in the whole world.
However, the hotspot for Pokémon Go is not the church but the Parc Cordellas, which is located in the heart of Barcelona.
This park has a lot of unique Pokemon, such as Scyther, Slowpock, Clefairy, Gyarados, etc. On the ocean side, you may also find a Dragonair. The whole city is crowded with Gyms & Pokestops with amazing raids & adventures for you to complete. Plus, it will also give you the opportunity to find Spain Pokemon.
No matter what you look at Barcelona, it is full of wonders for every beginner and skilled Pokemon Go player.
vii) Lumpini Park, Bangkok, Thailand
| | |
| --- | --- |
| Coordinates | 13.730556, 100.541664 |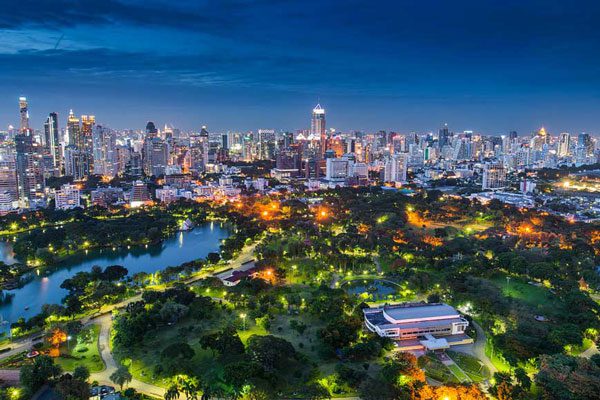 Lumpini is a green & breezy central park located in Thailand. When you play Pokemon Go, You can find a lot of trainers crowd in the centre due to the many Gyms & Pokestops there.
You can wander around this beautiful park, try your luck, and maybe you will find some rare and legendary pokemon. With a lot of other players, you can make friends and fight rivals to fill your quest in the game.
viii) Disneyland, Anaheim, United States
| | |
| --- | --- |
| Coordinates | 33.812511, -117.918976 |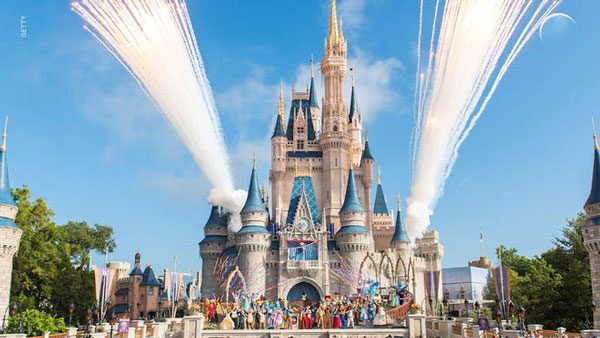 Who doesn't love the Princes & Princesses of Disney movies? All of us are fans of Cinderella, Snowehite, Elsa, Aladin, etc. So, Disney Land in Anaheim is one of the most crowded places on Earth, and it is a place where everybody can be a kid again & live their dreams.
A lot of Pokémon Go players also come to Disney land to play freely, which gives a massive opportunity for matches. The Sleeping Beauty Castle is the hotspot for matches. You can fill all your Pokeballs here if you are up to it. At the same time, this is the best place for Pokemon fans.
ix) Negara Zoo, Kuala Lumpur, Malaysia
| | |
| --- | --- |
| Coordinates | 3.207111, 101.756729 |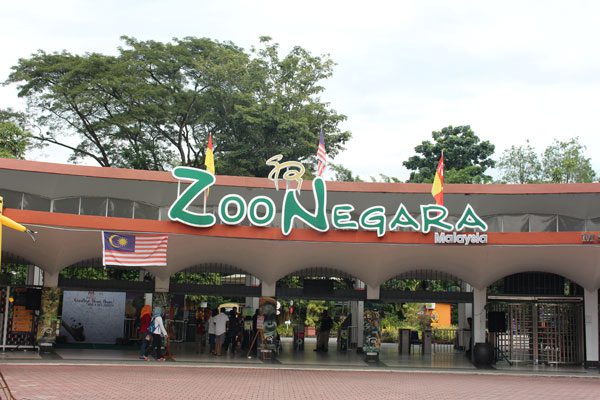 There is no other place to find Pokemon, which are also kind of animals, then the Zoo itself. Located in Kuala Lumpur, Negara Zoo is a busy place with hundreds, if not thousands, of daily visitors.
You can find a lot of rare and legendary pokemon in this area. It is a fascinating place to spoof pokemon in 2023.
x) Paralibros-Poza Rica, Veracruz, Mexico
| | |
| --- | --- |
| Coordinates | 20.530899, -97.460390 |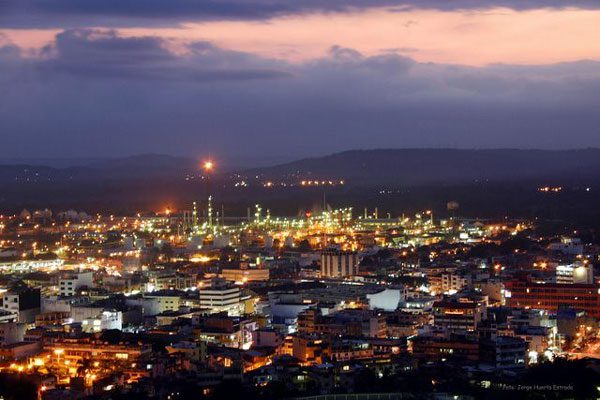 Right around the library, you can find around 25 Pokestops in Veracruz, Mexico. This place is enriched with Pokemon players, even the taxi drivers there "Pokemon hunter" service. You can fill your Pokedex with all the important info at this place.
Poza Rica is a medium-traffic city, so it offers a safe zone for playing Pokemon Go if you are a real player.
Best Pokemon locations to catch rare pokémon in Pokemon Go
Pokemon Go is the world's first popular interactive AR game. Finding Pokemon in this game has never been easy. Sometimes it takes weeks or months to find a Pokemon. Don't worry because by using a GPS Spoofing app & right coordinates, you can catch all your dream Pokemons in no time.
Below are the Top 10 rarest Pokemon Go best locations, along with their Coordinates;
i) Axew
ii) Unown
iii) Noibat
iv) Sandile
v) Salazzle
vi) Tirtouga
vii) Melmetal
viii) Pancham
ix) Azelf, Mesprit, and Uxie
x) Galarian Legendary Birds
i) Axew
Due to its low spawn rate, Axew is one of the rarest Pokemon to find in the game. It is a non-legendary & non-mythical Pokemon that eventually evolved into an amazing Haxorus.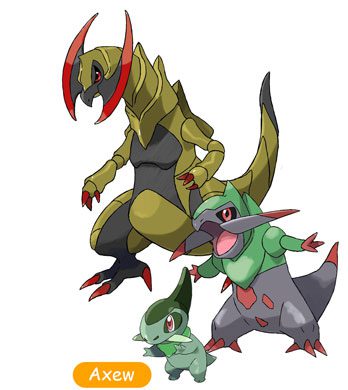 You can find Axew easily from Fest Finale and other special events in many ways. Axew also hatches from 10 km Eggs. But don't get excited because 10 km eggs are not that common.
Axew Type
Dargon Type
Weak Against
– Dragon ( Rayquaza, Palkia, and Garchomp )
– Fairy ( Granbull, Gardevoir, and Togekiss )
– Ice ( Glaceon, Weavile, and Mamoswine )
ii) Unown
There are 28 Unown in Pokémon Go, 26 are Alphabets, while the last two consist of Exclamation & Question marks. All 28 Unowns are very rare to find. Unowns have almost reached a Mythical status among players due to their scarcity.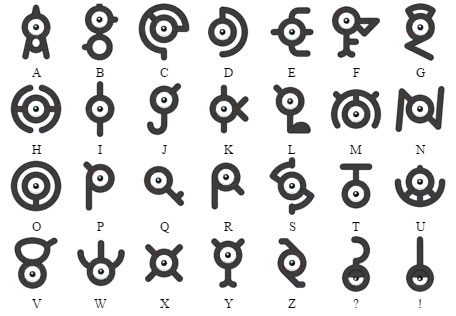 After finding the first 3 Unowns, you will get a Medal in Pokemon Go. And after 10 Unowns, it will be upgraded to Silver, and finally, after 26 Unows, it will become Gold.
Unowns are available in the wild, but they are very rare and not limited to any region. Your best chances of finding them are during yearly Festivals, Safari Zones, etc.
Unown Type
Psychic Class


Weak Against
– ( Bug, Dark, and Ghost Pokémon)
– Dragapult
– Pheromosa
– Chandelure
– Mega Absol
– Mega Gengar
– Shadow Absol
– Mega Banette
– Shadow Banette
iii) Noibat
Noibat was one of the first Kalos Pokemon added to the game. You can catch pokemon in the wild, but it's very rare. You can increase its chances of spawning by participating in 4-star raids during windy weather conditions.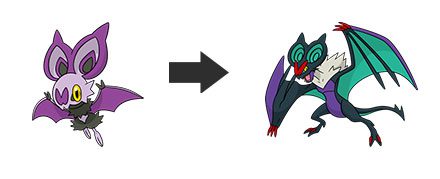 You can also hatch it from 10 Km Eggs if you are extremely lucky. Noibat has a 40% catch rate & 9% flee rate. And catching a Noibat is only half the battle because you will need 400 candy to evolve it into Noivern.
Noibat Type
Flying/Dragon Class


Weak Against
– ( Ice, Rock, Dragon, and Fairy Pokémon)
– Darmanitan (Galarian Standard)
– Kyurem (Black)
– Mamoswine
– Mewtwo
– Weavile
– Avalug
– Jynx
iv) Sandile
Sandile is not a fast, strong, or tough Pokemon; it only becomes famous because it's so hard to get. They can be in the desert, in the desert, and in other sandy areas.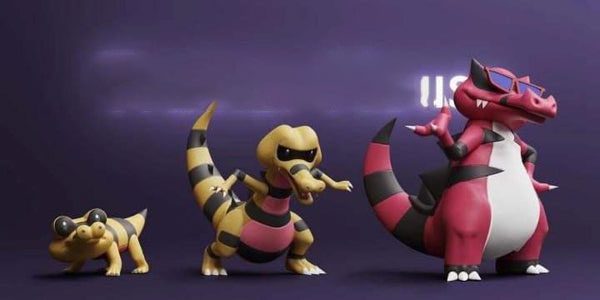 Sandile is only available in 12 Km Strange Eggs. And even if you found an Egg, the chances of its hatching are extremely rare. It takes 25 candies to evolve into Krokorok and 100 candies into Krookodile.
Sandile Type
Ground & Dark Pokémon


Weak Against
– ( Bug, Water, Grass, Ice, and Fairy Pokémon)
– Lucario
– Kartana
– Breloom
– Machamp
– Terrakion
– Pheromosa
– Conkeldurr
v) Salazzle
Salandit can only be hatched from a 12 km Egg pool from where a lot of other Pokemon can hatch. To make this harder, Salazzle only gets evolved from female Salandit, and the chances of getting one are only 12.5%. And the worst part is the Salazzle Egg is only available at special events.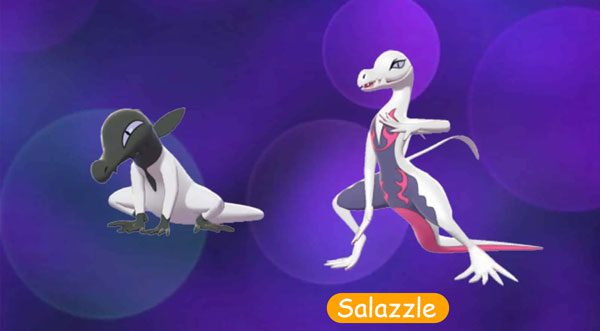 As Salazzle is not present in the wild, so your only chance of getting one is to trade with another trainer. Salazzle has a max CP of 2802.
Salazzle Type
Poison & Fire Pokémon


Weak Against
– ( Ground, Rock, Water, and Psychic Pokémon)
– Golurk
– Mewtwo
– Excadrill
– Garchomp
– Swampert
– Mamoswine
– Incarnate
– Landorus
vi) Tirtouga
Tirtouga is a fossil Pokemon that was released in Jan 2020 and was available for hatching from 7 km Eggs for a brief time; after that, it became unavailable in the wild or hatching.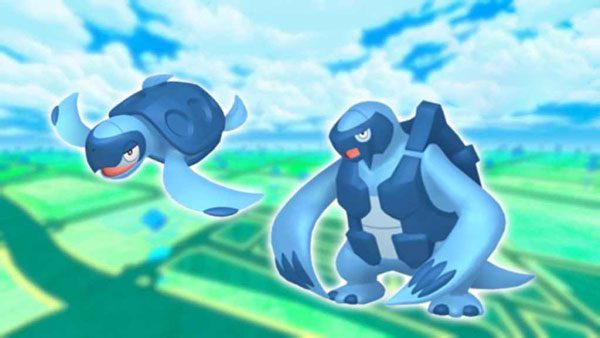 Recently, it again became available in the wild when you are using Adventure Incense, and you can also hatch from 10 km Eggs. Still, getting a Tirtuga Spawn is the rarest. So, hatching it from an Egg is a better idea.
Tirtpugh has a Max CP of 1683, and it evolves into a Carracosta by using 50 candies.
Tirtouga Type
Water & Rock Pokémon


Weak Against
– ( Grass, Fighting, Ground, and Electric Pokémon)
– Kartana
– Roserade
– Celebi
– Exeggutor
– Sunflora
– Leafeon
– Porygon-Z
vii) Melmetal
Melmetal evolved from Meltan by giving it a hefty 400 Meltan candies, which takes months or even years to get by. Besides that, there are only 2-ways to get Meltan;
Activating a Mystery Box ( multiple times )
By Completing Let's Go Meltan! Special Research

To get a Mystery Box, first, you need to make a Pokemon Home account, and you will be rewarded with one. When you activate this mystery box, Meltan will be spawned for 1 hour straight, but you can only activate it after every 72 hours. So, acquiring a lot of Meltan for 400 Candies is a long process.
Melmetal Type
Mythical Steel Pokémon


Weak Against
– ( Fighting, Ground, and Fire Pokémon)
– Keldeo
– Lucario
– Reshiram
– Terrakion
– Pheromosa
– Chandelure
– Therian
– Landorus
viii) Pancham
Pancham is a very cute Pokemon that literally looks like a Panda. Pancham was once available in raids but no longer.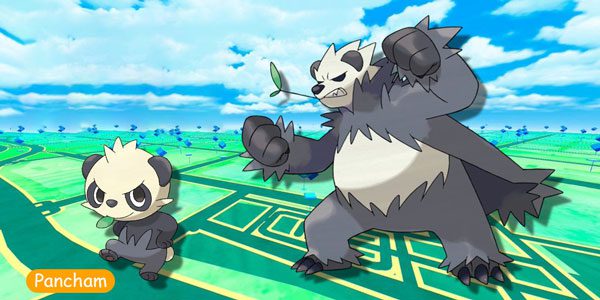 Now, they can only be hatched from 12 Km Strange Eggs, which you can't buy from Pokestops. The only way to get a Strange Egg is by defeating Team Rocket Leaders such as Arlo, Cliff, and Sierra. And to make things worse, there is only a 10% chance that the egg will hatch into Pancham.
Trainers have to go on an adventure with their Pancham ( as their walking buddy ) and catch 32 dark-type Pokemon. And only then will trainers be awarded 50 Pancham candies to evolve their Pancham into Pangoto.
Pancham Type
Fighting Pokémon


Weak Against
– ( Flying, Psychic, and Fairy Pokémon)
– Azelf
– Mewtwo
– Staraptor
– Attack Deoxys
– Unbound Hoopa
– Calyrex (Shadow Rider)
– Zacian (Crowned Sword)
ix) Azelf, Mesprit, and Uxie
They are rare and Legendary Pokemon, each only available in specific regions. They are available in the raids, but their spawn chances are extremely rare, near to none. You can find the following;
Azelf in the Americas and Greenland
Mesprit in Africa, Europe, the Middle East & India
Uxie is only available in Asia-Pacific.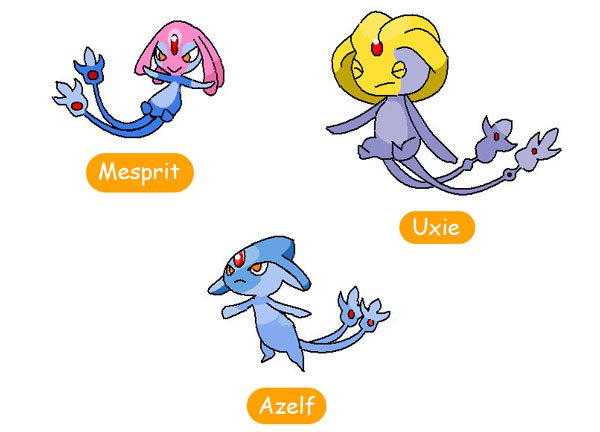 Finding them is not the hard part; catching Pokémon is. It is best to make the targeted ring small & throw the Pokeball at a curved angle. As they move around a lot, wait for their pause cycle. It is suggested to make a team of 3 trainers. These are very rare pokémon; if you encounter one, don't let it pass by. 
Type
Legendary Psychic Pokémon


Weak Against
– ( Bug, Ghost, and Dark Pokémon)
– Bite
– Lick
– Snarl
– Gengar
– Dragapult
– Pheromosa
– Chandelure
x) Galarian Legendary Birds
The Galarian Birds have 3-regional variants, Articuno, Moltres, and Zapdos. These are very rare because;
First of all, you have to use Daily Adventure Incense ( Chargeable item ) which remains active for 15 minutes. But activating it does not guarantee their appearance; you may have to wait for several days.
Secondly, if you fail to catch Pokemon, they have a very high flee rate of 99%.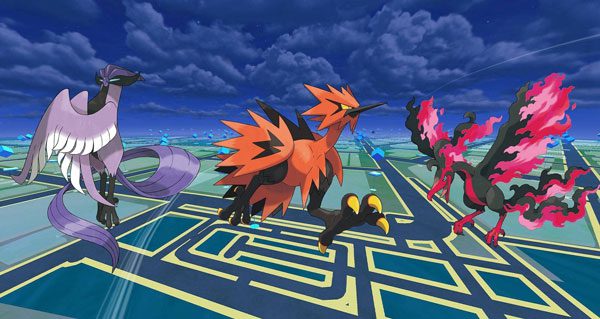 In order to maximise the chances of catching rare pokemon, use Ultra balls and throw the Pokeball at the best-curved angle rated "Great" or, at a minimum, "Excellent". 
Plus, use Golden Razz Berries to divert their activeness. Still, it will be many times seeing before you catch a Galarian Bird. If you are in a hurry, try to trade with friends or online seller trainers. Raiding legendary pokemon is not an easy thing.
Galarian Type
Fighting & Flying Pokémon


Weak Against
– ( Electric, Fairy, Flying, Ice, and Psychic Pokémon)
– Lunala
– Moltres
– Zekrom
– Mewtwo
– Xurkitree
– Unbound Hoopa
– Therian Thundurus
List of best places to spoof for rare pokémon
Well, most rare pokémon are not bound to one location or time; they are more likely available during special events or randomly. However, according to trainers' encounters, below is the list of best pokémon Go Pokemon locations that have a high percentage of spawning rate;
Japan pokemon Coordinates: 36.574366, 139.238393
Pier 39, USA Coordinates: 37.808600, -122.409800
New York, USA Coordinates: 40.755205, -73.982997
Chancay, Peru Coordinates: -11.562800, -77.270000
Consolacao, Sao Paulo, Brazil Coordinates: -23.551200, -46.658400
How to change location to the best Pokemon Go Coordinates?
Why do we need to cheat Pokemon Go location by teleport mode?
Unless you want to walk for miles and go from one country to another just for the sake of playing Pokemon Go, cheating Pokemon Go location is very necessary. There are many Spoofing tools & apps out there which allow changing your ideal location to any place you want. Some of this software requires the use of a VPN, while others don't.
Please be aware that using low-end software for spoofing will probably suspend or block your Pokemon Go account, deleting months or years of progress. So, you should always keep in mind to use the best of the best software, and "Spoofer Go" is one of them.
Three methods and specific steps to location spoofing Pokemon Go (by Spoofer Go)
By using Spoofer Go, you can change location in Pokemon Go in 3 ways;
i) Use the location Feature
ii) Use the Nearby Function
iii) Use the Joystick to Move the Character
i) Use the Location Feature
"Location function in Spoofer Go gives you a bar to enter desired Coordinates or select from the given Popular ones to teleport/walk to that location."
If you want to use this Pokemon Go Change Location feature, follow the below step-by-step process;
Launch Spoofer Go in your mobile > click on the left upper side Menu icon.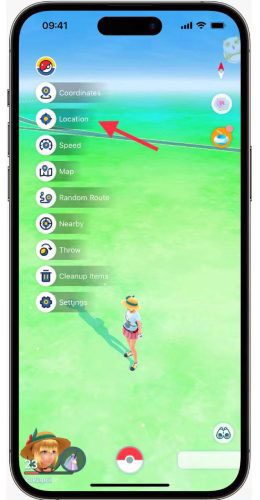 From the given list, tap on location > enter the GPS coordinates in the search bar or select the 3rd option, "Popular Places," to see built-in suggestions.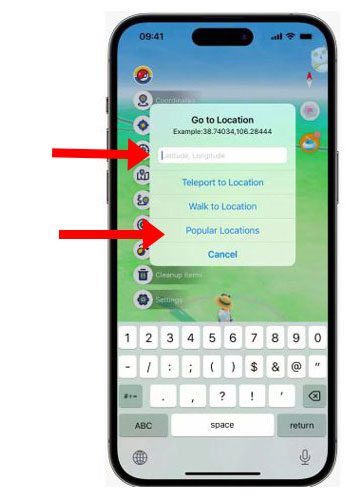 Finally, in the pop-up menu, choose whether you want to teleport instantly or walk to that location.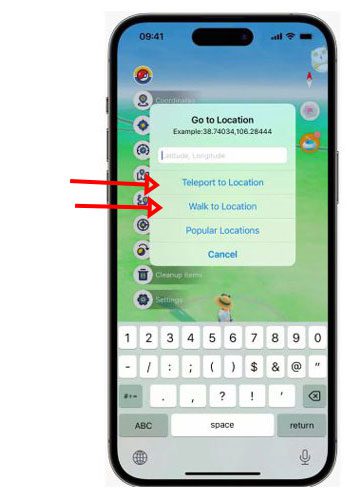 ii) Use the Nearby Function
"Nearby feature is very useful when you want to find out closeby Pokestops, Gyms, Pokemons, and Trainers."
In Spoofer Go, you can use this feature in the following way;
On your mobile, open the Spoofer Go app.
Select Menu icon > at the bottom of the list, you will see "Nearby"; tap on it.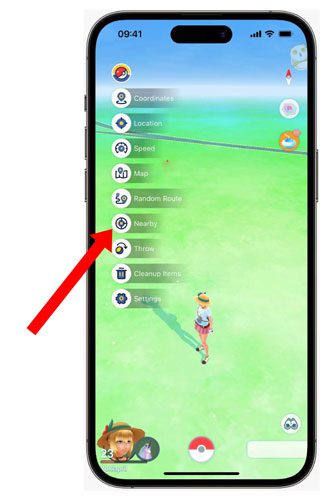 iii) Use the Joystick to Move the Character
"Joystick fools the game into thinking you are walking, while in truth, you will still be at the same location. ( sitting, laying, standing, etc. )."
You can activate this feature in the following steps;
Click on the Menu icon ( left upper corner ) in Spoofer Go.
In the end, select setting > the second option will be "Joystick"; turn it on.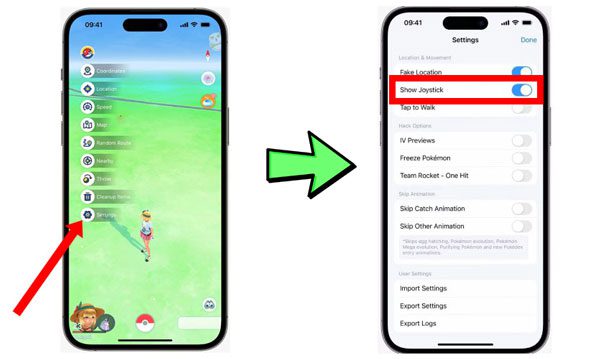 That's it. You will see a joystick in the game; use it any way you want to.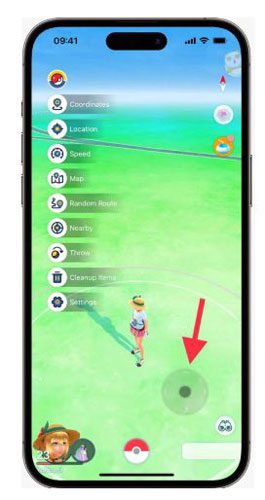 Why is Spoofer Go the best Pokemon Go locations spoofer on iOS?
Spoofer Go is the best Pokemon Go location spoofer out there because it's not just a tool; instead, its programmers embedded the hacking code into the game and made a new hacked version of Pokemon Go, which is far safer, reliable, and has advanced features, such as;
i) Allows Location Spoofing: In Spoofer Go, you can use Map, Location, & Nearby features to Teleport or Walk to a certain location automatically, see nearby Pokestops, Gyms, Pokemon, and all other things, which are not accessible in normal Pokemon Go game without using a VPN. In walking mode, you can move around using a Joystick or simply taping the destination to reach it, and you can do it all while sitting at home.
ii) Catch Pokemon Easily: Finding Pokemon is one thing, but catching pokemon is another. Some Pokemons have more than 70% or even 99% flee rate, which makes them extremely rare catches. However, Spoofer Go allows Pokemon Pause, Curve Pokeball throw, Automatic Catch, and a lot of other key features which assist you in capturing all the hard-to-get Pokemon.
iii) Check IV Levels: One of the important benefits of Spoofer Go is that it allows you to see all the vital info on nearby Pokemon, such as name, gender, and capture state. You can also view their IV levels before you catch pokemon to see if they are worth the trouble. And lastly, you can empty your Pokeball with Spoofer Go if you are not satisfied with a Pokemon after catching it.
iv) Information on Famous Places: With the Built-in "Popular Locations" feature, you can get up to 70+ famous places coordinates which are being selected from all over the world in real-time. You can go to these best Pokémon Go locations to fight or catch Pokemon.
Other features of Spoofer Go to enhance combat power
In Spoofer Go, there are many advanced features, like;
>Its Team Rocket beating feature allows you to defeat them with one hit.
>With Spawn Booster, you will never run out of amazing Pokemon or adventure.
>It also packs a stardust collecting feature along with auto-inventory cleaning to save you time.
>Skip Boring Animations. If you are a regular Pokemon Go player and tired of watching catching, hatching, evolving, and other animations again & again, then don't worry because this Spoofer Go version of the game allows you to skip all the animations you think boring and saves you a lot of time.
Pros & Cons of spoofing location in Pokemon Go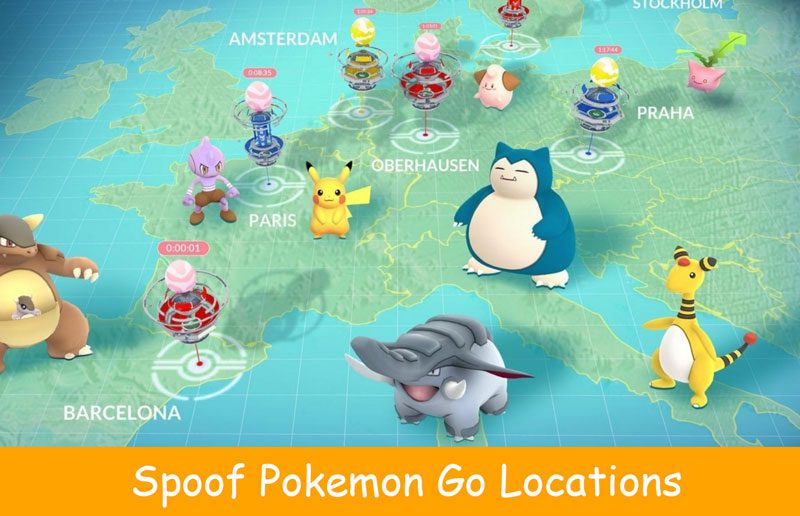 Spoofing ( changing ) your location to another city, area, or country by hack tools & apps can have many pros & cons, such as;
Pros
i) Its biggest advantage is it allows you to play the game while sitting at home, not running miles around the city.
ii) If you are a kid or disabled and not allowed to go outside, then with spoofing, you can still play the game and become one of the best trainers.
ii ) For area-specific Pokemon, it's compulsory to travel, but spoofing teleports you quickly to that place and saves a lot of travel costs and time.
iv) With spoofing, you can play the game anytime, even when the outside weather is harsh, or you don't want to walk.
v) Allow you to participate in region-specific Festivals & events, making the game more interesting.
vi) Playing safely requires spoofing, otherwise you may have to run in crowded places with the risk of accidents.
vii) It helps in making friends & rivals all over the world without travelling physically.
Cons
I) Using low-end spoofing tools will get you in trouble and leads to your account Soft Suspension or, worse, permanent Blocking after 3 strikes. So, always use the best Pokemon Go Spoofer iOS apps like "Spoofer Go" to mask your location.
ii) Pokemon Go is an outside-playing physical game, and it keeps you healthy. And using location spoofing tools all the time kind of makes you lazy and addicted to the game.
Opinions about Pokemon Go location spoof
Location spoofing in Pokémon Go is controversial, with opinions ranging from support to strong opposition. Some players believe that allowing spoofing would give them an advantage over other players and enable them to access areas they would not be able to reach otherwise. It is acceptable to get around the game's geographic restrictions and enjoy it from any location. Others think that spoofing is unfair, and some feel that spoofing can have a negative effect on the game's longevity and integrity. Ultimately, the decision to spoof the best Pokemon Go locations or not is up to the individual player.