Although modern mobile games are quite exciting, immersive, and free to play, the truth is that they can't match classic games like Crash, Pokemon, Super Mario 64, Bandicoot, and The Legend of Zelda. Indeed, these classic games have come such a long way in the last few years. The good news is that video game emulators have made it possible to play any of these classic games directly on iPad or iPhone.
What's the Game Emulators?
Video game emulators are programs that allow you to play video games that you couldn't otherwise play because they aren't available on modern gaming systems or don't exist anymore. Emulators allow you to play the games of yesteryear on your modern gaming PC, play old school games on your phone, or play games that never made it to your region on a retro system. Most modern video game consoles have emulators pre-installed. Still, if your console isn't compatible with an emulator, you can download a compatible emulator for your system without jailbreaking it and enjoy any of the above-mentioned classic games. Most of the emulators listed here are easy to download and install on your iPhone. However, an AltStore may be necessary during installation. If you're not a tech geek, you can bypass AltStore and download it with one click from Panda Helper.
The Best 6 Game Video Emulators of the Year
1. GBA4iOS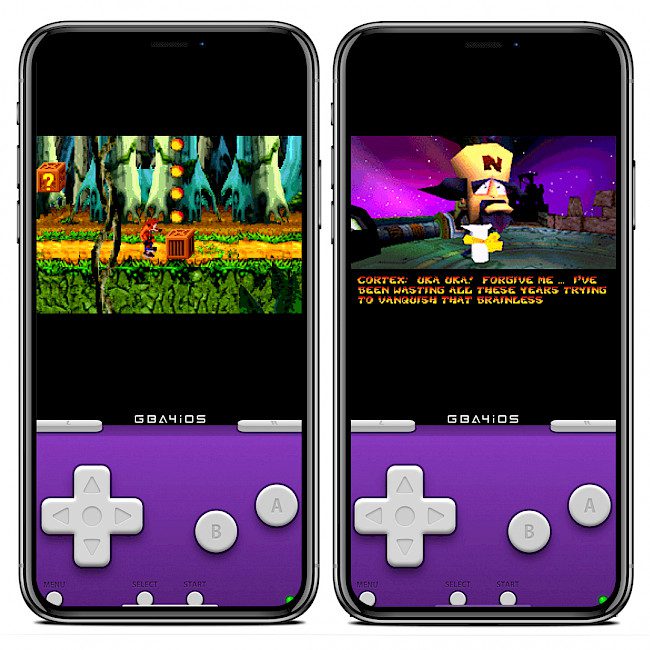 Rating: ☆☆☆☆☆
GBA4iOS is a free emulator corresponding to the iOS platform, developed by Riley Testut, an American high school student. Although the app is unavailable on Apple's App Store, players can download it from Panda Helper(no jailbreak required), so GBA4iOS has been gaining popularity. 2.0 has been released for only three months and has already reached almost 10 million downloads.
Pros
Support for all Game Boy games. Originally developed for the GBA and later upgraded to support all versions of the Game Boy, thus supporting all games through its backwards compatibility.
Dropbox Sync support. take advantage of Dropbox support and save your game library to the cloud. Upload and download your original dumps, upload game progress and keep your joystick/controller skins safe in one place.
Cons
Since it has not been updated since 2016, there may be compatibility issues with new devices and systems. But after our tests, GBA4iOS is still working fine on iOS 16.5 at the moment.
2. Delta iPhone emulator
Rating: ☆☆☆☆☆
Delta iPhone emulator for Nintendo features announced. Delta iPhone emulator is a new app that brings iPhone games to the Nintendo Switch, allowing users to play classic titles such as Pokémon and Super Mario Bros. without owning an iPhone or iPad. The app works by running iPhone games on a custom-built gaming PC connected to the Nintendo Switch console using a cable. So far, the Delta iPhone emulator has been released for the Nintendo Switch, but the developers say that they are working on releasing it for other platforms. Delta emulator is among the best iPhone emulator, especially for Nintendo enthusiasts. It took over the GBA4iOS emulator. Download the most stable version of Delta through the Panda Helper. You can run multiple Nintendo consoles through Delta like Game Boy Color, Game Boy& Game Boy Advance, Nintendo DS, SNES, NES, and N64.
Pros
With Delta, you don't have to worry about saving your game at any stage. The Quick Saves feature connected to an external controller helps syn all your game data to Dropbox or Google Drive.
Add cheat codes to any game and even lock your best saves to avoid overwriting.
Delta allows you to connect to wireless Xbox One, PS4, and MFi games.
Cons
You must pay for the Patreon subscription to unlock Delta's Nintendo DS emulation.
3. iNDS (Nintendo DS)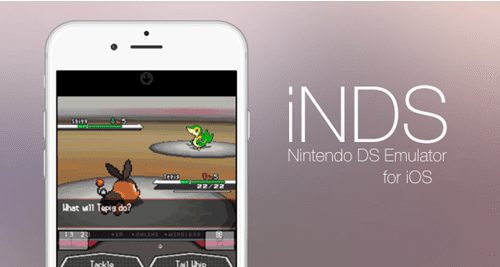 Rating: ☆☆☆☆
As mentioned earlier, Delta is currently the best Nintendo emulator for iPads and iPhones. However, you will be required to pay a small subscription fee. That's where iNDS takes over the league! This emulator makes it possible for you to play any Nintendo DS game on your iPad or iPhone for free.
iNDS originated from the once-famous NDS4iOS emulator to being available for non-jailbroken devices via Panda Helper. Like all iOS emulators, sometimes Apple inc revokes this app license, which means that you might have to wait a bit longer before the developers renew to the latest version to install it on your device. When you have it working on your device, iNDS gives you one of the most fantastic experiences playing Nintendo DS games at almost 100% speed on your iPhone. Indeed, it is currently at 60FPS on the latest iPhones.
Pros.
It comes with an auto-save and saves state option that allows your gaming data syncing over Dropbox, so you don't have to lose your game in progress even when the emulator crashes unexpectedly.
iNDS has about 100,000 game cheats that help you add new game layers for your best DS games.
You can use your iNDS either in landscape or portrait mode since the Nintendo DS comes with two screens that inadvenly appear at the center of your iPhone's screen.
You can easily customize the style and size of the controller for a smooth experience.
Disable touchscreen to avoid accidental taps on the second screen.
Cons
It doesn't have console-quality games.
You might miss out on some modern/newer game features such as online connectivity and Wi-Fi option.
Download iNDS emulator: (free)
4. PPSSPP (Sony PSP)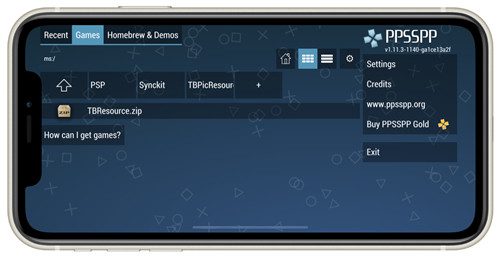 Rating: ☆☆☆☆
PPSSPP is devoted to offering emulating PlayStation Portable (PSP) mobile games on your iPad or iPhone. Typically, it is designed to run on any device and PSP game, but the older iPhone versions may fail to support the full-speed game. Like in all other emulators, this emulator also allows you to create save states for your continuing games so that you worry about keeping the game while playing if you exit the emulator abruptly. Besides, you can add cheat codes to your games for fully game enjoyment.
Pros.
It is easier to download on your computer and then transfer on your phone device.
One of the most outstanding features of PPSSPP is that it allows gamers to transfer the existing saves from the real PSP easily.
PPSSPP emulator is safe to download on your iPhone, although it is better to avoid downloading from free sites that have been there since 2010.
The PSP control has a transparent appearance over your game screen while playing, which implies that PPSSPP offers the largest screen possible while playing.
It works best when you set the most suitable graphics for your device.
Cons.
The console is not ideal for low-end smartphones, especially because it requires a large RAM space.
It doesn't have a built-in way to sync your favorite games to the cloud, especially because most PSP ROMs are large files in size.
Download PPSSPP emulator: (free)
5. Happy Chick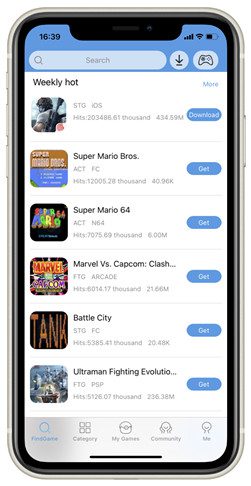 Rating: ☆☆☆☆☆
Happy Chick emulator is among the most powerful emulators for your iPads and iPhones. It supports over 18 popular gaming consoles. They include but are not limited to Arena of Valor, PUBG, retro games such as Super Mario Bros, Pokemon, and Final Fantasy. It features easy-to-use and chick access which means that you can enjoy a considerable amount of games from various platforms such as PlayStation and Nintendo. The latest Happy Chick emulator can run on Android and iOS devices and the latest products from GameSir- X1, G5, and Z1.
Pros.
Enjoy the most up-to-date games. Games are often updated on this emulator to ensure that you get the most modern games at the moment.
Games are cloud adapted to work on your device well
It supports GameSir- X1, G5, and Z1.
Enjoy abundant game options.
It is easy and convenient to use. The emulator is free from jailbreak, root, or button settings. All buttons are visible on the screen.
It supports Cloud saving.
Cons.
Although it works best on most iPhone models, it requires iPhones with a minimum of 2GB of RAM for best results.
Download Happy Chick emulator: (free)
6. DolphiniOS Emulator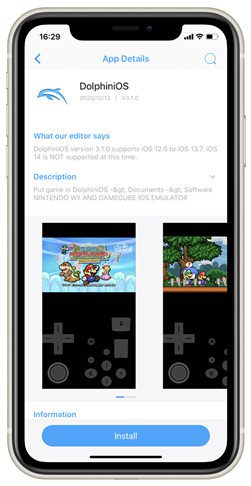 Rating: ☆☆☆☆
DolphiniOS Emulator is another top iPhone emulator you can install both on your jailbroken and non-jailbroken iPhone. Indeed, it is the most preferred emulator for playing GameCube and Nintendo Wii games on your iPad or iPhone. You can download it for free on your device. It offers PC gamers a chance to enjoy gamers to enjoy at least two consoles in 1080p (Full HD) and with additional enhancements. Popular games you can play on this emulator include but are not limited to Kirby Air Ride, Mario Party 5, Mario Kart Double Dash, Sonic Riders, Mario Kart Wii.
Pros
This emulator is compatible with virtually all turbo speed, PC controllers, and networked multiplayer.
Download for free
It automatically detects the USB Xbox controllers making it easier to map
Automatically saves the game on the virtual memory card, making it possible to transfer chances to One Drive; hence you don't have to lose the progress completely.
Cons
Periodic lag, especially when playing on low RAM devices
Download DolphiniOS emulator: (free)
7. NDS4iOS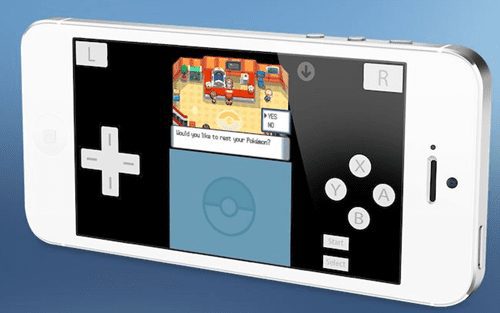 Rating: ☆☆☆
Even from the name suggests, NDS4iOS is particularly designed for Nintendo DS. Although it doesn't feature many pre-installed games, you can easily download your favorite games from the web and effortlessly load them on the emulator.
The NSD4iOS comes with plenty of features to ensure a smooth gaming experience. They include but are not limited to Dropbox syncing, cloud syncing, and multiple customization features. It is available for iPad and iPhone users and is the best Nintendo game console you can ever come across.
Pros.
It offers thousands of classic and modern Nintendo games to iOS device users.
No Jailbreak or Cydia is needed on your iOS device during installation
Dropbox syncing
You don't have to pay anything to download and install
Interface- simple to use
A wide selection of in-app customization features
Auto-save your running game so you can start where you left
iCloud Support
Regularly updated.
Cons.
Setup is not easy enough
Not providing enough customization
Download NDS4iOS emulator: (free)
Final thought
Although each of the above Video game emulators has its strengths and weaknesses, the GBA4iOS carries the day. It is a much better app installing a program that supports virtually all iOS standard APIs; it is easy to add ROMs, even those with the Files app. I highly recommend it.