Auto Touch iOS 14/15 No Jailbreak - Panda Auto Touch
Do you look for a tool to help you auto touch the screen when you don't want to do the same actions all the time? Do you want a tool to pass the game automatically when you have to do other things?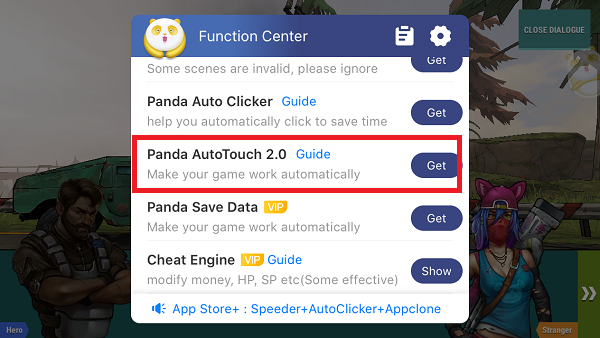 Panda Helper Auto Touch is the very tool you expect, which can simulate your actions when you playing the games. It realize automation on games easily. Panda Auto Touch works on iOS 14, iOS 13, iOS 12 and iOS 11 developed by Panda Helper an alternative app store for a variety games and tweaked apps like Instagram, Twitter and Youtube. It doesn't require you to jailbreak your devices. If people expected to use tools like it previously, they have to jailbreak their devices. But you can use Panda Auto Touch on iOS 14 without jailbreak smoothly.
Donwload Panda Helper to get Panda Auto Touch for your games. We will share the step-by-step guid below. Follow it to enjoy games with Panda Auto Touch!
Because there are two versions of Panda Auto Touch: V1.0 and V2.0, we will introduce the difference between them first. It will make you know which version is situable for your need.
Part I: The difference between Panda Auto Touch 1.0 and Panda Auto Touch 2.0
In this part, we will introduce the difference between Panda Auto Touch 1.0 and Panda Auto Touch 2.0.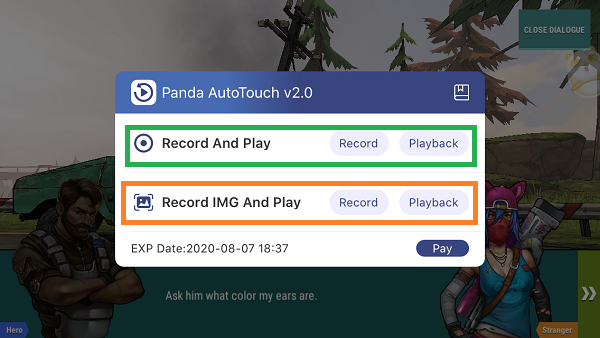 From the picture above, the first one is Panda Auto Touch 1.0 and the second one is v2.0.
The main usage of both Panda Auto Touch versions is the same. Record your action first and playback it to realize automation on games.
However, Panda Auto Touch V2.o is more intelligent than V1.0, and can determine whether to perform an action by judging the image on the screen.
For example, the duration of each round of the game may be different, and Auto Touch V1.0 may execute the action before the button appears, causing the process to be interrupted or playing the game by mistake.
When you use Pana Auto Touch V2.0 on iOS 14 and the round of game has not ended, the touch will not be clicked, and it will continue to cycle through each action until the matching image appears. So it is more adaptable and suitable for automation scenarios of more games and applications.
Part II: How To Use Panda Auto Touch 2.0 on iOS 14 No Jailbreak?
To make it easier for everyone to understand this feature, we will use "Art of War Legions Hack" to show you how to use Panda AutoTouch 2.0, which is a funny strategy game with a massive amount of spectacular battles.
step 1 Download the newest Panda Helper App.
Download Panda Helper. We have three versions Panda Helper. Regular is for free unjailbroken users; VIP is for VIP unjailbroken players; use Panda helper Web version is also able to install games if you don't want Panda Helper App or run into Panda Helper app not installed.
Official Panda Helper website: http://m.pandahelp.vip/?s=gg

Step 2 Download games from Panda Helper.
Notice: For unjailbroken users, please go to your device's main Settings > General > Profiles & Device Management and trust the certficate that belongs to the Panda Helper app before you use Panda Helper App.
Download the game you want to play with Panda AutoTouch 2.0. Here I will search for "Art of War Legions Hack" and download it.
Step 3 After installing it, open Art of War Legions Hack and the Panda icon will appear on the screen. Tap on it and choose Panda AutoTouch 2.0.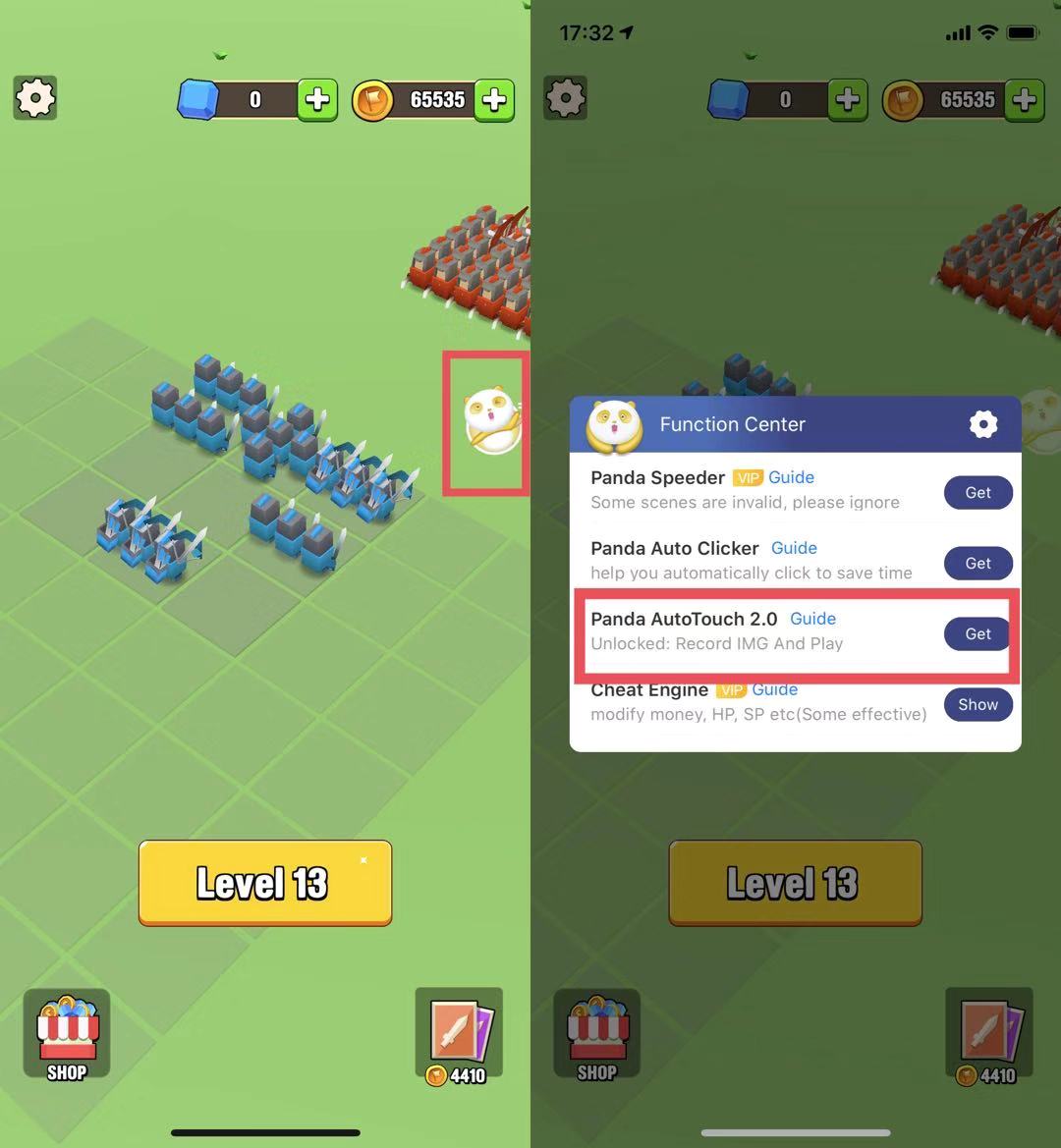 Tip: "Record And Play" is v1.0 and "Record IMG And Play" is v2.0.
Step 4 Press the button "Record," then a "Record" button will appear on the screen.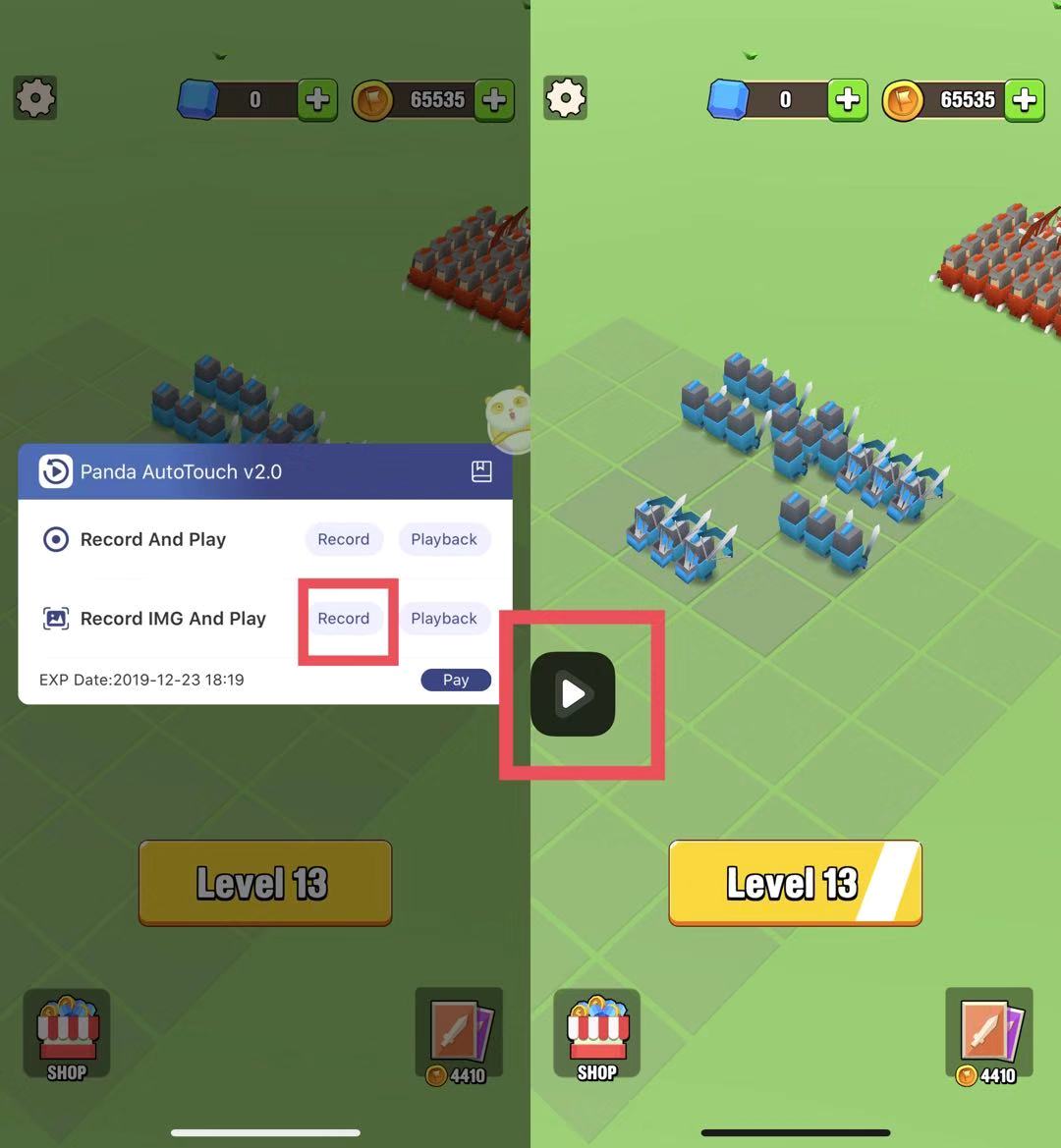 Step 5 Click the black square "Record" button and set up a new file.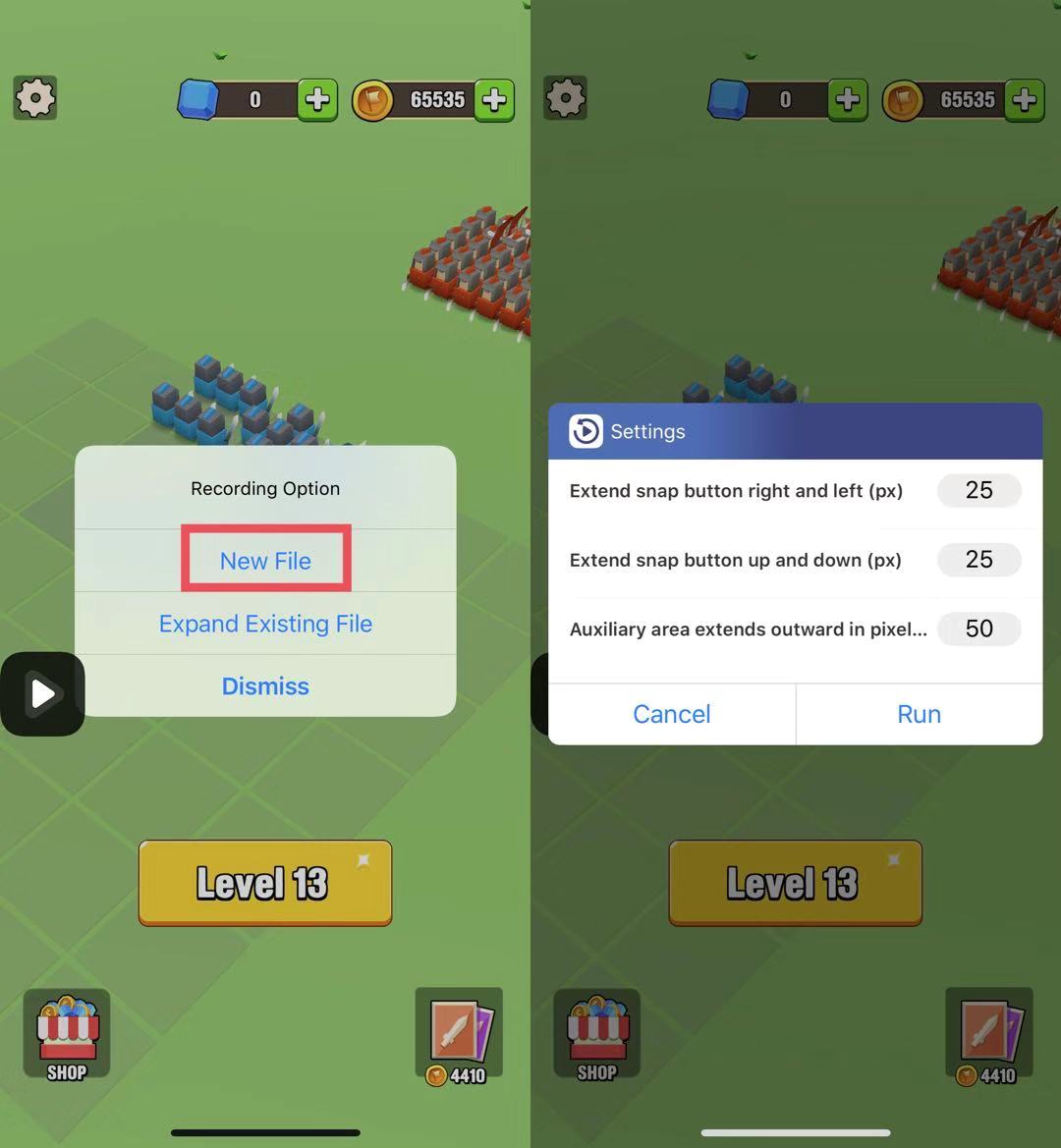 Step 6 Change the set and tap "Run" to start recording.
To make the snap range of AutoTouch more accurate, I suggest that it can be set to a value less than 20px in the Art of War Legions Hack.
Here, I set the three values to 15px, 15px, and 30px. Please note that different snap ranges need to be set according to different games to ensure the accuracy of the range. Then press "Run" to start recording.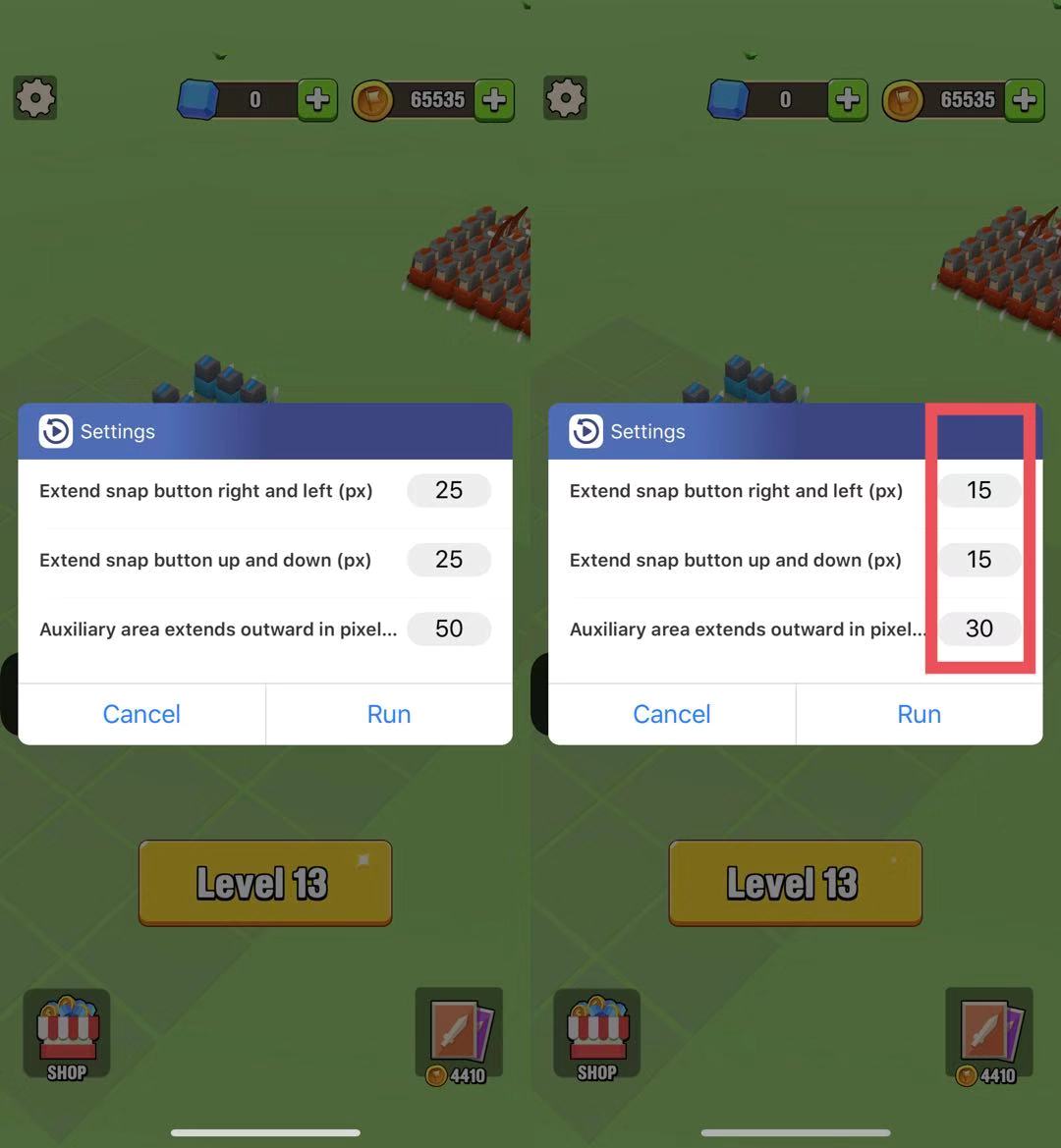 Step 7 Tap the black square button again to finish the recording.
After recording starts, the recording button will be red, indicating that recording is in progress. Now we start to operate the game flow completely, that is, to complete a level game according to your normal click order. After recording, press the red recording button again to stop recording.
Step 8 Save and use the record file we just make.
Rename and save the file you just recorded. Then go back to the game and select AutoTouch 2.0 again. This time we click "Playback" and then run the recording. AutoTouch will simulate your operation and help you automatically click and play the game.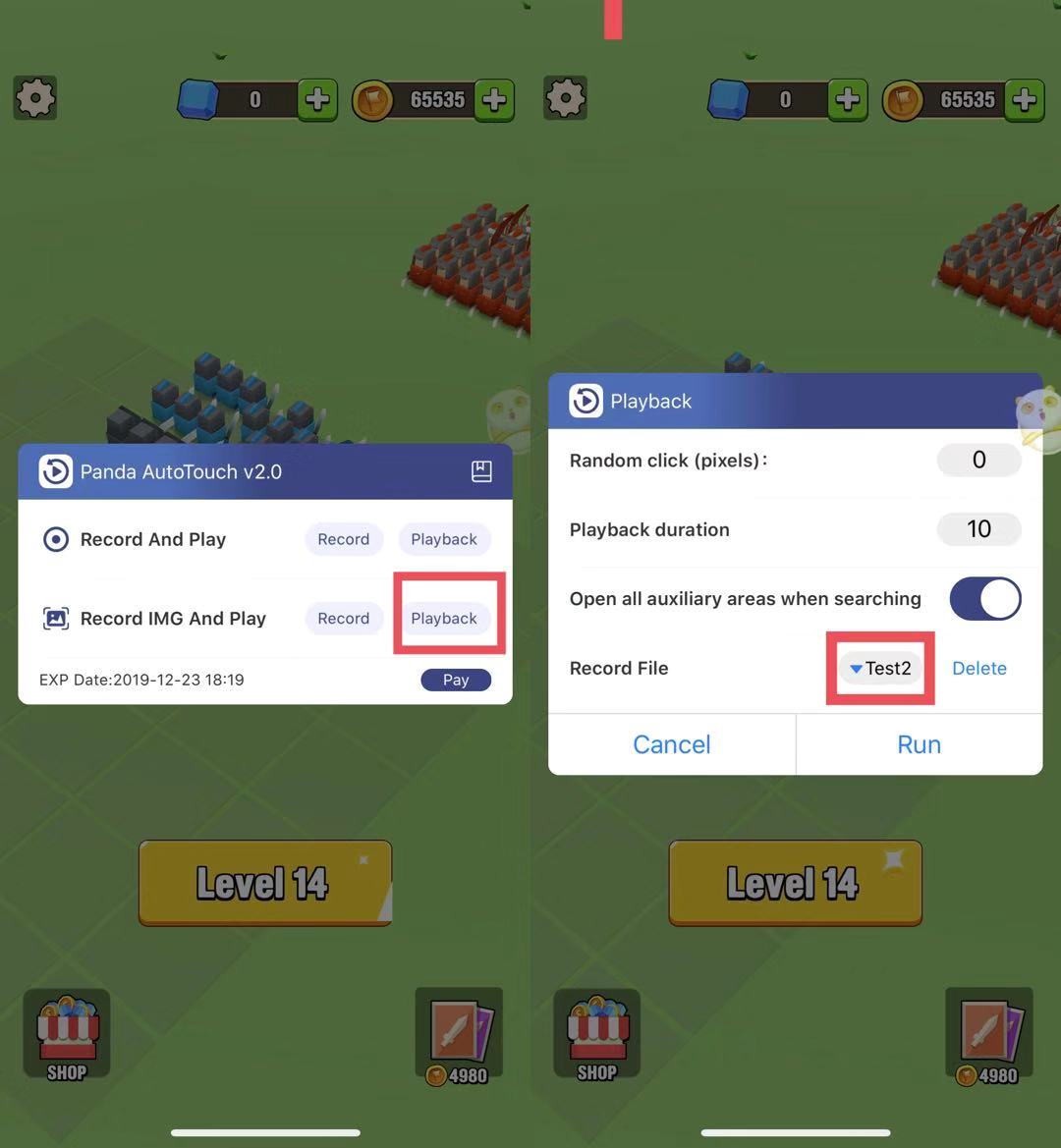 Video Demo about Panda Auto Touch 2.0 No Jailbreak:
Other effective Panda Tools: