Apple Music for Android apparently won't support the Dolby Atmos audio format
Apple Music for Android reportedly won't be updated with support for Dolby Atmos audio when Apple rolls out its new lossless and spatial audio features on Apple Music in June.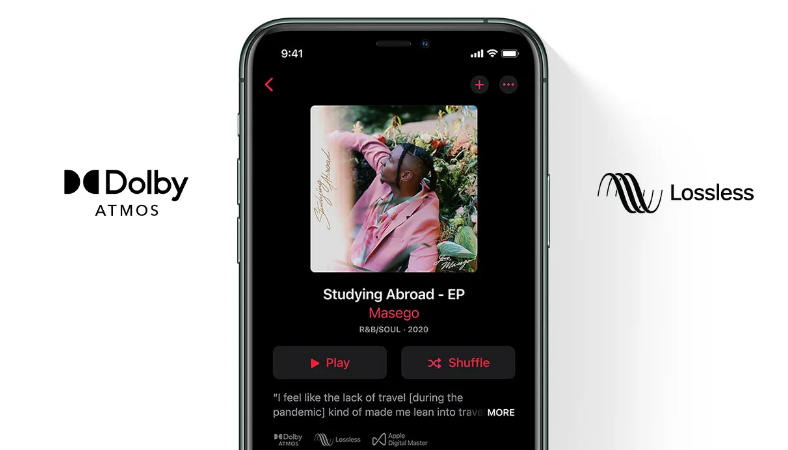 Apple Music for Android and Dolby Atmos
Apple has announced that Apple Music will be getting some notable upgrades in the sound quality department in June with the new spatial audio with Dolby Atmos and lossless encoding features. But it would seem that the Apple official Music for Android app will not be updated at this time with support for Dolby Atmos.
The site doesn't provide the reason for this, but it could be due to hardware requirements associated with the efficient decoding of Dolby Atmos audio. Given that premium Android handsets do support Dolby Atmos, Apple could decide to implement this feature later via a future update to Apple Music for Android.
On the other hand, implementing Dolby Atmos support on Apple Music for Android would make little sense without spatial audio support. Apple Music is getting spatial audio, which works with Dolby Atmos content, but spatial audio is currently exclusive to Apple hardware.
What's Dolby Atmos, anyways?
Developed by Dolby Laboratories, Dolby Atmos is a surround sound technology that lets sounds be rendered as three-dimensional objects, with support for height channels. Having made its debut in cinemas, Dolby Atmos is now a consumer technology found in many home cinema setups. Dolby Atmos is supported across the latest iPhones, iPads and Apple TVs.
With spatial audio, your device takes a recording encoded in a surround sound format like Dolby Atmos and others, then applies Apple's directional audio filters to it. What you get is a virtual surround soundscape with the sound seeming to come from all around you, even when wearing just a pair of stereo earphones like the AirPods.
On the iPhone and iPad, spatial audio tracks your head movement via built-in sensors to let the sound field stay mapped to the device and the voice to the actor or action on screen.
The Cupertino giant has worked with musicians, produces and labels to record source material in surround sound for Apple Music. Spatial audio will let you enjoy supported tracks on Apple Music in virtual surround sound, but dynamic head tracking won't be supported. This is by design because dynamic head tracking is predominantly used for movie soundtracks.