Apple Event 2021: The new iPad Pro is the most powerful ever - M1 chip and support for Thunderbolt 4
The new iPad Pro 2021.
Apple has updated the iPad series in previous years at its spring launch events, and this year is no exception with the official release of the new iPad Pro, including 11-inch and 12.9-inch sizes. It is 75 times the CPU performance and 1500 times the GPU performance of the first generation iPad.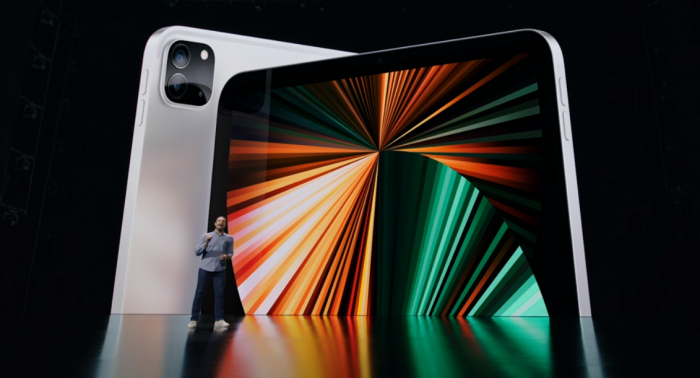 The new iPad Pro is the most powerful ever! Apple has taken a bold step to pull all aspects of performance - equipped with M1 chip, for 12.9 inches with mini-LED display, support for 5G network and up to 2TB storage.
The new iPad Pro is equipped with the M1 chip, which improves CPU performance by 50% and GPU performance by 40% over the most powerful iPad Pro available today.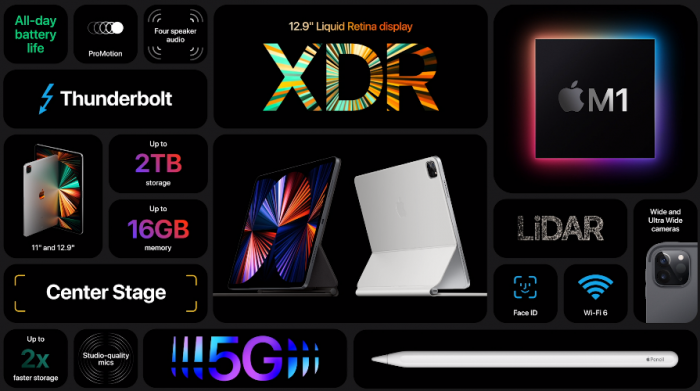 The M1-equipped iPad Pro sets a new iPad record for speed. It takes full advantage of new-generation processor performance and a host of unique technologies like the M1's advanced image signal processor and unified memory architecture.
M1 is also exceptionally energy-efficient, so iPad Pro maintains a thin and light form factor while delivering morning-to-night battery life - a truly exquisite blend of power and portability. Performance and graphics are both accelerated. The M1 chip features an 8-core CPU that boosts performance by up to 50 percent, and its 8-core graphics processor gives iPad Pro a graphics performance boost of up to 40 percent. With this kind of performance in hand, it's easy to build complex augmented reality models and play games with console-quality graphics at high frame rates.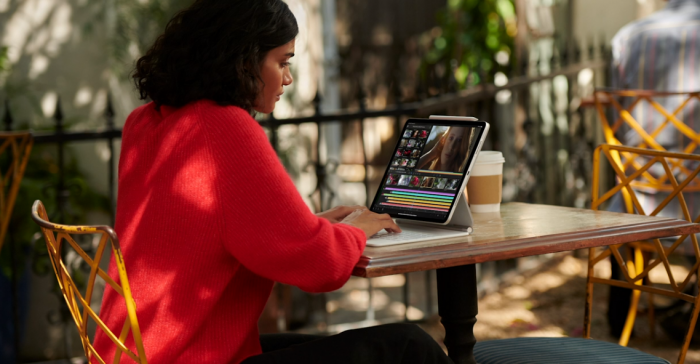 It also supports the fastest 5G network available, with millimeter wave support and download speeds of up to 4Gbps.
The front 12 million ultra-wide-angle lenses, supports portrait centering function. During a video call, when a person is detected entering the lens, the person is automatically adjusted to the middle of the screen, and if there are more people, the lens is also pulled farther away to keep more people in the picture. The rear lens module supports HDR 3 technology and is still equipped with Lidar, which can still capture good images in almost total darkness.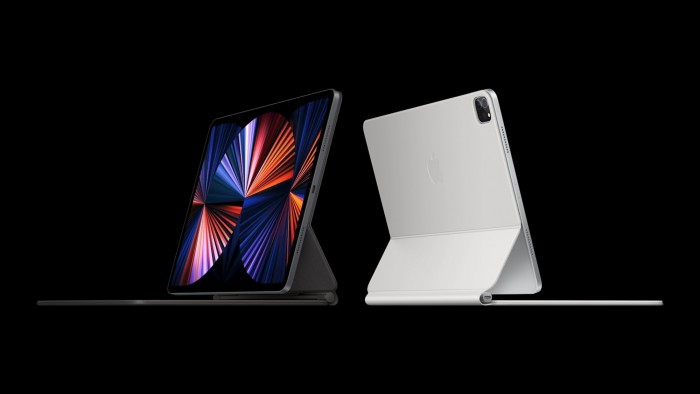 As for the screen, the 11-inch iPad Pro comes with a Liquid Retina display, while the 12.9-inch iPad Pro comes with the new Liquid retina XDR display.
The 12.9-inch iPad Pro features mini-LED backlighting, consisting of 10,000 mini-LED light sources, which can be a huge increase compared to the previous generation's 72 LED light sources. Capable of rendering lifelike picture details, the effect is stunning whether you are enjoying and editing HDR photos and videos, or watching movies and catching up on TV.
In order to achieve extremely high brightness, the back of the display is covered with an LED backlight array. These 10,000 light sources are divided into more than 2,500 local dimming zones, coupled with extremely thin optical film and soft mirror to achieve 1000nit brightness and 1600nit peak brightness, as well as 1 million:1 contrast ratio, perfect for displaying XDR video.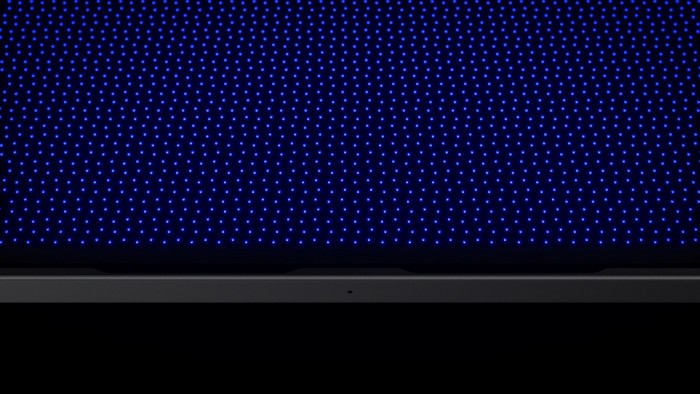 The new iPad Pro is available in Silver and Deep Sky Gray and features a 6. 4mm ultra-thin design with 100% recycled aluminum throughout the case. A second-controlled keyboard with backlit keys and trackpad is also available.
Its USB-C interface supports Thunderbolt 4, which allows the new iPad Pro to achieve 6K-level display output through this interface's external display, and supports PS5 or Xbox's joystick to control it.
It is compatible with existing USB-C ports and opens up a vast ecosystem of high-performance accessories for the iPad Pro, such as high-speed external hard drives, displays, and docking stations.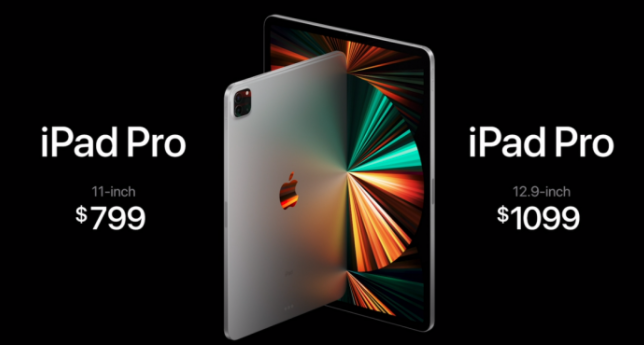 What about the iPad Pro price? It starts at $799 / £749 / AU$1,199 for the 11-inch version and $1,099 / £999 / AU$1,649 for the 12.9-inch version. That smaller variant is the same price as the last iPad Pro, while the larger variant is now more expensive for 2021's model.