If you want to become a pro at playing Coin Master, you're in the right place! This comprehensive guide will delve into the best Coin Master strategy techniques, showing you how to stabilize your defense, sustain your villages, and maintain constant growth.
Overview of Coin Master
Coin Master is an exciting strategy game that combines the thrill of slot machines with base-building and battling mechanics. You spend most of your time spinning a slot machine to earn coins, which can be used to construct and upgrade your village. Defending your base, attacking other player's villages, and making more coins along the way are all part of the fun.
However, there are various strategies to consider to succeed.
Beginner guide on how to play Coin Master
Step 1: Download and install
The first step is to download the game from your device's app store and install it. Ensure that your device meets the requirements for the game's installation before downloading. We can download Coin Master, Coin Master Hack, or Coin Master (Less Revokes) from Panda Helper.
Step 2: Set up your account
Once you've installed the game, you have to set up your account. You can connect the game to your Facebook account, providing additional benefits like saving your game progress, earning extra spins, and playing with friends.
Step 3: The basics of the game
The essence of Coin Master falls into three main categories: Spin, Attack, and Raid.
Spin: Hit the spin button to get the slot machine going. Spinning can earn you coins, attacks, raids, or shields.
Attack: If the slots show a hammer, you can attack another player's village. You can either hit a friend's village (if connected via Facebook) or let the game choose a random player.
Raid: The slot machine can also turn up with a pig bandit symbol, which allows you to dig for treasure in another player's village while getting a chance to steal their coins.
Step 4: Building your village
You can start building or improving your village as you gather more coins. There are numerous items to construct in the village, each costing a certain amount of coins. Building items in the village fortifies your settlement against attacks and earns you stars, which helps you to progress forward in the game.
Step 5: Advancing to the next levels & other villages
With every item you build in your village, you earn a star. Collecting enough stars advances your rank and lets you move to the next village. Each new village you unlock has unique themes and new items to build.
Step 6: Earning and using spins
Every hour, you gain up to 5 free spins. But that's not the only way to earn them. You can also get additional spins by watching video ads or making in-game purchases.
Let's unlock more ways to play Coin Master together. If you are interested in props in the game, you can also learn more from Coin Master cheats for free spins and gifted card unlocking.
Coin Master strategy: secrets to fuel your growth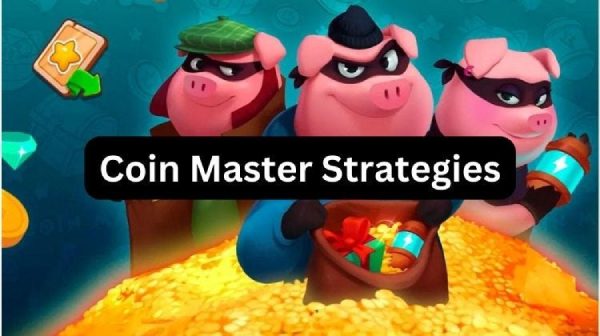 Master the spins
To ensure a lead in Coin Master, you need to maximize the number of spins and utilize them strategically. At the beginning of the game, you are given a set number of spins, and you replenish 5 spins per hour afterward. Make sure you are continuously using these spins to your advantage. And in Panda Helper's Coin Master Hack, we can use the Speeder to get Spins faster. Please refer to the Coin Master cheats with Speeder to help you get the free 5 Spins faster. We can also learn how to use the Panda Auto Clicker in the related Coin Mater new update v3.5.1341article.
Focus on building & upgrading
Building and upgrading are crucial strategies in Coin Master. The most suitable strategy is constructing a building once you have enough coins. Moreover, upgrading buildings increases the worth of the stars you get from them, which helps advance to the next stage.
Bet wisely & strategically
In the Coin Master, betting multiplies the rewards you earn from the spin and the spins needed for a game round. Gauge your coin stash and bet only if you can afford the loss.
Understand the importance of defense
Arguably, defense mechanics are one of the most overlooked yet vitally crucial strategies. By erecting shields, you can safeguard your village from attacks. Aim to get the maximum number of shields.
Time your raids carefully
Raids can give players a lot of coins if done strategically and correctly. Try to raid players who have a considerable amount of coins stored for the best returns.
Play Coin Master like a pro
Knowing how to play Coin Master for maximum benefits puts you ahead of the competition. It's all about strategy, timing, and luck. With guidance on when to raid, when to attack, and how to use your spins best, your Coin Master strategy can truly turn you into a pro-player.
In addition, if you are an Android player, you can be a pro player directly. Because we can download Coin Master Mod with unlimited Spins and Coins On Android.