Have you ever been tired of listening to the same playlist over and over again? Or maybe you've been searching for a place that can house all your favorite songs and podcasts. Look no further because Pandora Radio has you covered. This article post will discuss Pandora's unique selling points, how to use the app, and the countries where this amazing service is available.
Introduction of Pandora Radio
Pandora Radio is a popular internet radio platform offering personalized music and podcast streaming services. Founded by Will Glaser, Jon Kraft, and Tim Westergren in January 2000, it has since grown, successfully garnering millions of active users.

With its massive music library, compatibility with various devices, and tailored playlists, Pandora has become one of the top choices for music and podcast enthusiasts.
Pandora: Music & Podcasts Selling Point, Fun Point
There are several reasons why Pandora Radio has attracted a massive fan following. Here are some of its standout features:
– Music Discovery:
Pandora's unique selling point lies in its ability to create personalized stations for every user, helping them discover new music that matches their tastes.
The app achieves this through its renowned Music Genome Project, which meticulously categorizes songs based on multiple musical attributes. As you listen, Pandora learns from your feedback and fine-tunes the recommendations.
– Podcasts:
Apart from music, the app offers thousands of podcast episodes to stream, covering a wide range of interests, from entertainment to informative content.
– Thumbprint Radio:
This feature compiles a station with all the songs you've ever given a thumbs up to, creating the ultimate mix of tunes you're bound to enjoy.
– Offline Listening:
Premium subscribers can download their favorite songs, playlists, and stations to listen to without an internet connection.
– Ad-Free Experience:
Upgrade to Pandora Plus or Premium, and you can enjoy uninterrupted music streaming without ads.
How to use Pandora: Music & Podcasts
How to login Pandora: Music & Podcasts?
To get started with the app, follow these simple steps:
Download Pandora from the Panda Helper.
Install and open the app.
You can log in with your email address and password if you have an existing account. If you are a new user, tap 'Sign Up' and create an account by filling in the required information.
Once logged in, you can explore the app and build your personalized station!
How do you make a playlist on Pandora Music?
Creating a personalized playlist on Pandora is easy:
First, open the Pandora app and tap on 'My Collection' or the search icon.
Second, search for the song, artist, or album you want to add to a playlist.
Third, choose the appropriate result and tap 'Add to Playlist.'
Next, you can either add it to an existing playlist or create a new one.
Finally, give your new playlist a name and tap 'Save.'
Now you've created your very own playlist successfully.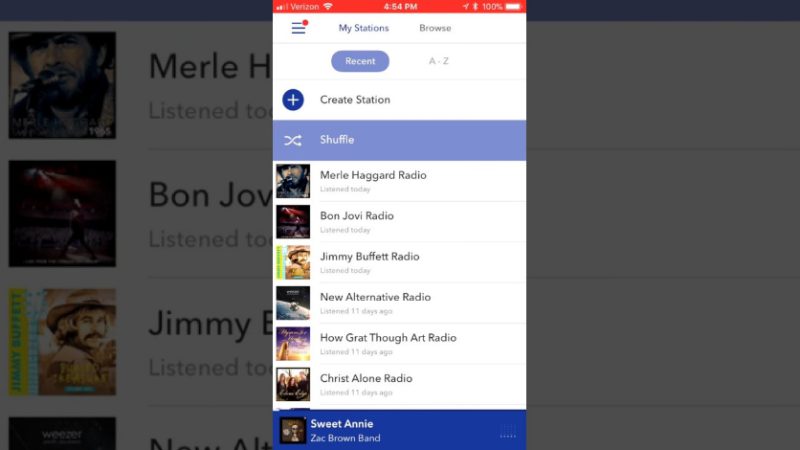 In what countries is Pandora available? And how can we use it in other countries?
Pandora is currently available only in the United States due to licensing restrictions.
Nevertheless, users from other countries can still access Pandora's services by utilizing a VPN. VPNs mask your real IP address and provide you with a new one, making it possible to bypass geo-blocks. Be sure to choose a VPN provider that offers servers in the US and ensures a reliable connection.
In conclusion, Pandora Radio offers music lovers and podcast aficionados an excellent platform to discover and enjoy content that resonates with their tastes.
Suppose you want to unravel the melodious world of Pandora Music. And we can also learn more from Spotify VS Pandora and other players.
Give it a try, and let Pandora take you on a musical journey like no other.