Fortnite Chapter 4 Season 4 is now live. There is a brand new Battle Pass, translates into new skins and items to unlock. Moreover, Epic Games develops original characters, emotes, loading screens, and emoticons for players to unlock while leveling. In this section of our Fortnite Battle Pass guide, we will tell you what the new Battle Passes are and how they work in gameplay. The other best place to learn about the Battle Pass is in-game by selecting "BATTLE PASS".

Introduction of Battle Pass
The Battle Pass is a seasonal cosmetic item bundle in Fortnite Battle Royale that gives players rewards in exchange for season experience (XP). It cannot be returned or reversed. Battle Pass items are exclusive to the season in which they are offered and will not be available after the season ends.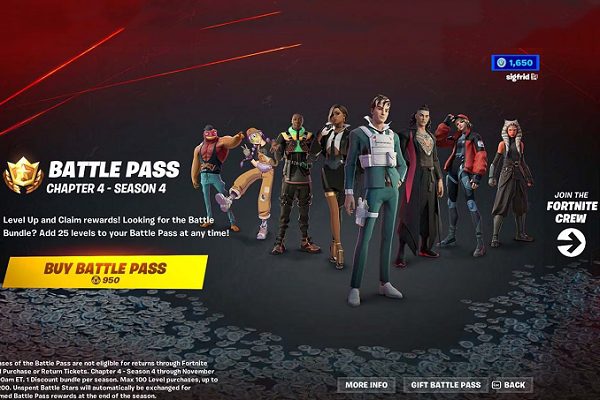 The Battle Pass is an additional paid service. Generally, it is not essential for people who play Fortnite, as it is a free-to-play game. It is recommended for those who are big players and want to obtain exclusive items, as the Battle Pass provides access to content that cannot be obtained or unlocked any other way. There are currently 2 versions of the Battle Pass:
a paid Premium Pass (costs 950 V-Bucks) that gives you over 100 rewards, including access to unlock the Mythic items;
and a free Pass, which costs no V-Bucks but only offers selected items.
Rewards
When you purchase the Battle Pass, you can earn various rewards by leveling up your Battle Pass. Players must claim enough rewards and reach the corresponding Battle Pass level to access the subsequent Battle Pass pages. You can only earn rewards from a Battle Pass in current season. All rewards will be not available in future seasons.
The "PREREQUISITE" tag on some of the rewards means that you must first claim all the other rewards on that particular page to claim this one.
The "REQUIRES BASE ITEM" tag means a style variation and you must have the main outfit to unlock it.
Seasonal Pass
The Battle Pass costs 950 V-Bucks each season. There are other ways to get the Battle Pass, either by someone else giving it to you or through Fortnite Crew.
Fortnite Crew is a subscription service introduced by Epic Games in December 2020. For $11.99 per month. Fortnite Crew members will receive the Battle Pass for each season, 1,000 V-Bucks, and an exclusive cosmetic set. It is worthwhile for the players who play the most.
How long is a Battle Pass valid?
The Battle Pass only lasts as long as the current season, which is usually around 10 to 12 weeks. And if you haven't unlocked everything you wanted by the time the season ends, your chance will be gone forever. Unused Battle Pass points will disappear at the end of the season, so be sure to spend them if you want to get your rewards.
How to purchase Battle Pass?
In Fortnite Battle Royale, click the "BATTLE PASS" tab at the top of the screen and then click "GET THE BATTLE PASS".
Then you will unlock the Battle Pass and begin securing more than 100 exclusive items.
How much cost the V-Bucks?
Canadians and those from outside the U.S. will inevitably pay differently due to the difference in currency values. You can purchase V-Bucks in-app for the following USD amounts:
| | |
| --- | --- |
| V-Bucks | USD |
| 1,000 V-Bucks | $7.99 |
| 2,800 V-Bucks | $19.99 |
| 5,000 V-Bucks | $31.99 |
| 13,500 V-Bucks | $79.99 |
Is it worth buying a Pass?
It is up to the individual. If you purchase the Battle Pass, you can reach over level 100. However, there are no rewards for levels above 100. If you do not purchase the Battle Pass, you will not be able to level past 100.
Furthermore, many of the most iconic Fortnite characters have featured in the seasonal Battle Passes. To get skins, you must first purchase the Battle Pass, earn XP to unlock levels, and progress to the respective level before the season ends.
How to unlock items in a Battle Pass?
As you progress through the levels, you earn Battle Stars to unlock Battle Pass items, five Battle Stars per level. Some of these rewards are V-Bucks, in-game virtual currency. However, the various items range from two Battle Stars to nine Battle Stars. To get all the items, you need to reach level 200 to have enough currency. You can also buy levels with V-Bucks, but instead of paying, we recommend that you play and unlock things at your own pace.
Ways to fast level up Fortnite game
You can level up your Battle Pass in a few ways: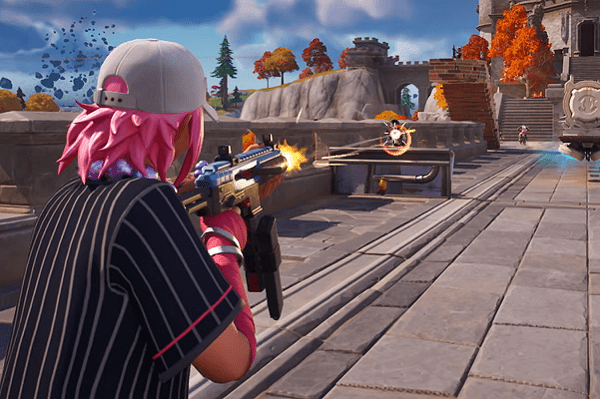 Gaining experience (XP) through completing daily and weekly quests
Leveling up your season level
Make use of Party Assist
Get a Victory Royale
Purchase levels with V-Bucks (note: each level costs 150 V-Bucks.)
Note:
The purchase button will state "Get V-Bucks" if you do not have enough.
No levels can be purchased after level 200. You can purchase up to 100 levels every season.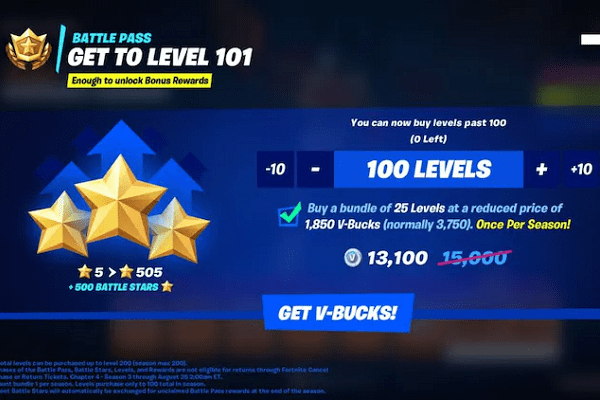 With V-Buck vs. Regular level-up
Each season all players are given access to the Free Pass or the option to purchase the levels. Both passes allow you to earn V-Bucks as you reach higher levels. Only devoted players who use numerous devices to play Fortnite should consider purchasing V-Bucks. Starting with a regular Battle Pass upgrade is fantastic for a frugal gamer.
Fortnite Chapter 4 Season 4 Battle Pass
The new storyline of Chapter 4 Season 4 starts with an expanded lineup of Fortnite characters. Each season has its pass that expires from one season to the next, so the new Battle Pass for Chapter 4 Season 4 is expected to end on Friday, November 2, 2023. The Battle Pass costs 950 V-Bucks. You'll need to buy 1000 V-Bucks to cover the cost. Another way to get it is to subscribe to the Fortnite Club.
You can see all the new skins in the Fortnite gameplay launch trailer below:
This new season's Battle Pass starts by unlocking the leader of the heist team, Nolan Chance. Other skins will be unlocked as you make your way through each stage of rewards. Check more fun details of these skins on the Fortnite IG page.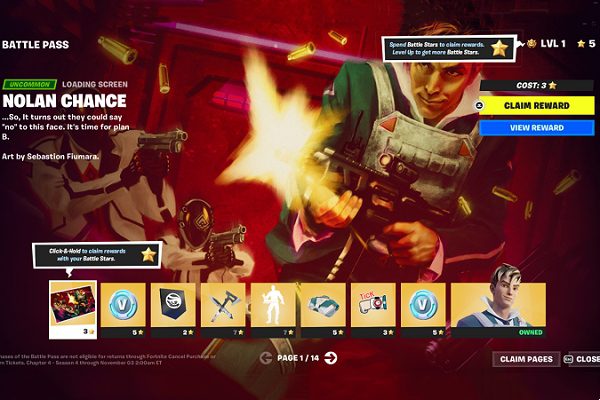 Nolan Chance: Never bet against the mastermind.
Piper Pace: Deliver the Victory
Dish Thicc: More ripped than the tide.
Mae: Impulsive hacker with an explosive sense of humor
Antonia: Destructive by design.
Khaby Lame: Keep it simple.
Kado Thorne: A voracious traveler with a hunger for the finer things in life.
Ahsoka Tano: Secret outfit of the season.
Conclusion
The above is what you need to know about the Battle Pass before starting the new season. For more details about Fortnite, visit the comprehensive introduction of the Fortnite app on Panda Helper, where you can download apps fast and free. We offer more tips and tricks for you to be the last standing.