iOS 14 Jailbreak Tools: Checkra1n, unc0ver, and Pangu
iOS 14 Jailbreak Tools: Checkra1n, unc0ver, and Pangu
Over one month since iOS 14 Beta released, jailbreaking tool teams have already made different effort for jailbreaking iOS 14. Even though there is no jalbreak tool for iOS 14 releasing to the public now, jailbreaking iOS 14 is bound to come.
We are going to talk about the progress on iOS 14 jailbreaking of three famous jailbreaking tools in this article. Hope it can help you learn the jailbreaking iOS 14 process. Highly anticipate that jailbreaking iOS 14 tools will be launched as soon as poosilbe.
Pangu jailbreak tool for iOS 14
On July 24th, 2020, Pangu team had shown a demo for iOS 14 jailbreak working on iPhone 11 on the mobile secutiy conference (MOSEC 2020). It is a good news because there are still exploits able to utilize for jailbreaking iOS systems since Apple iOS system has less and less exploit available to be applied; however, it has a negetive side because Apple may patch those exploits when lauching iOS 14 final public version. Keep an eye on Pangu.
unc0ver jailbreak tool for iOS 14
unc0ver jailbreak tool is one of the most poplular jailbreak tools in jailbreak community. unc0ver supports jailbreaking from iOS 11.0 to iOS 13.5.5 Beta 1 (Excluding 12.3.2 on A7-A8 and 13.5.1). Since Apple released iOS 13.5.1 to disclose the exploit used to jailbreak tools, unc0ver jailbreak tool is not likely to jailbreak iOS 14 until a new exploit appears. Nonetheless, once a exploit is discovered, using unc0ver to jailbreak is a possibility.
Checkra1n jailbreak tool for iOS 14
Checkra1n jailbreak tool is based on an unpatchable bootrom exploit called Checkm8 published by axi0mX, which is unpatchable. Because it works on iOS devices not on iOS Systems, it is unable to be unblocked by iOS system updates. Checkm8 impacts from A5 to A11 devices; in other words, it impacts from iPhone 4S to iPhone X and many iPads.
Therefore, jailbreaking iOS 14 on iOS devices with Checkm8 is totally working. Due to it, after iOS 14 Beta released a couple hours, a picture with the jailbroken App Store Cydia on iOS 14 system from memebers of Checkra1n jailbreak tool on Twitter clearly proved iOS 14 was able to jailbreak. But there are still other works for the jailbreak team to handle so that the jailbreak tool can work more stabily for users in the future.
FREE Jailbroken App Store providing free hacked, paid and ++ apps
Panda Helper jailbroken version(also called Panda Helper Repo) is specially made for jailbroken devices. It provides an access to free download a variety of hacked,++ tweaked and paid apps. Download Panda Helper jaibreak version to enjoy them!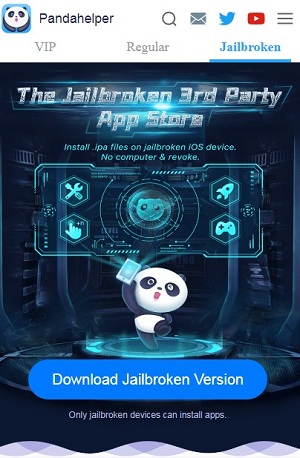 Relative articles: