As we know, Cydia Impactor is a signing tool for working with iOS mobile devices which helps us install third-party apps (.ipa files) into our iOS devices. But Cydia Impactor is not working, and we don't know when it will work again.
We recently found that a new signing tool called AltSigner is convenient to use to sign IPA files. Therefore, we tested it with the jailbreak tool unc0ver and learned which version of unc0ver is more likely to be signed successfully.
Because there are many different versions of unc0ver, users need multiple tests to find a unc0ver that can be successfully signed and used.
Which Versions of unc0ver Easier to be Signing Successfully?
After our tests, the higher signing success rate is unc0ver 4.2.1 and unc0ver 4.2.0, while the signing success rate for unc0ver versions 4.3.1, 4.0.3, and 4.0.0 are relatively lower. If you failed to sign unc0ver with altsigner, you might as well try the two versions, 4.2.0 and 4.2.1.
How to Sign unc0ver without Cydia Impactor
Please refer to this tutorial:
Install signed IPA to iOS devices
It is worth mentioning that the difference between AltSigner and Cydia Impactor is that AltSigner only provides the signing function, but does not provide the installation function. So after signing, we need to use other tools for installation. Here it's recommended to try tongbu assistant or 3utools for IPA installation.
Join Panda Helper VIP for more convenience
Suppose you feel that signing IPA files is too troublesome or inconvenient to use the computer. Opting into the Panda Helper VIP is also a good choice. Leave the signing matters to panda helper, and you only need to be responsible for easy download.
Panda Helper will offer super certificate to sign the VIP service and the certificate is working well as of now.
What is the Super Certificates
Super certificates support iOS 13.3.1+, the applications using a super certificate will not crash on iOS 13.3.1+ unless revoked by Apple.
Super certificates are more stable and are less likely to be revoked than ordinary certificates.
How to Join Panda Helper VIP
>Please note the following
>Panda Helper can be installed for free when a common certificate is available. But common certificates are easily revoked by Apple. If Apple revokes the common certificate, you need to purchase A VIP before downloading Panda Helper. Panda Helper offer super certificate to sign the VIP service. You can choose a 1-Month VIP or a 6 Times Card VIP. If you're going to use it for a long time, you can select a cheaper Monthly VIP. Within the validity period of VIP, Panda Helper can work typically. The 1-Month VIP means that no matter how many times the certificate is revoked within a month, it will automatically renew the certificate. The 6 Times Card VIP means that you can get six certificates within one year, and you have to repurchase for more than six certificates.
Here is the tutorial on how to join Panda Helper VIP.
Step 1: Open the Safari to go to  Panda Helper official website.
Step 2: When the website is loaded, there you can see the "Download" button. Tap on it.
Then, Click "Get VIP" to get.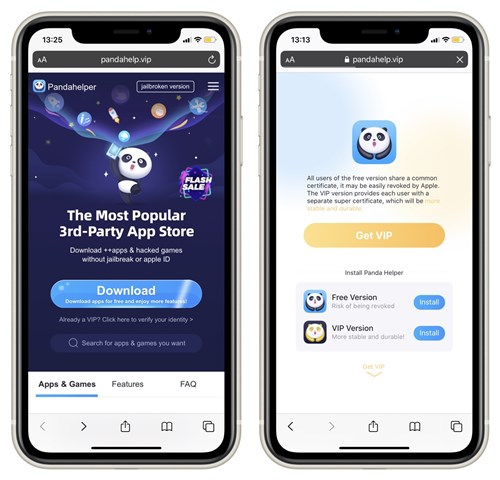 Step 3: Now select the certificate package you need and choose the payment method to pay.
Please make sure to fill in your email address accurately if you choose these Payment methods (Credit Card, PayPal by Paddle, More Local Payments, AliPay).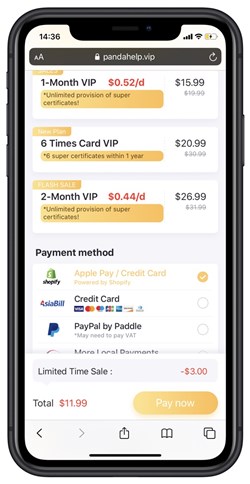 Step 4: Now, you are already Panda Helper VIP. When you open Panda Helper VIP for the first time, if you see the message "Untrusted Enterprise Developer". Follow the prompts to install the Panda Helper profile so that Panda Helper can successfully obtain your VIP expiration date.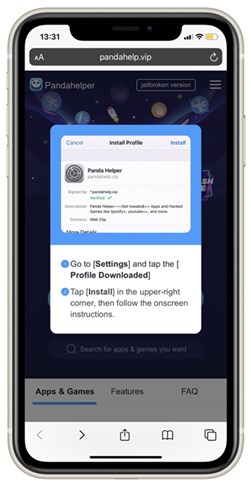 Step 5: Launch Panda Helper VIP, you can also download many more tweaked apps and hacked games without jailbreak.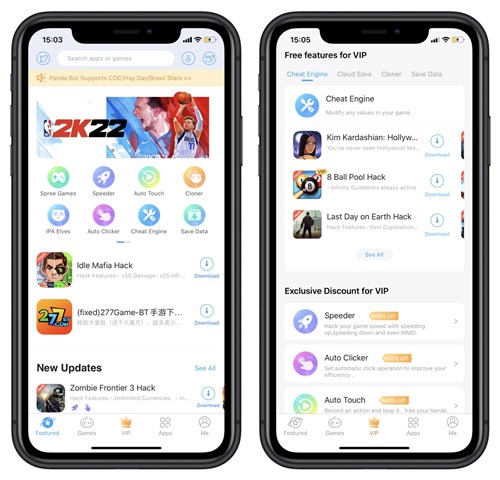 If you encounter problems during the purchase process, please click on "Cancellations &Refunds" and follow the instructions on the page.
Refund notice:Unfortunately, Apple's policy prevents us from removing used certificates, so we can't reclaim your certificate from Apple for a refund, once your order is completed.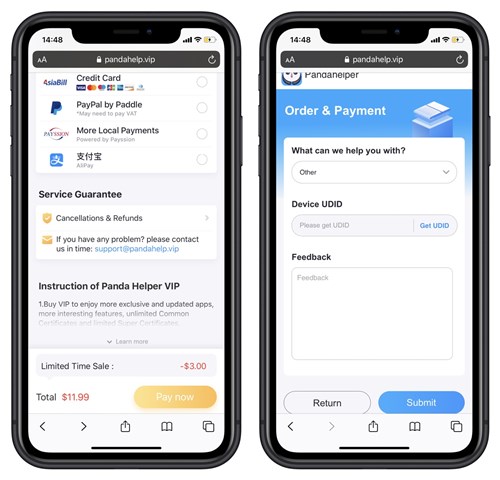 unc0ver Jailbreak Tutorial:
More iOS 14 Jailbreak News: