Before learning how to get WhatsApp Plus iPhone free download for Android and iOS, let's know more about it.
WhatsApp++ Watusi is the best and ultimately modified version of WhatsApp Plus iPhone. It can be used to make your usage of WhatsApp more fun. It offers functionality such as pinning conversations, viewing statuses in stealth and even locking the app or individual chats with a Passcode or Touch ID. Here we will show you how to download WhatsApp Watusi without jailbreak.
Features of WhatsApp Plus iPhone App
First of all, you may be interested in the features of WhatsApp++ Watusi.
It freezes the last seen option, so nobody can know when you opened WhatsApp the last time.
It hides read receipts so that no one can know if you read their messages or not.
It removes the status character restriction, which allows you to add up to 256 characters instead of 139.
The profile photos can now automatically be adjusted and cropped.
We can now select unlimited images to send in a chat.
It is always asked before calling someone to avoid accidental calls.
The dark keyboard feature makes it easy to type at night.
We can now change font sizes and colors by using WhatsApp Watusi.
Typing indicator is removed so that no one can know if you are typing a message or not.
All the calls can now be recorded to listen to them later.
We can also protect different chats with different passwords to increase security and privacy.
We can also customize WhatsApp's User Interface to look more stylish.
How to Download WhatsApp Plus iPhone Jailbreak
Now you need to install Panda Helper to get WhatsApp++ Watusi for your Device because you can't get WhatsApp Watusi from the iOS App Store.
1. Open Safari and go to Panda Helper's official website.
2. If you can't open the Panda Helper app, please go to your device's main Settings > General > Profiles & Device Management and trust the profile that belongs to the Panda Helper app.
3. Launch Panda Helper, search for WhatsApp++ Watusi, and download it.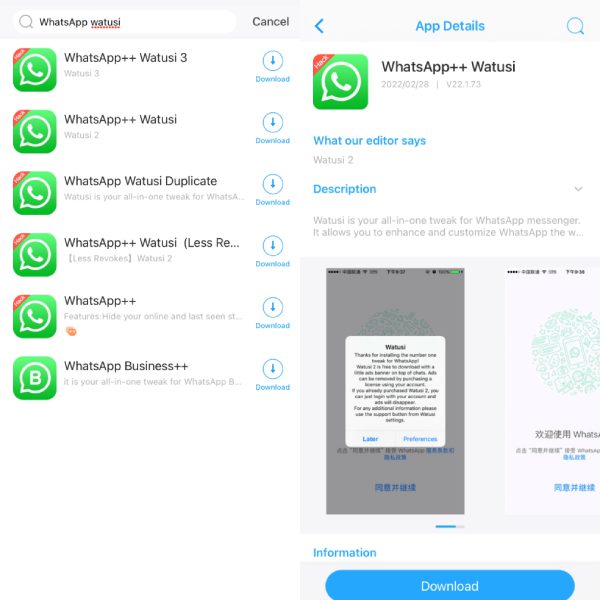 4. It will show an installation pop-up after it finishes downloading process. If you tap "Cancel" carelessly when installing notice, please navigate to the main page of Panda Helper and press here to install.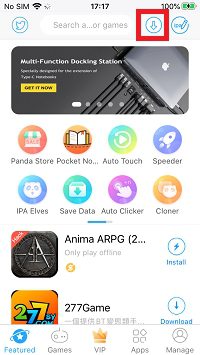 5. Check out WhatsApp++ Watusi and enjoy it.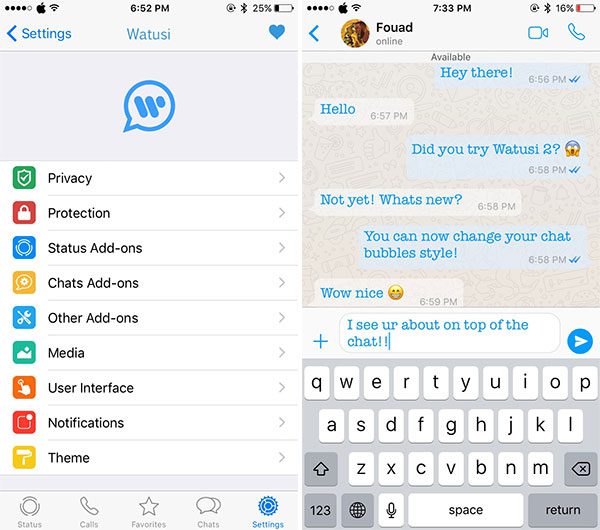 In addition, the WhatsApp Hack App downloaded from Panda Helper also supports the App Cloner and Auto Touch hack features.
How to Download WhatsApp Plus App for Free on Android
After learning how to get WhatsApp Hack App free download for Android, let's know how to download WhatsApp Hack App for Android.
As we all know, it's an easily downloaded WhatsApp Hack App for your Android device.
First, please open the Panda Helper Andriod, and then follow the steps as the tutorial of downloading the WhatsApp Hack App for free for your iOS device.
At last, you can enjoy WhatsApp on your Android device.
Something You Maybe Interested in WhatsApp Hack App
1. Is using WhatsApp Hack App free?
WhatsApp Hack App is free to download from the Panda Helper. It uses your phone's internet connection and allows you to send unlimited messages, pictures, and videos, so you don't need to worry about using your allocated text or call allowances.
2. Is your WhatsApp number the same as your phone number?
Your WhatsApp number is usually the same as your primary phone number. Checking your phone number in your phone's settings will also give you your WhatsApp number.
3. How do you find someone's number on WhatsApp?
You can easily find someone on WhatsApp if you know their phone number. Contacts stored on your phone that use WhatsApp will automatically appear in your WhatsApp contacts list.
4. How to remove annoying ads on Whatsapp++
However, WhatsApp Watusi has some stubborn ads to affect the experience. Here I would like to show you how to remove the ads in WhatsApp Watusi. Once you've installed WhatsApp Watusi++, you will find no ads on Watusi.
There are still many questions waiting for you to provide. We will help you answer them one by one.