Overview of Spotify++ IPA
Spotify++ IPA is the tweaked version of Spotify that will help you get the Spotify Premium features completely free. Spotify IPA is one of the world's most popular music streaming apps, and it offers some great features. You can choose a free version or a paid subscription that costs $9.99 per month for extra features, including removing the ads, listening offline, unlimited skips, etc. I know not everyone can afford to pay this monthly fee. Luckily, a tweak named Spotify++ can help you get Spotify Premium completely free. Once you've installed Spotify++ IPA, you can enjoy the features like no ads, seeking enabled, no forced shuffle, unlimited skips, extreme quality stream enabled, and import songs from the music app.
It's no doubt that you will love these features of Spotify IPA. Many users have already benefited from it. Don't you want to try?
Content:
Overview of Spotify++ IPA
Hacking Spotify Features
How to Download Spotify ++ IPA No Ads for Free on iOS?
Highlights of Spotify++ IPA
Why Does My Spotify Music Keep Fading in and out?
How do I Stop Spotify++ IPA From Fading Music?
Download Spotify++ IPA on iOS 15 for Free
Free Download Spotify ++ APK on Android
The Latest World
Hacking Spotify Features
Spotify++ IPA is getting more and more popular now, in my opinion, mainly because of its desirable features. It has all the features of Spotify Premium, even more, powerful than Spotify Premium. Then let's learn more about its features:
Unlocked Spotify Connect;
Seek the FWD button added to the information bar/tablet mod;
Visual ads blocked;
Audio ads blocked;
Seeking enabled;
Unlimited shuffle;
Choose any song;
Extreme audio unlocked
Among these features, my favorite is its many songs and Spotify's no ads.
How to Download Spotify ++ IPA No Ads for Free on iOS?
Spotify++ IPA is one of the most popular tweaked apps with some advanced features. However, super annoying ads pop up every time we open Spotify++ IPA. The in-app ads just interrupt our use of the app. Where can we get Spotify ++ with no ads and not having to plug into a computer? Here is the method.
Spotify++ downloaded from AppValley, Tutu apps, and Tweakbox is stuffed with ads from them to pay for signing the apps. Have you ever dreamed of upgrading your Spotify to eliminate forced shuffles? Spotify++ doesn't have ads if you download it from Panda Helper. Panda Helper has already removed the in-app ads from hot tweaked apps to bring a better user experience. Not only Spotify++, but also Youtube++, Movie Box++, Facebook ++, Deezer++, Twitter++, Instagram++, YouTube Music++, and WhatsApp++ downloaded from Panda Helper are with no ads.
Must Check Article: Download the tweaked Spotify mod with no ads for free on Android.
Highlights of Spotify++ IPA
I love Spotify ++. Spotify is user-friendly and easy to use compared to Apple Music. Next, let me introduce the highlights of Spotify ++ for you.
1. Seamlessly Cut Songs (I love it!)
From the first time, I was amazed when I cut a song seamlessly, and I was pleasantly surprised every time I missed it. I completely blew up this feature. Maybe this is just a tiny detail (but all comrades who have studied for nine years should know that points determine success or failure. It's just such a detail that makes me think they made this music software with intentions. But again, Some people have said that other software also has seamless song cutting. But, I tell you, other software and Spotify's song cutting cannot be generalized.
I once did not realize that Spotify seamlessly cut songs. , listened to more than a dozen songs in a row. Spotify's seamless song cutting gives a natural feeling and even sometimes makes me wonder if there is a DJ in the background to help me change. In addition, you can also set how many seconds before the song ends before cutting in the settings.
2. Simple and Convenient Interface
I believe that you must have never encountered such a simple music player. It has no MV, no comments, and no live broadcast. There, there is only MUSIC. This has created its straightforward interface, large icons, and few buttons, which are not too beautiful or destructive.
3. Accurate Recommendation Algorithm
Whatever kind of song I like to listen to, the backstage will always give me accurate recommendations of similar singers and pieces. The experience is excellent!
After understanding Spotify Music, many users must have some problems when using it, like me. For example, Spotify Music Keep Fading in and out. Let's analyze and answer together.
Why Does My Spotify Music Keep Fading in and out?
When it comes to quality audio production or installing fantastic background music at your workplace/office, constant sound drop-outs are the last thing you wish to experience. Spotify Music fading in and out can be caused by several issues such as faulty wiring, wireless connectivity problems, and device conflicts.
How do I Stop Spotify++ IPA From Fading Music?
You'll know that the Spotify service makes it possible to stream your fantastic music types on your mobile device or computer. Ideally, Spotify's music doesn't play back, meaning a song will ultimately end before the next song starts playing. However, you can still have continuous streaming of music. To achieve this, you need a feature known as Crossfade. The feature usually mixes two songs, thus resulting in a smooth music translation from one piece to another hence a fantastic listening experience.
And here is the tutorial on how to set up the Crossfade feature on your device:
On your iPad or iPhone
1. Go to the Spotify app. Tap on Settings and select "Playback."
2. Scroll down to the indicated "Crossfade" Tap the toggle feature on position.
3. Drag the slider bar and set your crossfade time
On your Android Device
1. Go to the Spotify app and tap on the menu icon.
2. Select "Settings" and scroll down to the Crossfade area
3. Drag the slider bar and choose your crossfade length. Slide the bar right to activate it or left to disable the crossfade feature.
Download Spotify++ IPA on iOS 15 for Free
Now Spotify++ IPA is available on Panda Helper, the best source for downloading modified games, tweaked apps and paid apps for free. There is no need to jailbreak or root your devices. Here, we will walk you through downloading and installing Spotify IPA from Panda Helper.
1. Open and go to the Panda Helper official website.
2. If you can't open the Panda Helper app, please go to your device's main Settings > General > Profiles & Device Management and trust the profile that belongs to the Panda Helper app.
3. Launch Panda Helper, search for Spotify ++, and then download it.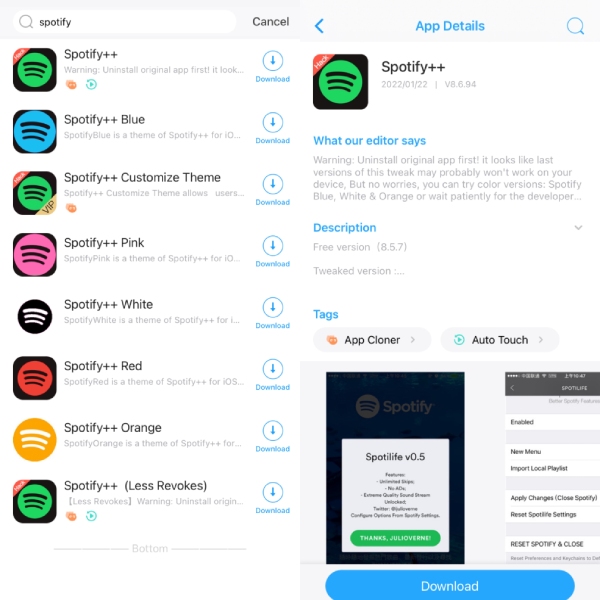 4. Check out Spotify++ and enjoy it.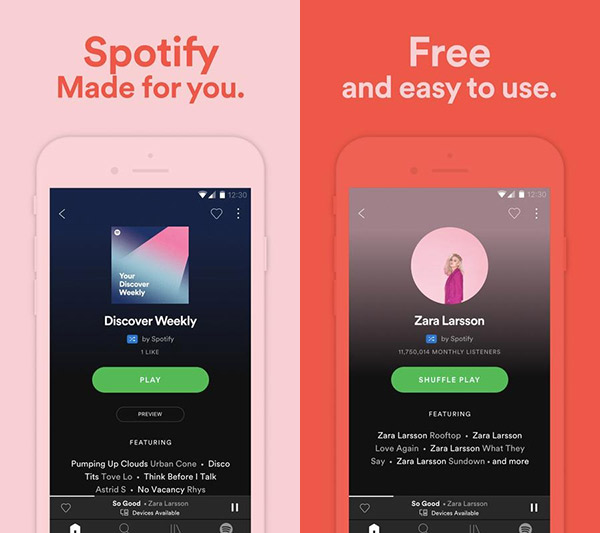 The Spotify++ download from Panda Helper also supports the App Cloner, and Auto Touch hack functions.
Free Download Spotify ++ APK on Android
The Spotify ++ APK can be downloaded from Panda Helper for free. And the steps are the same as the Spotify++ IPA, but we must go to the Panda Helper Android first.
In a word, if you want to know more about Spotify Music ++ Apk, you can download it to experience too.
The Latest World
Words can't express how excellent the streaming quality of Spotify ++ IPA is. Believe it or not, it is like listening to the actual album of the artist. Yes, you can play an entire album continuously without interruptions. You can begin listening to all the music you want online. You can do that while at work, jogging, or even driving your vehicle. It is a joy to finally have a free version of Spotify Premium.