Download Master for Minecraft Pocket Edition Mod Launcher For Free On Android
It is not only a launcher for Minecraft Pocket Edition but also an app for you to download fantastic maps, skins, texture packs, seeds, and mods.
There are plenty of maps for MCPE. Players can easily download adventure maps, PVP maps, minigame maps, etc. MCPE Master will update Minecraft maps, skins, texture, seeds, and mods every day so that players can access the newest resources and enjoy playing Minecraft. You can even submit your own MCPE maps, skins, texture, seeds, or mods to be added to MCPE Master.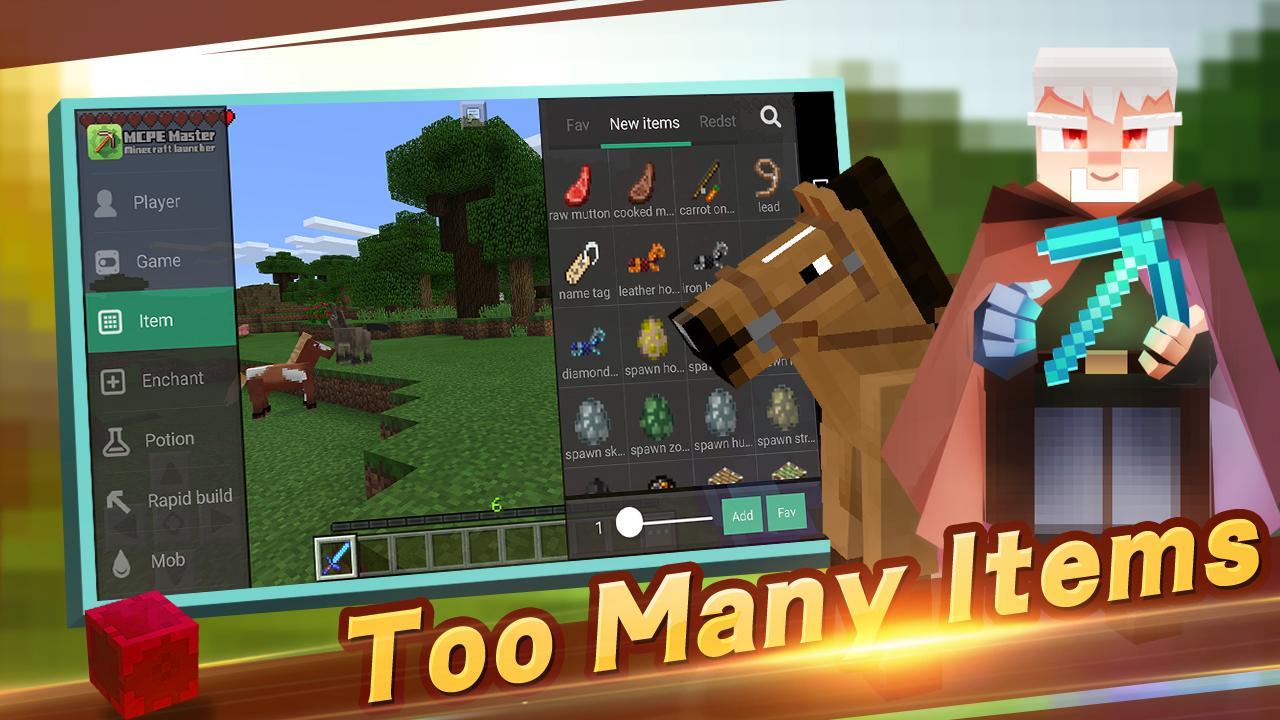 Thanks to this app, we can modify and customize our games, taking them to the next level with all sorts of new elements with which we can make the most of one of the most successful games as of lately. You'll soon learn how to use it to help you craft and build much faster, offering you the possibility to explore new maps. For such a purpose, you'll only have to download and install the correct mod.
Master for Minecraft Pocket Edition
Master for Minecraft suitable for Minecraft Pocket Edition.
√ Player: Invincible | Fly | Sprint | Add item(all items in the water update)
√ Game: Change Weather | Time | Mode | Show HP | Mini Map
√ Item: (TMI) Too many items | Redstone | Mobs
√ Rapid build: Put Line, Cuboid, Sphere by one click
√ Mob: Creeper | Enderman | Silverfish | Ocelot| Ghast |Turtles | parrots | dolphins | tropical fish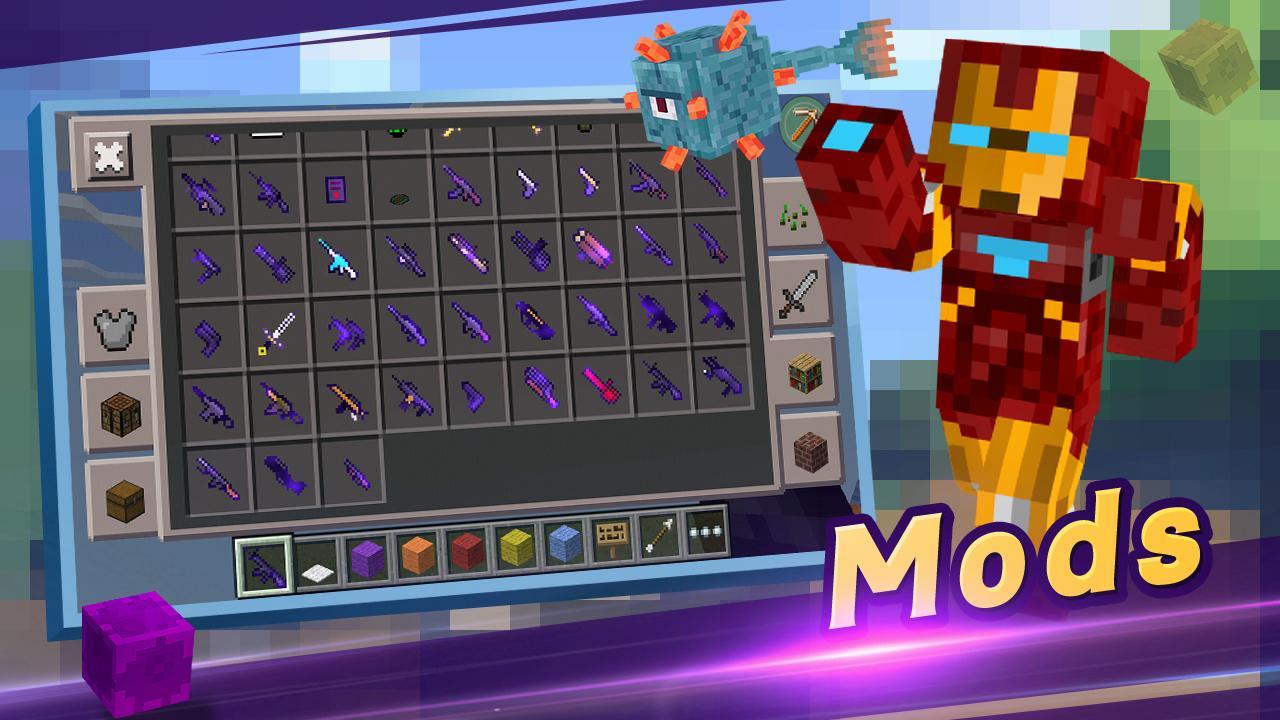 ★Master for Minecraft Import & Download★
Mod | Maps | Textures | Skins | Seeds | Addons
All the interesting maps, cool skins, fantastic texture, and various mods can be applied to MINECRAFT POCKET EDITION by click download and use.
★Master for Minecraft Addon Download & Import★
The newest version supports the download and import of addon. Players can now download the addon directly from MCPE Master by one click. It is also a convenient addon tool to import addon from your Phone's file.
● Master for Minecraft Mods&Addons:
Mod:Weapon Mods | Gun Mods | Furniture Mods | Portal Mods | Animal Mods | Pet Mods | Dragon Mods | Redstone Mods | Pixelmon Mods
√More than 2000 models of mod free download, compatible with the new version of the game
Addons:city | Building | Mansions | Furnished houses | Buildings | Statues | Aircraft, and helicopters | Spaceships | Naval ships Cars | Means of transport | Medieval castles | Mechanisms
√plug-in library of more than 1,000 works, equipped with a large number of maps, realizing the true story mode
● Master for Minecraft Maps&Seed:
√Adventure Maps | Parkour Maps | Minigame Maps | PVP Maps | Horror Maps | Roller Coaster Maps | Hide and Seek Maps | Survival Maps | Redstone Maps | Architecture Maps
√Village | Island | Mountains | Desert | Caverns | Glacier | Desert Temple | Strongholds | Monster spawners | Forest Skylands | MINI World |
And many more Hills, Plants, Houses, Cities, Redstone, Flying Island, Horrors, Escape from Prisons, Cops, and Bandits.
Download Master for Minecraft PE Mod Launcher
Now Master for Minecraft PE Mod Launcher is available on the third-party app store named Panda Helper. Though Panda Helper, you can download many more modified apps, hacked games, and high-paid apps for free. No need to root your devices. You will love Panda Helper with lots of third-party apps. Follow these steps, and you can get a Master for Minecraft PE Mod Launcher from Panda Helper for free.
Step 1: Go Panda Helper official website
http://android.pandahelp.vip/?s=gg

Step 2: When the website loads, tap on the"Download" option.


Step 3: If it comes up with the "Install blocked," you need to enable Unknown Sources option firstly to install third-party APK files on Android. Go to your Phone's "Settings > Security," and you will see the Unknown Sources option. Enable Unknown Sources and tap on OK in the prompt message. Once done, you can install third-party APK.


Step 4: Then find out Panda Helper apk and install it.


Step 5: Now launch Panda Helper, search Master for Minecraft, and get it for free.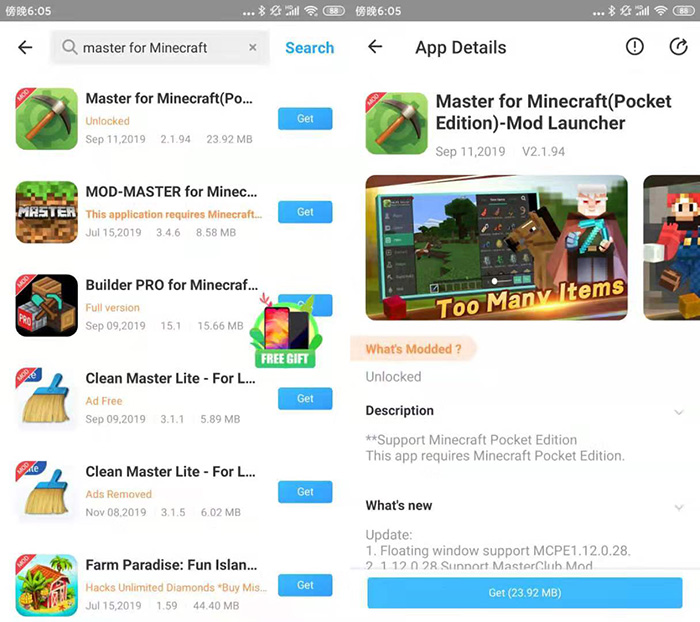 Step 6: Check out Master for Minecraft PE Mod Launcher and enjoy it.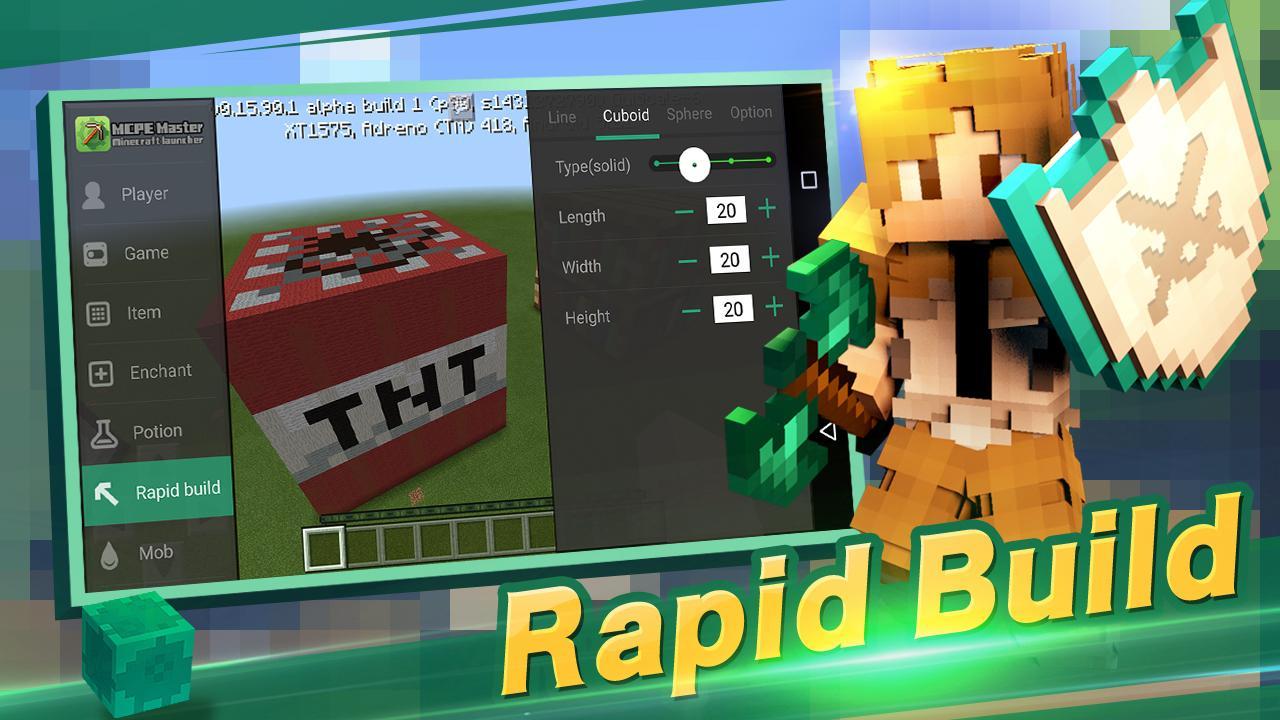 Related Article
Recommended For You