Minecraft Pocket Edition (PE) is a sandbox game that has taken the world by storm. You can create anything in this game world that belongs to you. Give full play to your imagination.
Content Summary
How to download and install Minecraft PE on iOS (iPhone/iPad)
Download Minecraft PE IPA on iOS from Panda Helper
Minecraft PE Features
Minecraft PE Frequently Asked Questions
How to download and install Minecraft PE on iOS (iPhone/iPad)
If you're looking forward to getting your hands on the Minecraft service then you should certainly follow these steps:
1. Click the button above, download Panda Helper. Also, you can open Safari and go to Panda Helper official website. 
2. If you have any difficulties in installation, you can follow the Panda Helper installation tutorial. 
3. Launch Panda Helper, search for Minecraft and install it, select the latest version Install. 
Download Minecraft PE IPA on iOS from Panda Helper
Step 1: Now launch Panda Helper, search for Minecraft you will see Minecraft: Story Mode, and other hacked games here.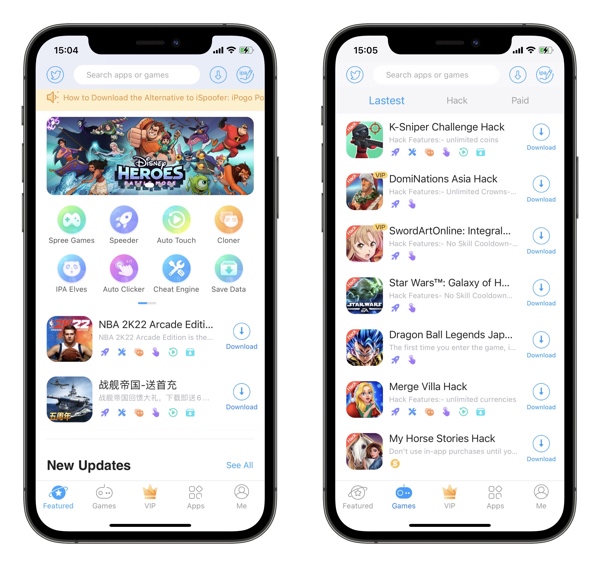 Step 2: Click on the search results for Minecraft and move to the app info page. Here you can learn more about this tweaked app, including how to use it and cautions.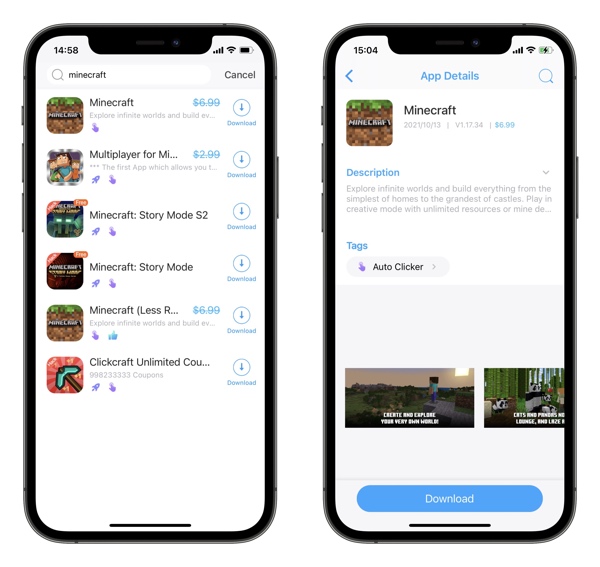 Step 3: Click "Download" to start the download and installation process of Minecraft PE. After waiting patiently, you can go back to the home screen of your iOS device.
Step 4: You will find Minecraft on your iPhone/iPad in the process of installation. Once the installation is finished, please go to Settings->General->Profiles and trust Minecraft's profile. Start enjoying Minecraft Pocket Edition on your iPhone/iPad for free.
Minecraft PE Features(via Panda Helper)
After you download Minecraft from Panda Helper, you will find that it is exactly the same as the game content offered by the App Store.
Marketplace - Discover the latest community creations in the marketplace! Get unique maps, skins, and texture packs from your favorite creators.
Slash commands - Tweak how the game plays: you can give items away, summon mobs, change the time of day, and more.
Add-Ons - Customize your experience even further with free Add-Ons! If you're more tech-inclined, you can modify data-driven behaviors in the game to create new resource packs.
Minecraft PE Frequently Asked Questions
What should I do if I can't install Minecraft PE?
Uninstall the original Minecraft app first before downloading and installing it from Panda Helper! Uninstall the failed app, go to Panda Helper to download the latest version, and install it again.
What if Minecraft PE asks for an update?
Don't worry. Just be patient and wait for Panda Helper to update before you download and install the latest version of Minecraft.
Is jailbreak required to install Minecraft PE?
No, you don't need to jailbreak your iOS device or use a PC; everything is done on your iPhone/iPad.
How is the Minecraft offered by Panda Helper different from the one in App Store?
The only difference is that Minecraft downloaded from Panda Helper uses a common certificate and Minecraft downloaded from the App Store uses its own Apple ID. the former has a revoke issue but is free, the latter does not have a revoke issue but it costs $6.99.
If you encounter any difficulties, you can contact us by email: support@pandahelp.vip.