YouTube++ Premium supports free downloading of 1080p or even higher resolution videos, supports video playback and downloading in the background, supports automatic removal of ads at the beginning of videos, is available for iOS devices, and non-jailbroken iPhone/iPad.
Are you wondering how to download YouTube++ Premium for free on iOS? This article is what you need.
YouTube has a large number of users and is the largest video playing and sharing platform globally. If you have used YouTube, then you surely know YouTube Premium. To use the YouTube Premium service, you need to pay separately, and obviously, it is impossible to make everyone pay more. With Panda Helper, you can download YouTube++ Premium for free for your iOS device and get the premium features without jailbreak and PC.
Panda Helper is one of the top-rated third-party app stores; apart from YouTube++ Premium, you can download massive content of tweaked apps and hacked games from Panda Helper. You won't find these apps or games anywhere else.
This article will show you more about how to download and install YouTube++ Premium for free using different methods, and then we'll tell you what features YouTube++ Premium offers.
Contents
Install YouTube++ Via Panda Helper on iOS (No Jailbreak)
To start, launch Safari and get access to the official Panda Helper, wait for the page to load, and click "Download." Click the "Download" button next to Free Version on the new page.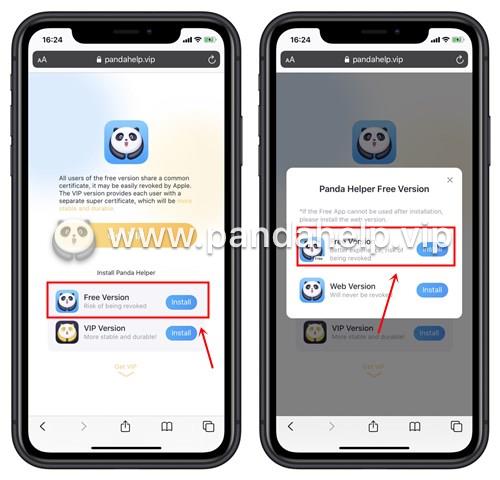 A new pop-up will appear on the page, prompting you to install the configuration profile. Follow the prompts to install the profile in the setting, then wait for Panda Helper to install on your home screen.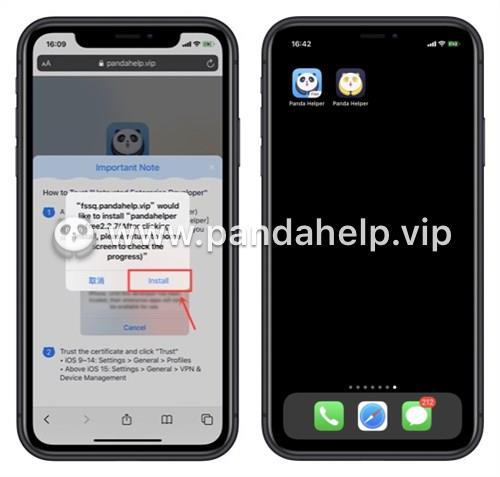 Go to Settings > General > Profiles & Device Management > Downloaded Profiles to trust a certificate used by Panda Helper. (Since apps need the certificate from Apple and can use on iOS devices, we need to trust the certificate to get used.)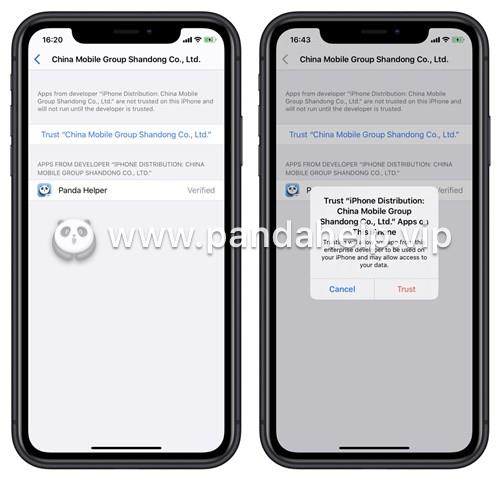 Download YouTube++ on iOS from Panda Helper
Open Panda Helper and conduct a search for YouTube++; you will see Youtube++ Cercube, Youtube++, and other tweaked apps here.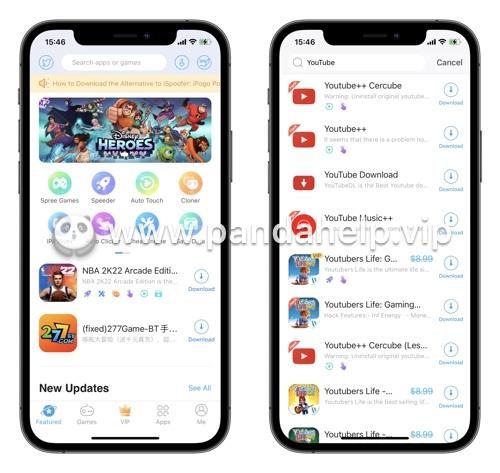 Click on the search results for Youtube++ and move to the app info page. Here you can learn more about this tweaked app, including how to use it and cautions.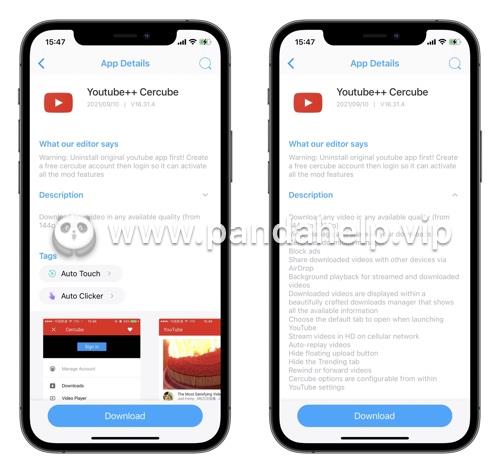 Click "Download" to start the download and installation process of Youtube++. After waiting patiently, you can go back to the home screen of your iOS device.
You will find Youtube++ on your iPhone/iPad in the process of installation.
Once the installation is finished, please go to Settings->General->Profiles and trust Youtube++'s profile. Then you can launch Youtube++ Cercube or Youtube++.
Start enjoying Youtube++ Premium service on your iPhone/iPad for free.
YouTube++ Premium Features (via Panda Helper)
Panda Helper provides Youtube++ Cercube, Youtube++, and other tweaked apps for free that you can't find anywhere else, and they all have an abundance of tweak features that you can't get in Regular YouTube. You don't have to pay anything to have them. Let's take a closer look at these free Premium Features.
Youtube++ Cercube Features:
Create a free cercube account then login so it can activate all the mod features
Download any video in any available quality (from 144p to 1080p)
View, manage and share all your downloads in Cercube's download manager
Block ads
In addition to this, you can also enjoy
Share downloaded videos with other devices via AirDrop
And the beauty is that Background playback for streamed and downloaded videos
Cercube options are configurable from within YouTube settings
YouTube++ Premium Features:
Hide upload button, Block promoted ads and video ads; Background playback; Speed controls to set video playback speed (0.5x - 2.0x); Beautiful downloads list; Custom audio player for downloaded videos. Play videos in background with control centre controls.
Here are a few more features that you might enjoy.
Media sharing and downloads: Download videos; The only TRUE 1080p and 60fps YouTube video downloader; Choose default download quality; Add videos to camera roll
The only drawback is that the YouTube++ tweak app doesn't update quickly enough. You have to wait for the original YouTube app to update before you can update YouTube++ Premium, so if you open YouTube++ Premium and get a prompt asking you to update, please be patient! After Panda Helper is updated, download and install the latest version.
YouTube++ Troubleshootings (FAQs)
These are the detailed installation steps. Next, we share with you some YouTube++ and Panda Helper frequently asked questions. I hope it will help you in the process of downloading and using YouTube++ Premium.
What should I do if I can't install YouTube++ Premium?
- Uninstall the original YouTube app first before downloading and installing tweaked YouTube++!
- Uninstall the failed app, go to Panda Helper to download the latest version, and install it again.
What if YouTube++ Premium asks for an update?
Don't worry. Just be patient and wait for Panda Helper to update before you download and install the latest version of YouTube++ Premium.
How to get YouTube++ Premium for free?
With the detailed tutorial and steps above, you can install YouTube++ for free on iOS. Launching YouTube++ will give you the Premium Feature mentioned above.
Is jailbreak required to install YouTube++?
No, you don't need to jailbreak your iOS device or use a PC; everything is done on your iPhone/iPad.
Will there be Revoke issues with YouTube++?
Yes, because Apple controls the certificate if Apple revokes the one you are currently using, the YouTube++ Premium you have installed may not open and cannot be verified. At this point, you can choose to be patient, and Panda Helper will fix and replace the new certificate. All you need to do is remove the revoked one and download Panda Helper and YouTube++ Premium again.
Maybe you are wondering if there is an Anti-Revoke method, yes, there are some tips for this, but it doesn't always work. For more information on how to Anti-Revoke Panda Helper, check out this video tutorial.
What does YouTube++ have to do with YouTube?
Please note YouTube ++ is not in any way associated or affiliated with YouTube Inc, Google Inc., or Alphabet.
Please note that downloading videos from YouTube for which you do not have permission to do is against the YouTube TOS. By installing this tweak, you agree to use it at your own risk.
Is Panda Helper safe?
Panda Helper is a reliable, secure, and trustworthy app. Jailbreak? NO! Request Apple ID? NO! Root? NO! All You need to do is tap and download! Easy to install and no advanced steps for iOS and Apk, find out your interests. Moreover, The developers of Panda Helper ensure that each application is tested chiefly manually and scanned by virus software to ensure the effectiveness and security of each application. This way, the developers ensure that all the applications available on Panda Helper are safe to install.
Apart from that, you can also access some special features Panda Helper provided, such as Game Tools. With Game Tools, you don't have to be a Pro Gamer to rank higher and get more lives, gold, money, coins. You'll find these game enhancer powerful yet easy to master and bring you more different experiences.
YouTube Premium Subscriptions
YouTube and YouTube Music ad-free, offline, and in the background.
1-month free trial, Then $11.99/month
Family Plan: 1-month free trial • Then $17.99/month. Add up to 5 family members (ages 13+) in your household.
Student Plan: 1-month free trial • Then ¥680/month. Eligible students only. Annual verification required.
Final Words About YouTub++ Premium iOS
This is all about YouTub++ Premium on iOS. Now you need to sit back, relax and enjoy the fun of videos, episodes, movies on your iPhone/iPad for free.
Apps Like YouTube++
Download YouTub++ Premium APK on Android
Download Panda Helper iOS free