Stardew Valley in the App Store costs $7.99. Some players may think the price is high and can't afford it. If you have the same doubts, you have come to the right place. Before learning how to download Stardew Valley for free, let's know more about this game.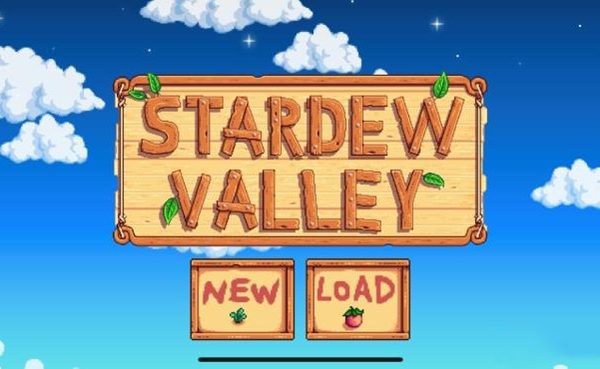 What is the Stardew Valley?
As we know, Stardew Valley game is an open-ended country-life RPG! In the game, the player accepts the grandfather's old farm plot as the game's protagonist. Then we can create our farm through various tasks and gameplay.
After taking over the manor, we can weed, cut down trees and smash rocks, farm and fish to mine, cook delicious meals, chat and interact with tasks, and lay the road foundation to build the manor. To sum up, there are many tasks to play, which can make players forget about time and begin a new life in the game.
Gameplay of Stardew Valley?
The gameplay of Stardew Valley is the same as I summarized above: to farm and fish, fall in love and get married, join the local community, fight new and dangerous monsters and mine, and create a small world of your own. You can arrange the farm layout however you like and begin a new life there.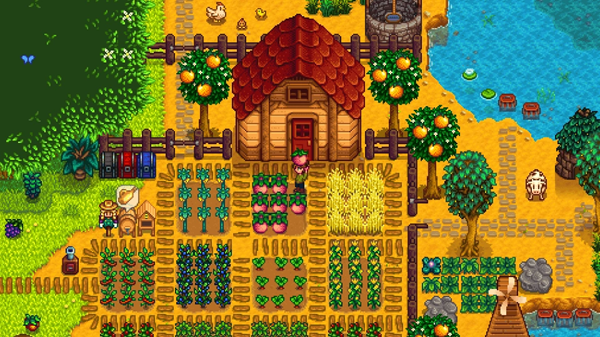 Skills to play Stardew Valley
Then these gameplays can be specifically classified into five skills: farming, mining, gathering, fishing, and fighting. Each of these skills has ten levels, and each level of skill will unlock different props. Let's know more about them.
1. Farming: Each level will increase the proficiency of tools such as hoes and watering cans by 1 point. Harvesting crops can gain experience. We can care for and raise animals which can also increase the experience.
2. Mining: Gain experience by breaking rocks. Each level will increase the proficiency of the pickaxe by 1 point.
3. Gathering: Gain experience by foraging for food and chopping down trees with the Tool Axe. Each level will increase the proficiency of the ax by 1 point.
4. Fishing: Fishing is a skill related to catching fish. Gain experience by completing fishing mini-games or catching fish with a crab pot. Each level will increase the proficiency of the fishing rod by 1 point.
5. Fighting: Combat is a skill related to players fighting monsters. Each level will increase the value of life by 5 points.
The above are some explanations about using skills in the game, and you can practice more about the specific gameplay. In addition, if you are unsatisfied with the current game progress, you can restore it and start a new process. 
Tips to send gifts to Stardew Valley characters 
The entire game is played in various ways, with many strategies. Today I will focus on sorting out the character's preferences in the game for you. Teach everyone how to give the right gift to the NPC in the game to increase their favorability quickly.
Stardew Valley characters
| Characters | the things love most | the things like |
| --- | --- | --- |
| Alex | Complete Breakfast, Salmon Dinner | egg, Parsnip |
| Harvey | Coffee | Spring Onion, Parsnip |
| Elliott | Lobster, Pomegranate | Sashimi, Parsnip |
| Sebastian | Sashimi | Flounder, Parsnip |
| Sam | Cactus Fruit, Pizza | egg, Joja Cola |
| Penny | Emerald, Poppy | Dandelion, Parsnip |
| Maru | Strawberry | Quartz, Parsnip |
| Leah | Goat Cheese, Salad | egg, Parsnip |
| Haley | Coconut, Sunflower | Daffodil, Sashimi |
| Abigail | Amethyst | Emerald, Ruby, Topaz, Sashimi |
| Caroline | Summer Spangle | Sashimi, Parsnip |
| Demetrius | Strawberry | Blackberry, Salmonberry |
| Clint | Ruby, Aquamarine | Iron Bar, Parsnip |
| Emily | Ruby, Wool | Daffodil, Parsnip |
| Evelyn | Tulip, Fairy Rose | Daffodil, Milk |
| George | Fried Mushroom, Leek | Daffodil |
| Gus | Orange, Diamond | Potato, Parsnip |
| Jas | Fairy Rose | Daffodil, Sweet Pea |
| Jodi | Pancakes | Salmonberry, Parsnip |
| Kent | Roasted Hazelnut | egg, Salmonberry |
| Lewis | Hot Pepper | Potato, Coconut, Parsnip |
| Linus | Coconut, Yam | Blackberry, Salmonberry |
| Marnie | Farmer's Lunch | egg, Milk |
| Pam | Beer | Parsnip |
| Pierre | Fried Calamari | egg, Milk |
| Robin | Goat Cheese, Peach | Salmonberry, Milk |
| Shane | Pizza, Hot Pepper | Salmonberry |
| Vincent | Grape | Daffodil, Coconut, Sweet Pea |
| Willy | Catfish, Sea Cucumber | Parsnip, Potato |
| Wizard | Void Essence, Solar Essence | Parsnip |
| Sandy | Daffodil, Sweet Pea, Crocus | Salmonberry |
| Krobus | Void Egg | Frozen Tear, Fire Quartz |
| Dwarf | Ruby, Omni Geode | Earth Crystal |
Tips: One NPC is limited to 2 gifts per week.
The above are my conclusions about giving gifts to NPCs in the game to increase their favorability.
Sometimes we can spend a few coins to get these gifts like delicious meals, new cooking, and raw materials. And we can also grow some crops in the farm plot. In short, there are many ways to get these gifts. Let's try together to make more new friends.
Stardew Valley VS. Terraria
When talking about Stardew Valley, everyone probably thinks of Terraria as I do. They are also excellent as pixel games and have gained many players. Next, let me analyze and make some recommendations when choosing two games for you.
The similarities
– They are all pixel-style games.
– Their gameplay is a bit similar. Both have an adventure part.
The differences
– They both are awesome games, but with wildly different focuses. Terraria is an action-packed sandbox/exploration/survival game, while Stardew Valley is a laid-back farming simulator with many RPG elements.
– Beating Terraria was the best multiplayer experience I've ever had. But Stardew Valley, on the other hand, doesn't offer much in terms of multiplayer (although there is support for it).
– Stardew Valley places far greater emphasis on relationships, allowing you to marry eventually. Farming is central, while battling takes a backseat. Terraria offers big bosses, exploration, terraforming, and building.
We have a general understanding of Stardew Valley and also learned its general gameplay. Now, it is time to download it. You can download this game from Panda Helper for free, which has the same function as the original version. And it also supports the Panda Cheat Engine, Panda Auto Clicker, and other Panda game tools.
FAQs
Through the above, we have learned some tips about increasing favorability with Stardew Valley characters. At this point, we can get along better with the NPCs in the game and become friends. Next, let's learn more FAQs.