Since the release of Panda Helper VIP, it has been supported and loved by many users. As we have known, Panda Helper is a genuinely fantastic third-party app store designed for iOS devices. It provides lots of tweaked apps, ++apps, hacked games, paid apps, jailbreak tools, and hot apps without having your devices jailbroken. It's available on regular (free) and Vip(paid)version.
In addition to downloading more tweaked apps and hack games, Panda Helper VIP has more amazing features now!
Panda Helper VIP Features:
Panda Speeder
Panda Cheat Engine
Panda Auto Clicker
Panda App Cloner
Panda Cloud Save
Lots of tweaked apps and hack games.
More stable
No ads and better users experience.
What Is The Panda Speeder?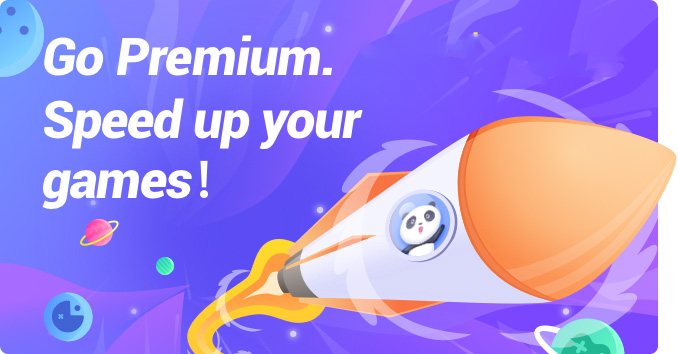 Panda Speeder is an advanced hack feature that you can use to speed up or slow down the games so that you will win the games more easily.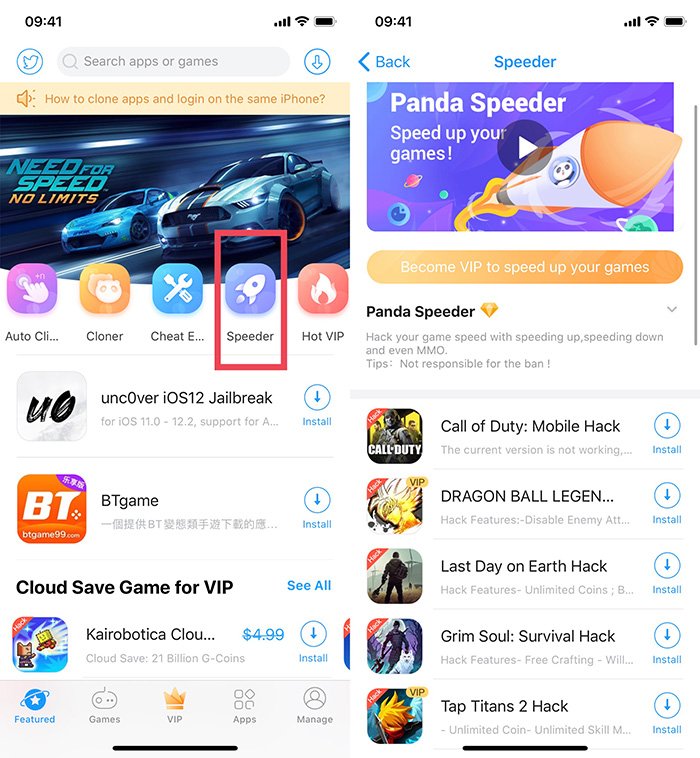 For example, like parkour and shooting games, when you slow down the game with Panda Speeder, there is more reaction time to avoid obstacles so that you can get high scores more quickly. For APRG and on-hook games, when you speed up the game, you can destroy more enemies in one minute. This type of game acceleration saves time and increases efficiency while using Panda Speeder.
What Is The Panda Cheat Engine?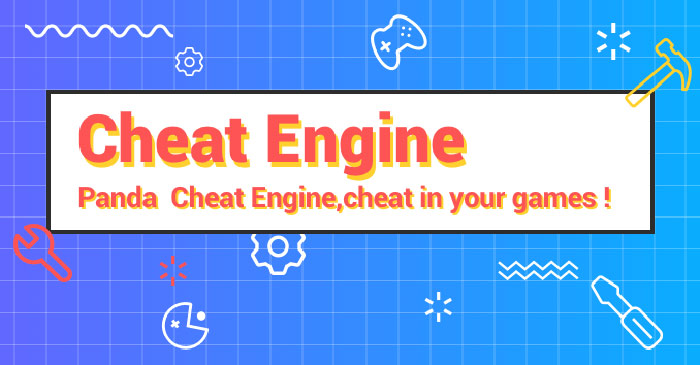 Panda Cheat Engine is a game hack/alteration tool alternate to GameGem&iGameGuardian. With it, you can modify money, HP, SP, and much more for an iOS game without Jailbreak on iOS 13, iOS 12, iOS 11. You can change games such as Coin Master, TitanQuest, FarmVille, Battleheart easily.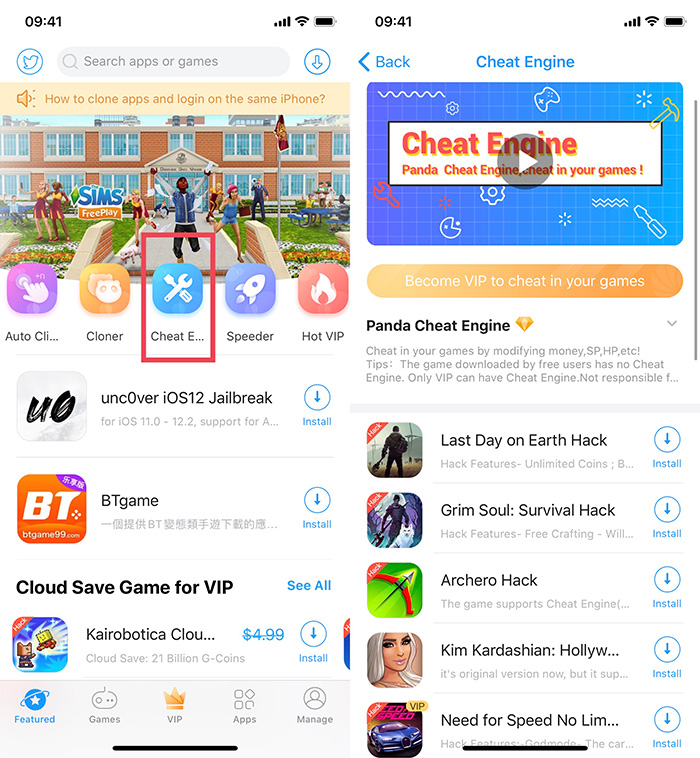 What Is The Panda Auto Clicker?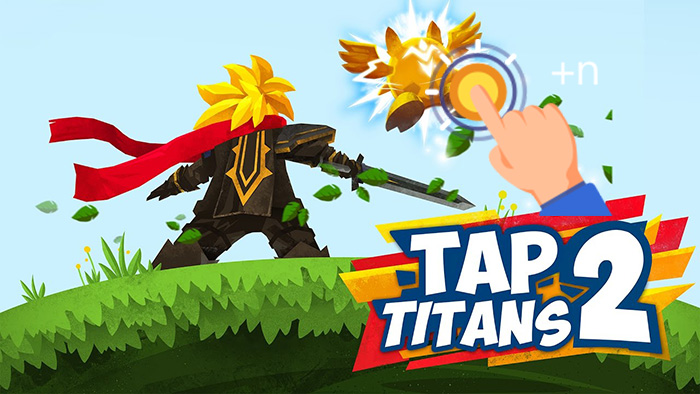 Panda Auto Clicker is an automatic click tool that simulates fingers click on a mobile phone screen, which helps gamers to free your hands and easily win battles in the game.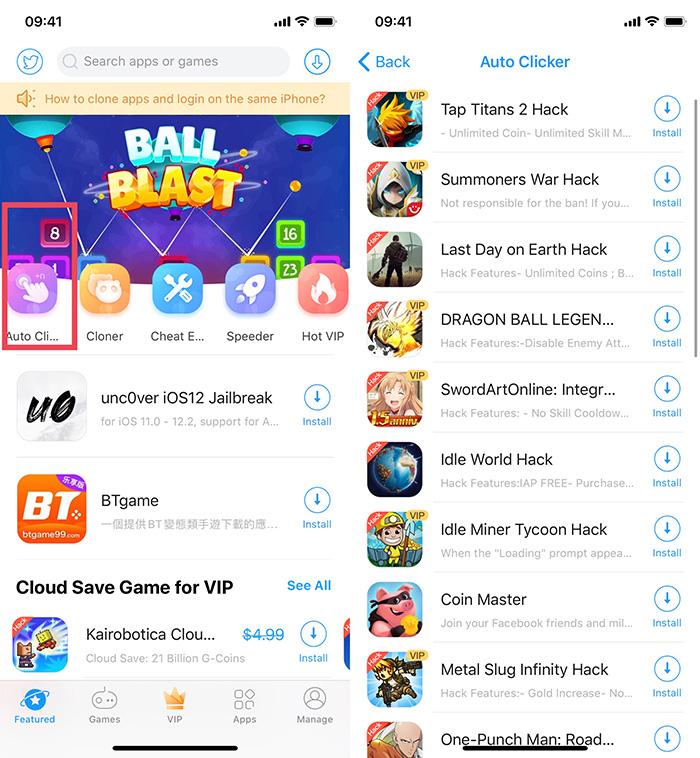 Panda Auto Clicker is available for games such as AbyssRium (Tap Tap Fish), Tap Titans, etc., which require players to tap the screen to attack enemies and collect coins always. Or it is an RPG game with a lengthy character dialogue, which can help you automatically scroll through the character dialogue by automatic click. Panda Auto Clicker supports for iOS 13, iOS 12, iOS 11, and without Jailbreak.
What Is The Panda App Cloner?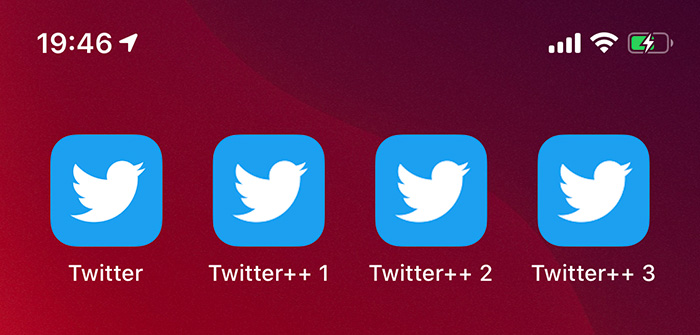 Panda App Cloner is a new feature in Panda Helper, which can help you install multiple copies of apps on your iPhone. Using Panda App Cloner, you can install multiple copies of some classical applications. These cloned apps run in parallel and work independently from the original app.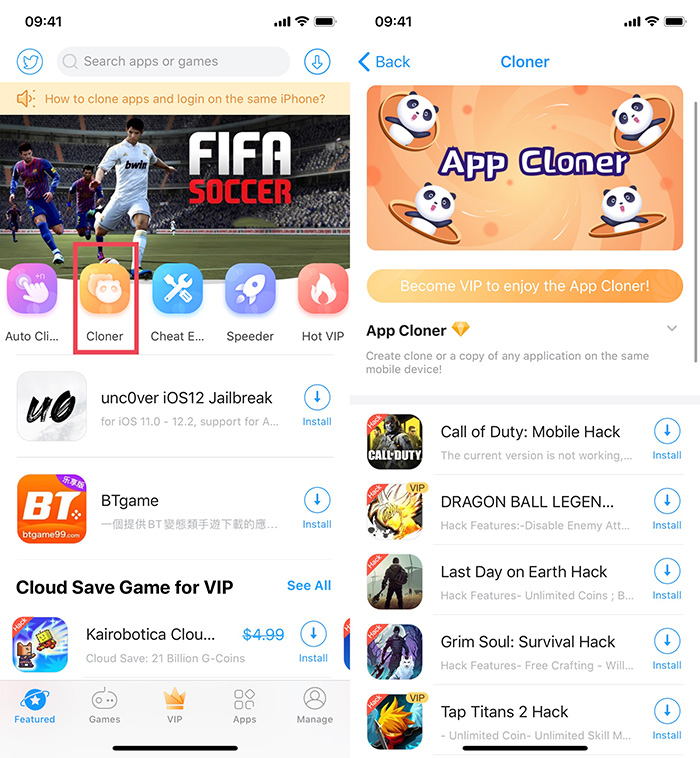 Now Panda App Cloner is available for many popular apps, not only WhatsApp, Twitter, Facebook, Youtube, Instagram, Line, Spotify, etc., but also the hot games like Last Day On Earth, Pokemon Go++, Minecraft, One-Punch Man and so on.
What Is The Panda Cloud Save?
Now Panda Helper provides another incredible tool- Panda Cloud Save. ** It allows us to get incredible benefits, such as unlimited coins, unlimited materials, unlocked characters, unlocked maps, and more. Cloud Save make the game easier and let you get much funnier than before.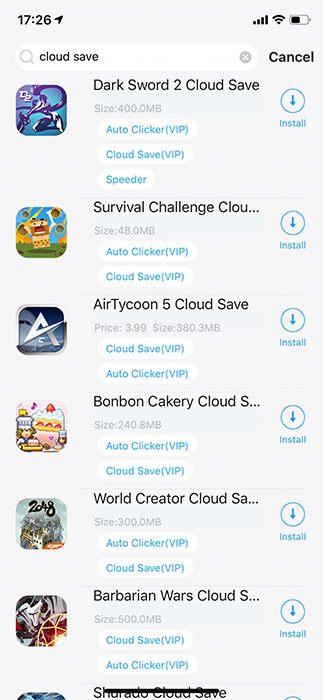 Panda Cloud Save Supported Games
Factory Inc Hack
Silver Screen Story
Night of the Full Moon
Battle Chasers: Nightwar Save Game
Graveyard Keeper
Soul Knight Hack
Bonbon Cakery
AirTycoon 5
Survival Challenge
How To Find Games Supported Panda Cloud Save?
Search for "cloud save" in Panda Helper VIP, then you will find the games support Panda Cloud Save.
Download Panda Helper VIP Without Jailbreak
Step 1: open Safari and go to Panda Helper's official website to download Panda Helper VIP.
Panda Helper official website:http://m.pandahelp.vip/?s=gg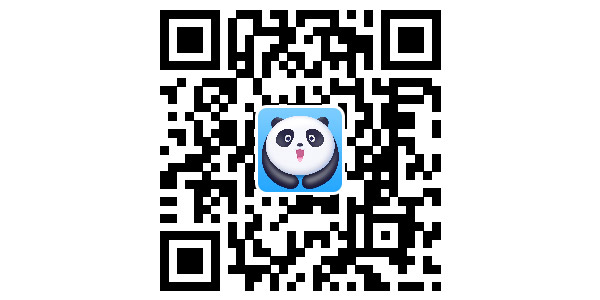 Step 2: When the site is loaded, tap on the "Download Premium Version" option to install the profile first. Then install Panda Helper VIP.


Step 3: Launch Panda Helper VIP, you can also download many more tweaked apps and hacked games without Jailbreak.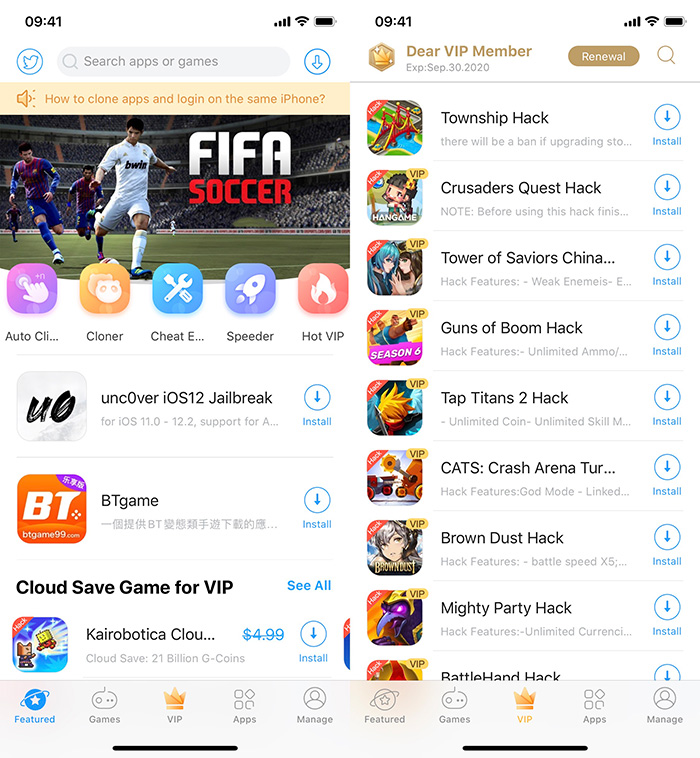 You May Interestred In: