Certificates Solution For Panda Free Users On iOS 13.X
For Apple devices with iOS 13.3.1, due to changes in Apple's mechanism, ordinary certificates may fail to install or cause crash.
Solution for free users:
1. The first method: Join Panda Helper VIP
Free users can choose to join VIP now, we will offer super certificate to sign the service and the certificate is working well as of now.
What Is The Super Certificates?
Super certificates support iOS 13.3.1, the applications using super certificate will not crash on iOS 13.3.1, unless revoked by Apple.
Super certificates are more stable and are less likely to be revoked than ordinary certificates.
How To Join Panda VIP?
Step 1:
open Safari and go to Panda Helper official website to download Panda Helper VIP.
Go and be the VIP: https://m.pandahelp.vip/pay/?s=gg

Step 2:
When the website is loaded, tap on the "Download Premium Version" option to install profile first. Then install Panda Helper VIP.

Step 3:
Launch Panda Helper VIP, you can also download many more tweaked app and hacked games without jailbreak.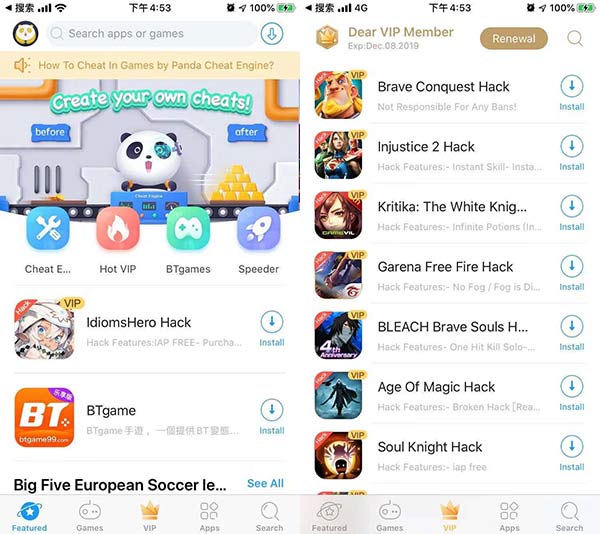 2. The second method: Signing IPA by yourself
Notice: After our testing, the tools does not support the devices with iOS 13.3.1 and above. It's recommended that the devices with iOS 13.3.1 and above choose the first method. You can also test it yourself if you like.
Using the third-party signing tools is another feasible way, just as we used Cydia Impactor before, to sign IPA with our own Apple ID. You may have heard of Cydia Impactor alternatives like AltSigner and Altdeploy. We can try these tools to sign IPA by ourselves.
AltSigner supports for Windows OS and Altdeploy for MacOS.
For Windows users: AltSigner
For MacOS X users: Altdeploy
Panda Helper VIP Features:
Recommended For You